International Black and White Stripes Day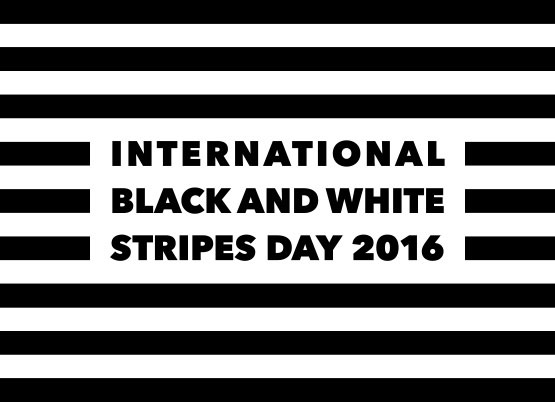 For those of you who are long-term followers of our blog and social media, you may have a vague remembrance of us going all 'convict fashion' on you on an annual basis in the past few years.
The stripey dress code was started by one of the JB team a while back as a bit of a light-hearted celebration of her birthday, after beating the less light-hearted breast cancer the year before. Julia coerced the rest of the JB team to adopt the uniform for the day (which wasn't really very difficult, as most days at least one of us turns up to work in black and white stripes)
This has continued and grown every year since and the day was given the nickname 'International Black and White Stripes Day'. (Why not aim for worldwide coverage…)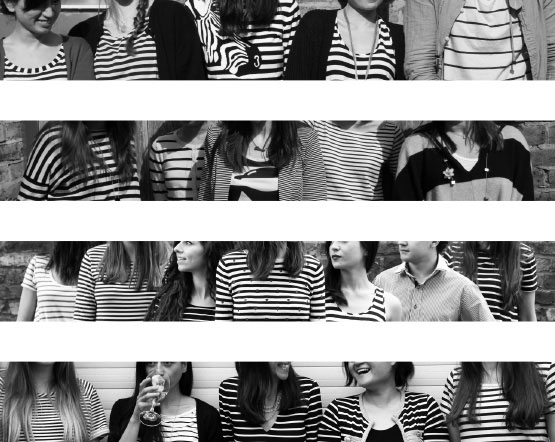 Now in its fifth year Julia has decided it's time to celebrate International Black and White Stripes Day for a wider cause. Already a supporter of breast cancer charities, she's decided to focus on two of her favourite black and white striped charities: Anthony Nolan (the blood cancer charity) and The Wildlife Trusts (protecting the environment in the UK).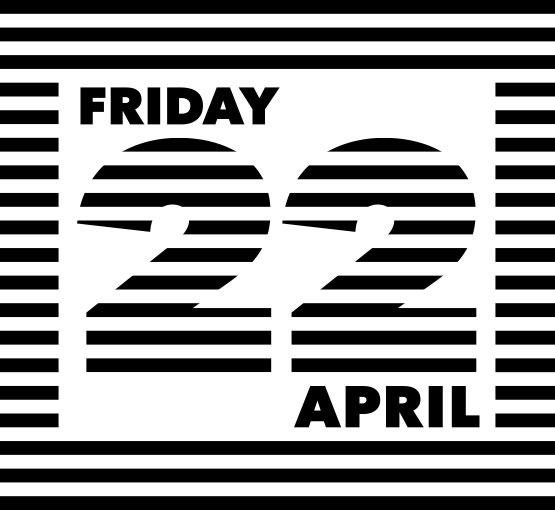 She is asking people to join her in wearing black and white stripes this Friday, the 22 April, and to choose to donate what they can to one of the two charities on her Just Giving page. Alternatively people can just donate for us to wear stripes at johnson banks.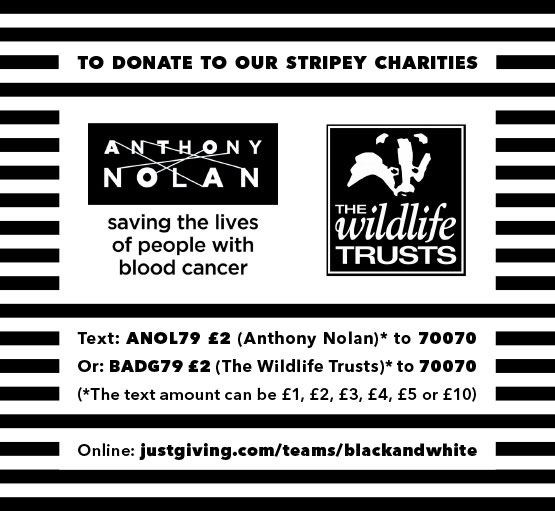 If you'd like to get involved you can add your stripey selfies to the International Black and White Stripes Day Facebook page or post on Twitter using the hashtag #BWstripesday
She is also hosting a charity gig on friday evening in support of the event. So if you live in the London area and fancy heading down to the South London arts space (and former jailhouse) Matthews Yard, to see some up-and-coming bands, there's only a minimum donation of £2 to get in (but don't forget to wear stripes).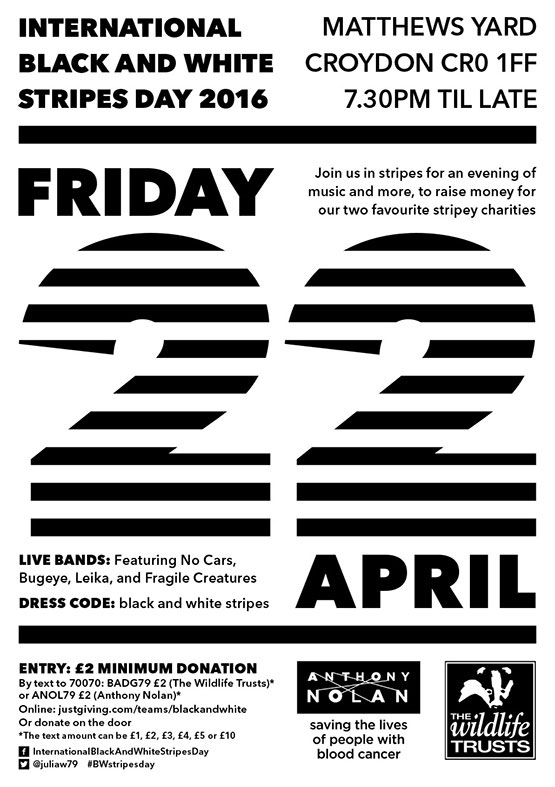 We'll be celebrating the monochrome for the day and wearing either horizontal, vertical or diagonal black and white stripes. Check out our twitter on the day to see.
---------------------------------------------------------------------------------------------
Support online
By text to 70070:
BADG79 £2* (The Wildlife Trusts)
or ANOL79 £2* (Anthony Nolan)
*The text amount can be £1, £2, £3, £4, £5 or £10
Twitter: @juliaw79 #BWstripesday
---------------------------------------------------------------------------------------------
Charity gig details
International Black and White Stripes Day 2016
Friday 22 April from 7.30pm
Matthews Yard, Croydon Old Town,CR0 1FF
Bands: Bugeye; No Cars; Leika; Fragile Creatures
Dress code: Black and white stripes
More info here at the gig event page