What Design Did Do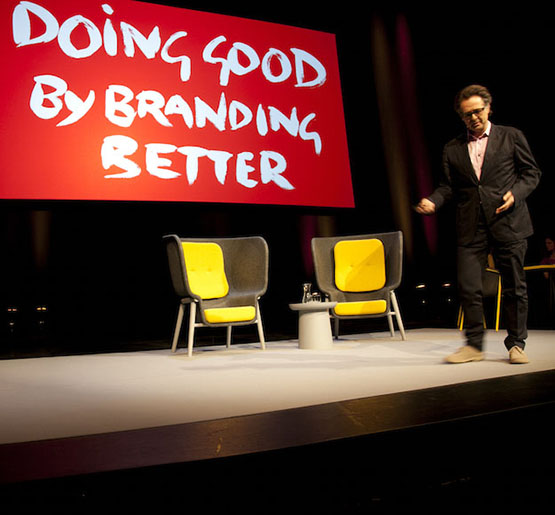 Michael Johnson at last week's What Design Can Do conference
johnson banks' Creative Director Michael Johnson has just returned from this year's What Design Can Do conference in Amsterdam. Some of his thoughts and reflections are below.
They say that deep down in every designer there's a great presentation, and it's called 'My Work'. The trouble is, put many designers on a stage for 50 minutes and ask them to do exactly that and it's sometimes hard to stay awake.
So conferences try to establish themes – you know, 'impact', 'innovation', 'tomorrow', that kind of thing. But over a three-day period, a broad theme can get swiftly atomised or misinterpreted, out come the 'stump' speeches and we're back where we started.
Getting designers, architects and thinkers to REALLY engage with a conference, whilst keeping their speeches below half an hour, is quite a challenge. But, from my now personal experience, this is what 'What Design Can Do' has over its many rivals.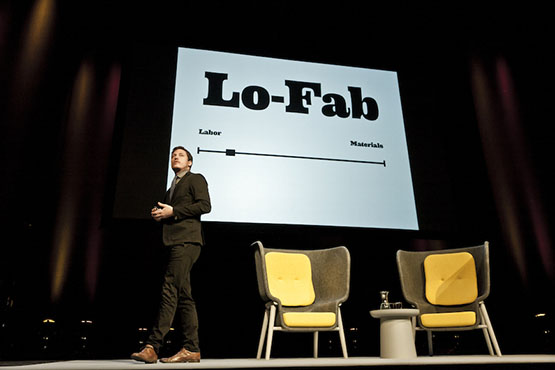 Michael Murphy from MASS Design Group
The theme is pretty clear: design that has a benefit to the world, to society and to humanity is the core ideal of this conference. But those 'values', if you like, are just as likely to be expressed by a graphic designer, an architect, a chef, or pretty much whoever Richard Van Der Laken and his merry team have decided to invite.
Each speaker has, in true TED-style, about twenty minutes, maximum. Each speaker is expected to entertain then get off, not drone on, and stay on. But, unlike TED, which has an implicit 'don't pitch your wares' rule, WDCD lets people talk about their work, as long as it is viewed from a wider context. After all most designers and architects are defined by the design that they can, and do, do.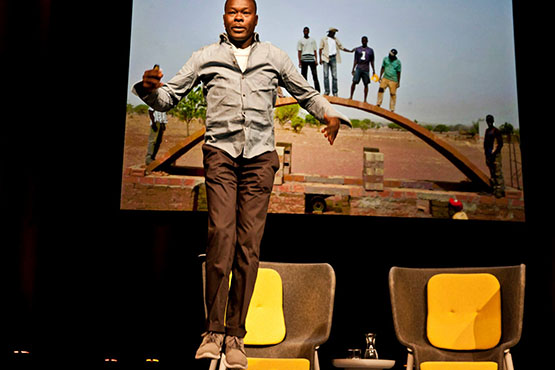 Diébédo Francis Kéré
The highlights, at least for me, were the architects, Michael Murphy, Diébédo Francis Kéré, and Cameron Sinclair - all pursuing slightly different paths in their work whether it be 'Lo-Fab' structures (Murphy), the revival of ancient techniques for new tasks (Kéré) or post-disaster structures (Sinclair).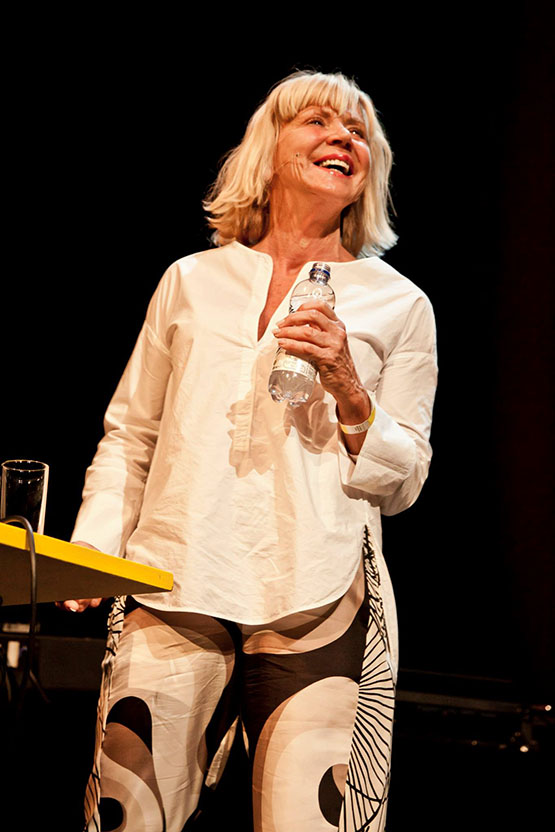 That's not to say there weren't other highlights: Sissel Tolaas (above) broke a new world record of presenting 185 slides in 24 minutes (7 a minute - that's really going some). She's an olfactory specialist and brought the house down with cheese developed from armpit bacteria, amongst other smelliness.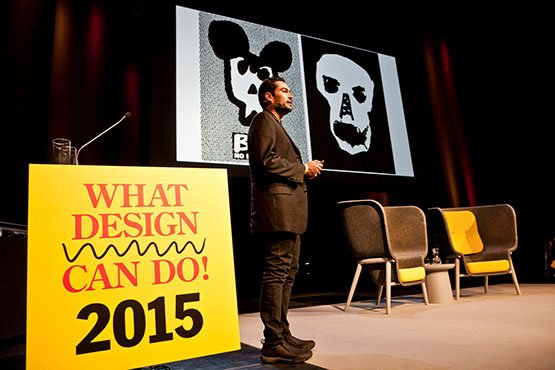 As a nice contrast to all the three-dimensional life saving, Alejandro Magallanes flew in from Mexico and neatly demonstrated that perhaps there is life in the humble poster after all, in between some truly charming animations.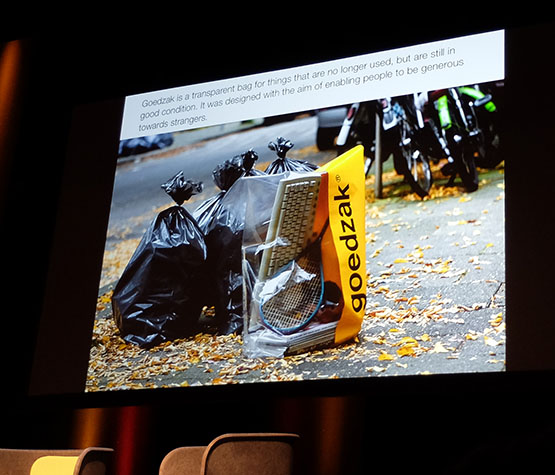 From a more theoretical point of view, Paul Hekkert began the first day by opening our eyes to more everyday 'goodness' such as this bag designed for things that could have another life. A day later, Dutch journalist Jeroen Junte even proposed a moral code for designers:
I promise that I will act in an honest, open and transparent manner I will carefully consider the interests of society, users, clients and their employees I will not make any design that is harmful to users; nor shall I make any design intended to harm other people I will not make any design that incites hatred or violence or leads to oppression I will not make any design that relies on child labour or any other form of exploitation I will not make any design that uses harmful or depleted resources I will withhold from wasting energy, raw materials or labour I will respect the creative autonomy of other designers I will acknowledge the limits of my profession That I promise!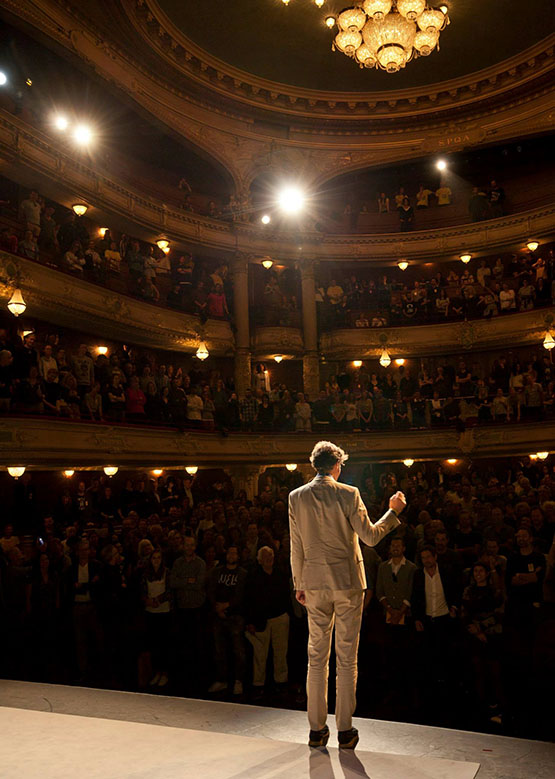 Perhaps all the life-and-world-saving did, eventually, get a little overpowering, so Stefan Sagmeister's 'Happy' project brought a similarly jolly end to proceedings.
I wasn't sure how the two days were going to pan out. After all, it's all very well to suggest that Design Can Make A Difference but this was a chance to discuss the realities of 'design for good' with 900 like-minded thinkers. And I've come away enthused, already making plans to attend as a delegate. It's been a while since I thought that about a conference...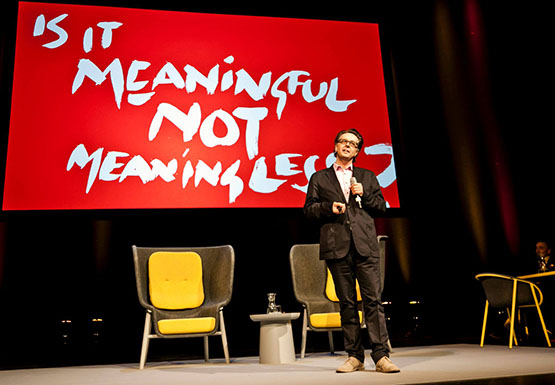 By Michael Johnson.
Johnson presented an updated, amended and shortened version of this speech from 2013.
Thanks to Richard Van Der Laken and the WDCD team, and the moderators, David Kester and Hadassah De Boer.
Main photos by Leo Veger