Dick Powell: Second Thoughts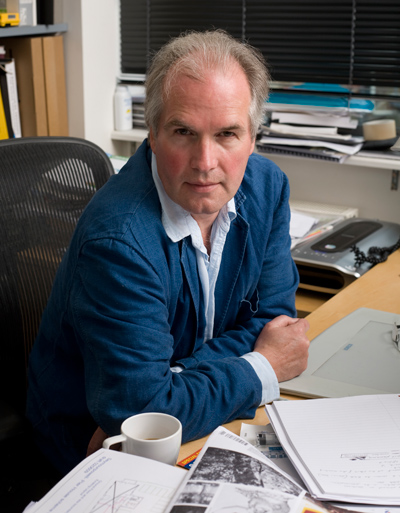 This is number five in our Second Thoughts series, following on from our interviews with Andy Altmann, Simon Waterfall, Nicolas Roope and Michael Bierut. In case you missed why we're doing this, the same series of questions are asked to well-known design and creative people. This week, Dick Powell.
Dick Powell is co-founder and Design Director of internationally renowned design and innovation company Seymourpowell. Founded in 1984, Seymourpowell has produced some of the '˜milestone' products of the last two decades, including designs for the world's first cordless kettle and pocket mobile phone, and more recently concept design work for the Virgin Galactic spacecraft. With over 30 years experience, Dick Powell believes passionately that design is not just about being different or more stylish, but about being better - better primarily for people and ultimately therefore also business and the world.
How old were you when you first suspected you could become a designer? I was 17 and doing the right sort of A levels to go into Architecture when I came across a copy of the Design Council's magazine Design - that was really the first I even knew of the world of Industrial Design. My teachers at school had only ever referred to careers in '˜Commercial Art'.
Did you see or experience something early in your life that was a significant influence? Two things combined for me. First, a love of drawing and Art. And second, a love of structures, mechanisms and a huge interest in how things worked. As a child I had grown up with the 1950s construction toy Meccano, getting a new add-on set every Xmas until I had built the most comprehensive set possible. I wish I still had it! Later, the only career which seemed to combine these was Architecture. For my father, this was the acceptable face of Art.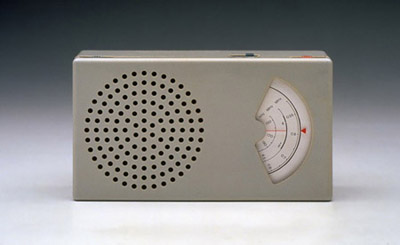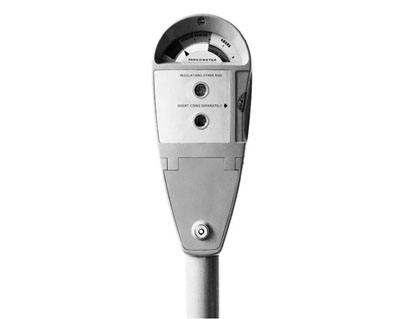 Who were your early heroes (and what do you think of them now, in retrospect)? Dieter Rams of Braun (above top) and Ken Grange of Pentagram (above) - both giants in the world of Product Design.
What's your recurring dream (or nightmare?) I remember few dreams - but one I do has me on a stage in front of a huge audience, making some sort of presentation, and being totally unable to remember what to say. It gave me the same hot flushed scary experience I used to have when being caught red handed doing something wrong at school.
Describe the worst boss or client you've ever had. I couldn't possible say - all clients are wonderful!
What's your worst Apple-z ('˜undo') moment? Years ago, pre computers, we used to do presentation renderings by hand, using magic markers, pastels and crayons. And then we would scalpel them out and stick them to a clean background, often pre-prepared separately. Typically, there would be 6-7 such renderings to stick. On one such occasion, I gave all of them to a junior to stick down - unfortunately, he put them all face up on the newspaper instead of face down, and sprayed them all with Spraymount. It was an all nighter to redo them all!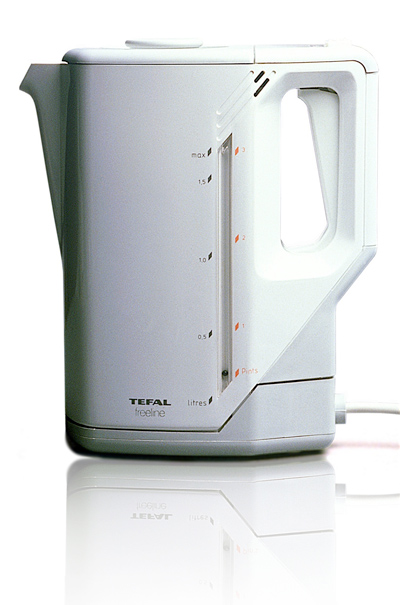 Tefal's Freeline Kettle
What do most people cite as your best/most well known piece of work? Probably the world's first (so called) cordless kettle - Tefal's Freeline.
What do YOU think is your best piece of work? Why? I'm most proud of projects which were very innovative and broke new ground, and which had to be battled through the client company against the odds and then, against their expectations, went on to be a huge success . . . Tefal's Aquaspeed Iron was such a project.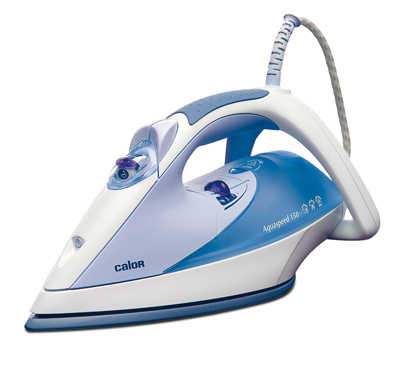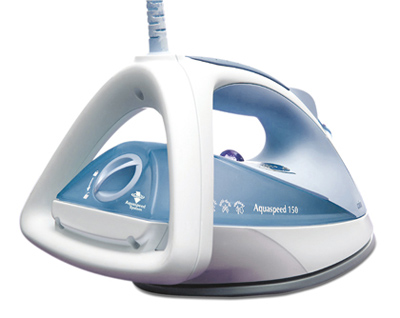 Tefal's Aquaspeed Iron
What font would you choose for your gravestone? Helvetica Neue.
What wins, ideas or style? Silly question from aΒ product designer's perspective - both are equally important but we have to add a lot more . . . function, usability, ergonomy, cost etc.
People have different ways to stay enthused, excited and interested in what they do for a living? What's yours? Each new client and each new project throws up a myriad of challenges - that's all the motivation I need.
When and where do you have your best ideas? You need knowledge of the specific subject, of the client's business, of the context, and of the world and its ways to have good ideas and, especially, if you are to make them relevant. Provided the brain is prepared and you know how to make the process work, every time you sit down to create, the ideas will flow.
Seeing, smelling, touching, hearing, tasting. You have to give up two. Which ones? Smell and taste.
If you could travel back in time, just once, and give yourself a few words of advice, what would they be (and when would you say them?) That would be around 1979 - I had left the RCA and formed a partnership with two college friends. I left for a two week summer holiday agreeing to rethink our business plan which, in those days before computers, meant doing all the numbers by hand and handwriting the rest. While I was away, my two partners had conspired to decide that they didn't need me! The bottom fell out of my world - I had a new baby, a mortgage and a half renovated house. So the advice I would give myself would be not to worry - you need to fail to succeed.
Do you still draw or has the computer taken over? For me, drawing is central to creativity. I cannot conceive how one can generate ideas fluidly, economically and speedily without drawing. So yes, I still draw.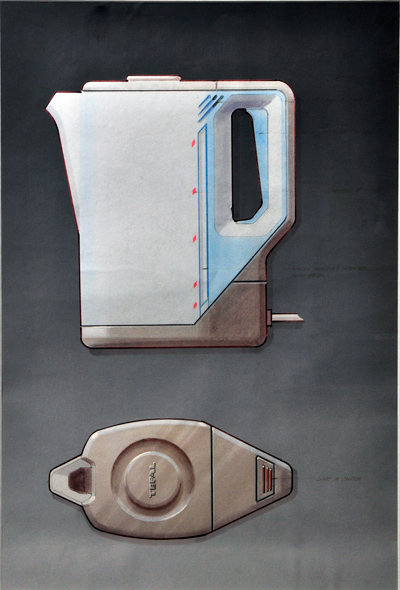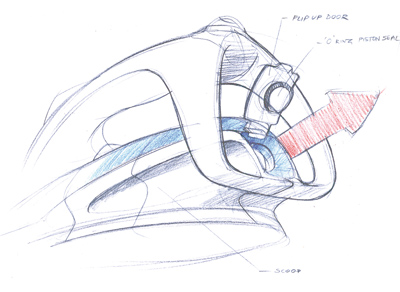 Hand drawing of the Freeline Kettle and Aquaspeed Iron
What's the worst design crime you've seen (or committed?) That would always be unapologetic plagiarism of the kind we sometimes see from Asia - straight knock offs.
You can only watch one film, read one book, listen to one album and eat one type of biscuit. What would they be? I'm a look forward kind of person and once I've seen a film or read a book, I move on . . . so I don't keep a mental list of the great or favourite ones, and tend to recall the most recent experiences. So on that basis, I'd choose current stuff - the French film '˜Little White Lies' ('˜Les Peits Mouchoirs') and Jack Savoretti's new album '˜Before the Storm'. Biscuit-wise things are different - I've always loved Macaroons! And book wise, I'd like to re-read a novel which I thought wonderfully conceived and written when I read it years ago - Birdsong by Sebastian Faulks.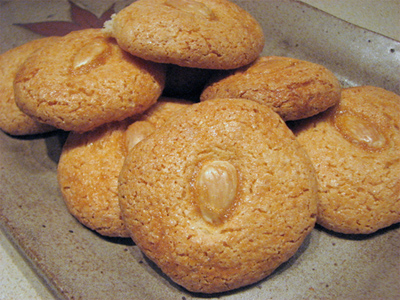 Let's say it all goes pear-shaped. What's your back-up plan? Small country cottage with enough land around to not have neighbours - and with lots of big enough buildings for my workshops and my wife's studio!
All of images Β© Seymourpowell
Find out more about Seymour Powell.
Follow johnson banks on twitter @johnsonbanks, and feel free to suggest who we should ask next #2ndthoughtsΒ