FYI, I'm a graphic designer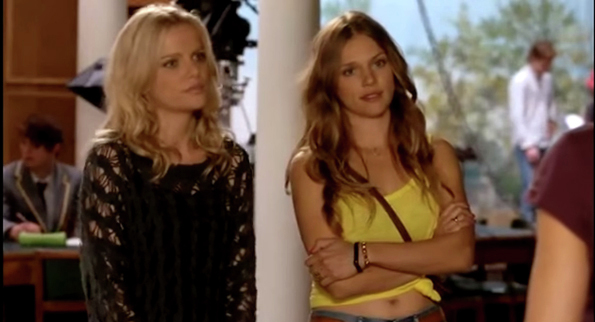 We had Ellen Mercer and Lucy Streule in our studio this week taking photos for one of their final show projects and we had the chance to ask a few questions about their great short film, FYI I'm a graphic designer.
If you haven't seen it, it's a fascinating compilation of clips from movies and TV where people try to describe what graphic design is, or who a graphic designer is. 185,000 views as we type: that's quite something for a final year graphics project.
The project itself was set by a tutor, the topic being an open-ended brief on 'critical graphic design'.
Ellen explained: 'The idea for the video sprung out of us noticing a general difficulty of trying to define and describe what graphic design and being a graphic designer actually was. The nature of the practice is very broad which I think is the problem with trying to define it. We then noticed how cinema in general portrayed creatives in very stereotypical and strange ways - particularly graphic designers.'
There are 18 clips in total. Mercer and Streule trawled the internet for a few days to find the clips. 'There is a split between the clips of two common themes - either the designer is nerdy and techy and all about computers or they are incredibly cool and glamourous' says Mercer.
'We made the film as a kind of exploration into why graphic design is such a tricky to explain practice. And I'm not sure after making it if I feel any more enlightened. The main purpose of the film though was to start a conversation about how it is understood.'
Even though, presumably, many of the scriptwriters and film-makers involved presumably know what a graphic designer is/does, that clarity definitely doesn't come over. As Mercer asks about graphic design, 'Why is it so hard to portray accurately? Or more worryingly, is it accurate?'
Or, perhaps, as one of the clips point out, 'He's like this nerdy graphic design type, but with a total stud body'. Basically sums up all graphic designers then. Definitely.
Ellen and Lucy are final year graphics students at Central Saint Martins, you can find out more at ellen-mercer.co.uk and lucystreule.com