Michael Wolff: Second Thoughts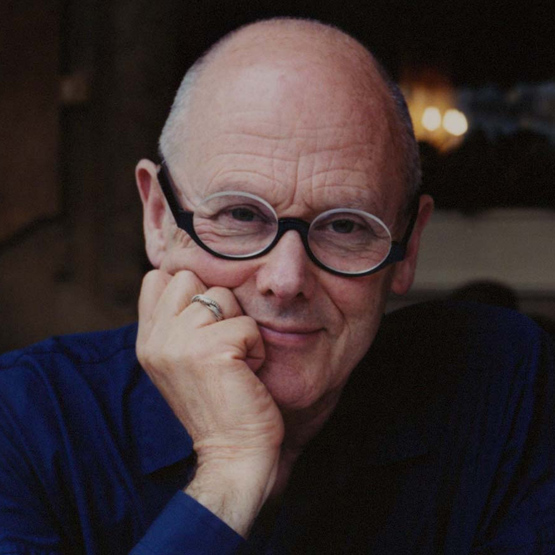 This is number seven in our Second Thoughts series, following on from our interviews with Andy Altmann, Simon Waterfall, Nicolas Roope, Michael Bierut, Dick Powell and Rosie Arnold. In case you missed why we're doing this, the same series of questions are asked to well-known design and creative people. This week, Michael Wolff.
Michael initially trained in architecture, after which he worked as a product designer, then as an interior designer and eventually as a graphic designer. In 1964 he decided, together with Wally Olins that it was time to start his own company and in the autumn of that year Wolff Olins was born. Under Michael's creative leadership, Wolff Olins became one of the leading European companies in '˜corporate identity' and one of the most effective branding companies in the world, working for music label Apple, Audi and Volkswagen among others. In 1983 Michael left Wolff Olins to lead the Addison design company, and has since set up his own company Michael Wolff & Company.
How old were you when you first suspected you could become a designer? Probably 22, during my second year studying Architecture. I wanted to escape from what seemed to me to be scant humour in architecture and abundant zealousness about steel, glass and concrete structures. None of it seemed to me to be about the lives of ordinary human beings. I'm still baffled by office blocks and the sensory deprivation that rules in most of the offices in them.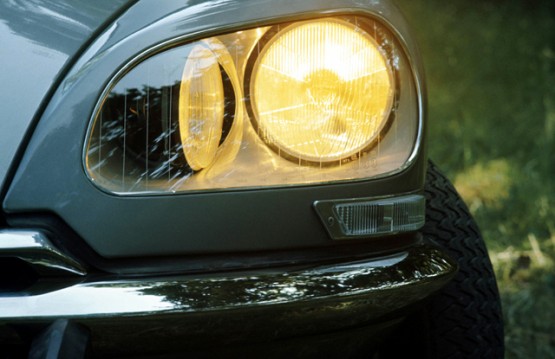 Citroën DS21
Did you see or experience something early in your life that was a significant influence? Yes, most things French. From their wonderful films (La Bete Humaine), their glorious cars (The DS21), their colourful packaging (Gitanes), their breathtaking women (Simone Signoret), their supreme restaurants (La Coupole), and French style in general. I'm still captivated by France.
Who were your early heroes (and what do you think of them now, in retrospect)? Achille Castiglioni in Italy. Issey Miyake in Japan. The designers at Boeing for the 747 and Matt Groenig for the Simpsons in the USA. Gabriel García Márquez for 'Love in the time of Cholera' in Colombia. Ai Weiwei for his breath-taking art, his inspiring courage and the documentary 'Never sorry' in China. Alan Fletcher, Antony Gormley and Roger McGough in the UK. I still revere and enjoy the many achievements of each one of them.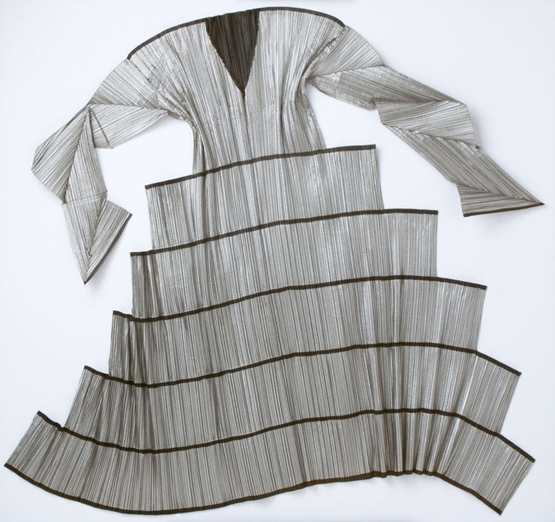 Issey Miyake's 2007 pleated staircase design (image via Wired ©Issey Miyake)
What's your recurring dream (or nightmare?) No nightmares. But dreams of scenes from 'In the Mood for Love' (Directed by Wong Kar-wai). The Music of course, and the elegance and beauty of Maggie Cheung, her amazing clothes and how she walks in them, in slow motion.
Describe the worst boss or client you've ever had. I've been lucky, when I see a potentially bad one coming I never agree to work with them. I'd rather write about the best ones. Most of my clients have been, and continue to be, delightful and impressive people.
What's your worst Apple-z ('undo') moment? Apple-z has often saved my life. Those are always great moments and Apple- z is my guardian angel.
What do most people cite as your best/most well known piece of work? I think that the culture, the food, the people over many years, the intelligence, the creativity and the wit at Wolff Olins which is still there, and I hope will be there for many years to come.
What do YOU think is your best piece of work? Why? A small project for a model maker in Camden Town in the 60's. Why, because, unlike most of the work I've done, no alternative solution would have been as effective or as beautiful.
What font would you choose for your gravestone? It would be a fifteenth century hand carved serif typeface and it would say: "I'm sorry I'm late". But I won't have a gravestone.
What wins, ideas or style? Always ideas.
People have different ways to stay enthused, excited and interested in what they do for a living? What's yours? I remember this wise remark made by Buddha: 'œI never see what has been done; I only see what remains to be done.'
When and where do you have your best ideas? When I really need them they appear from nowhere, wherever I am.
Seeing, smelling, touching, hearing, tasting. You have to give up two. Which ones? Smelling and tasting.
If you could travel back in time, just once, and give yourself a few words of advice, what would they be (and when would you say them?) A quote from Norman Vincent Peale: 'œThe trouble with most of us is that we'd rather be ruined by praise than saved by criticism.' Start worrying when awards and other forms of adulation point their finger at you. Beware of self adulation, it will always diminish you.
Do you still draw or has the computer taken over? Neither frustrates imagination, so I don't make the distinction.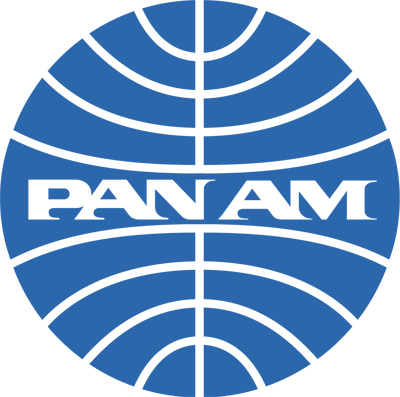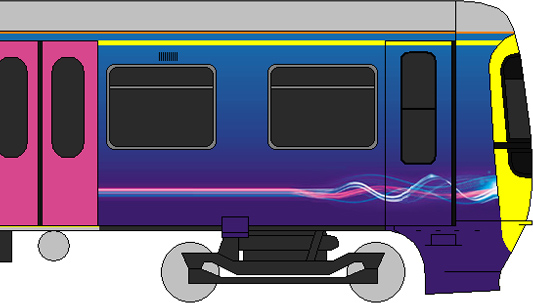 First Great Western's 'toothpaste packaging' train graphics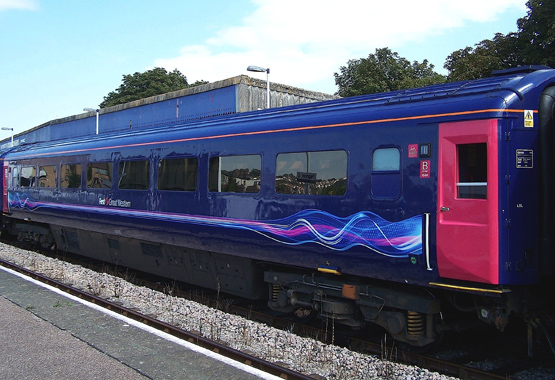 First Great Western's 'toothpaste packaging' train graphics. Photo: Peter Skuce
What's the worst design crime you've seen (or committed?) Every airline brand identity since the simplicity and restraint of PanAm's, because they've all disrespected beautiful aircraft. And First Great Western who've managed to make their trains look like toothpaste packaging. All the UK's trains now look disgusting to me, as do the ill-conceived names on London's buses that should all have been branded Transport for London. Franchises should express the brands that are being franchised. Imagine if Coca Cola allowed local bottling plants to put their logos on Coke bottles.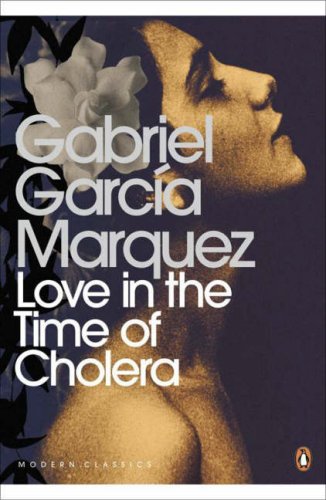 You can only watch one film, read one book, listen to one album and eat one type of biscuit. What would they be? One film: EŠtre et Avoir. 2003 by Nicolas Philibert, because it's a brilliantly observed poignant and beautiful documentary showing how the potential of children is so precious.
One book: 'Love in the time of Cholera' by Gabriel García Márquez, because he shares his understanding of intimacy and celebrates that being able to know people and to love them is the highest achievement of humans.
One album: Nikolaus Harnoncourt with the Chamber Orchestra of Europe playing all Beethoven's symphonies, because for me this particular, perfect and exhilarating performance epitomises the transcendental power of music.
One biscuit: The original bitter chocolate coated Bath Oliver, because its sequence of tastes and textures is delicious. It's not the bitterly disappointing and shameful nonsense that Waitrose now sell purporting to be the original in an irritating and poncy tin. Overblown writing and affected graphics. Dr Oliver must be turning in his grave. Hopefully someone still makes the original. Email me if you do. michael at wolff.eu.com
Let's say it all goes pear-shaped. What's your back-up plan? I have no back up plan. I just go with the flow. What's the worst that can happen?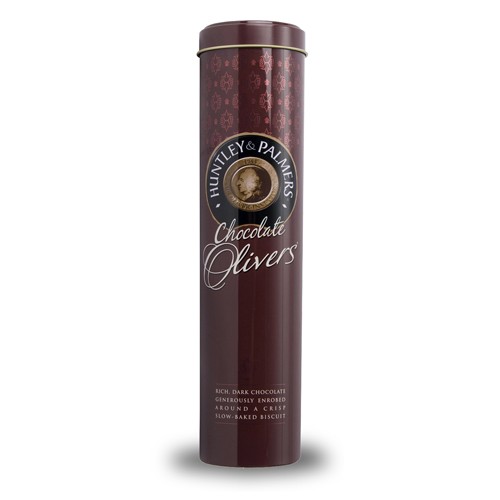 Many thanks to Michael for taking part in Second Thoughts.
Follow johnson banks on twitter @johnsonbanks, and feel free to suggest who we should ask next #2ndthoughts