We began work on this as a sister project to our work on Brighton Dome, but over four years this has taken on a life of its own. Whilst the Dome is open all year, the festival lasts for just 3 weeks — a vibrant smorgasbord veering from modern circus to cutting edge performance art, comedy, music, theatre and dance.
The Dome and Festival are run by the same team, and our initial task was to find a way to explain the relationship between the two parts. After some thought, and design exploration, we realised the answer was to give them distinct, yet related identities – celebrate their differences yet hint at collaboration and crossover when needed.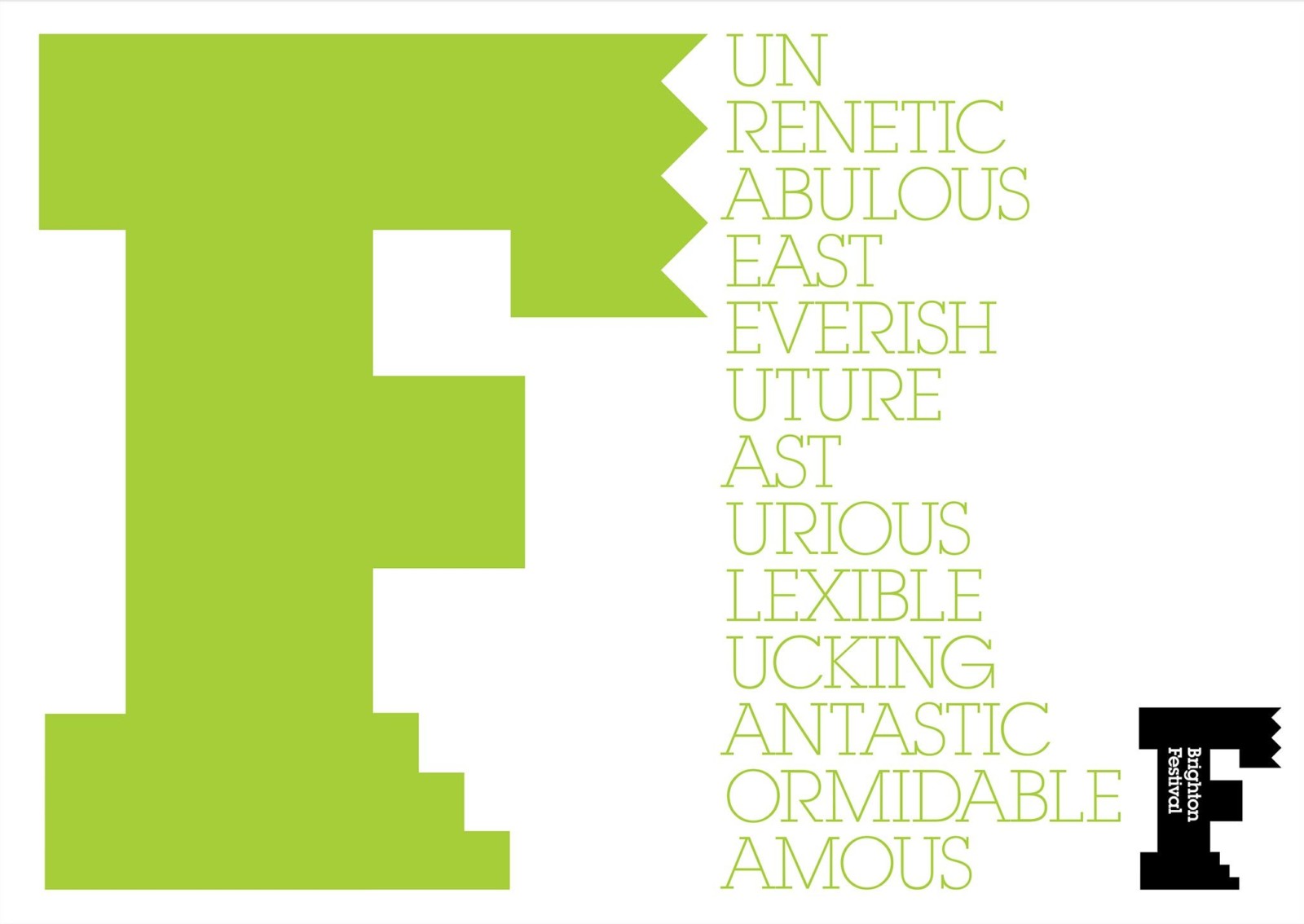 Brand identity
One of the phrases that re-occurred in our research was talk of Brighton as a 'city on the edge' – the edge of the country, at the edge of the avant grade, and at the cutting edge of many trends. Echoing the Dome's D, we developed an 'F', but an 'F' that is intentionally bold and brutal, sometimes sharp and jagged, able to exist in many colours.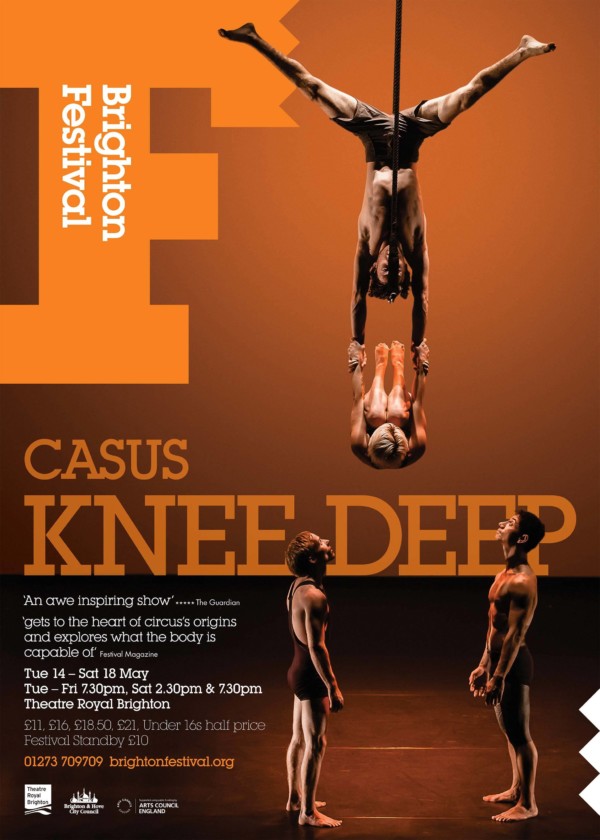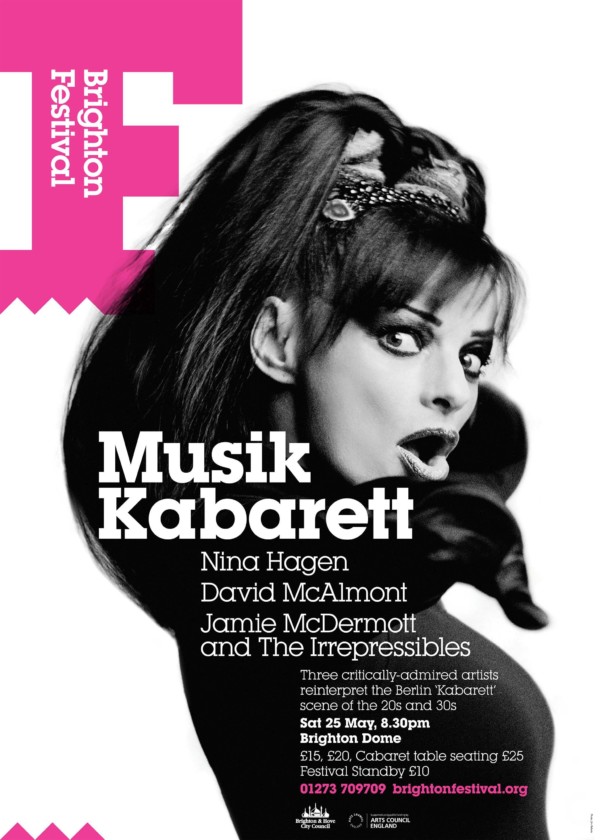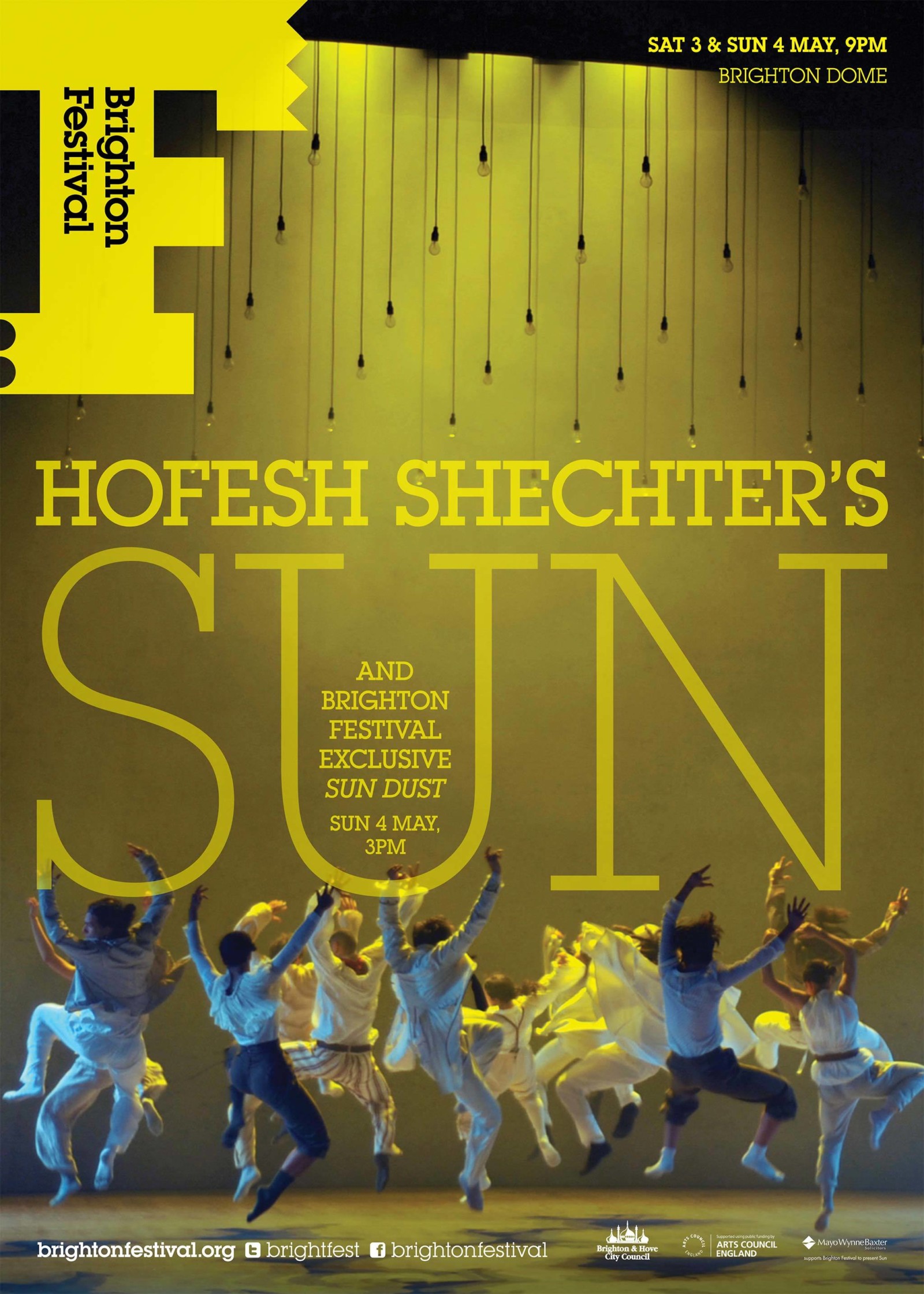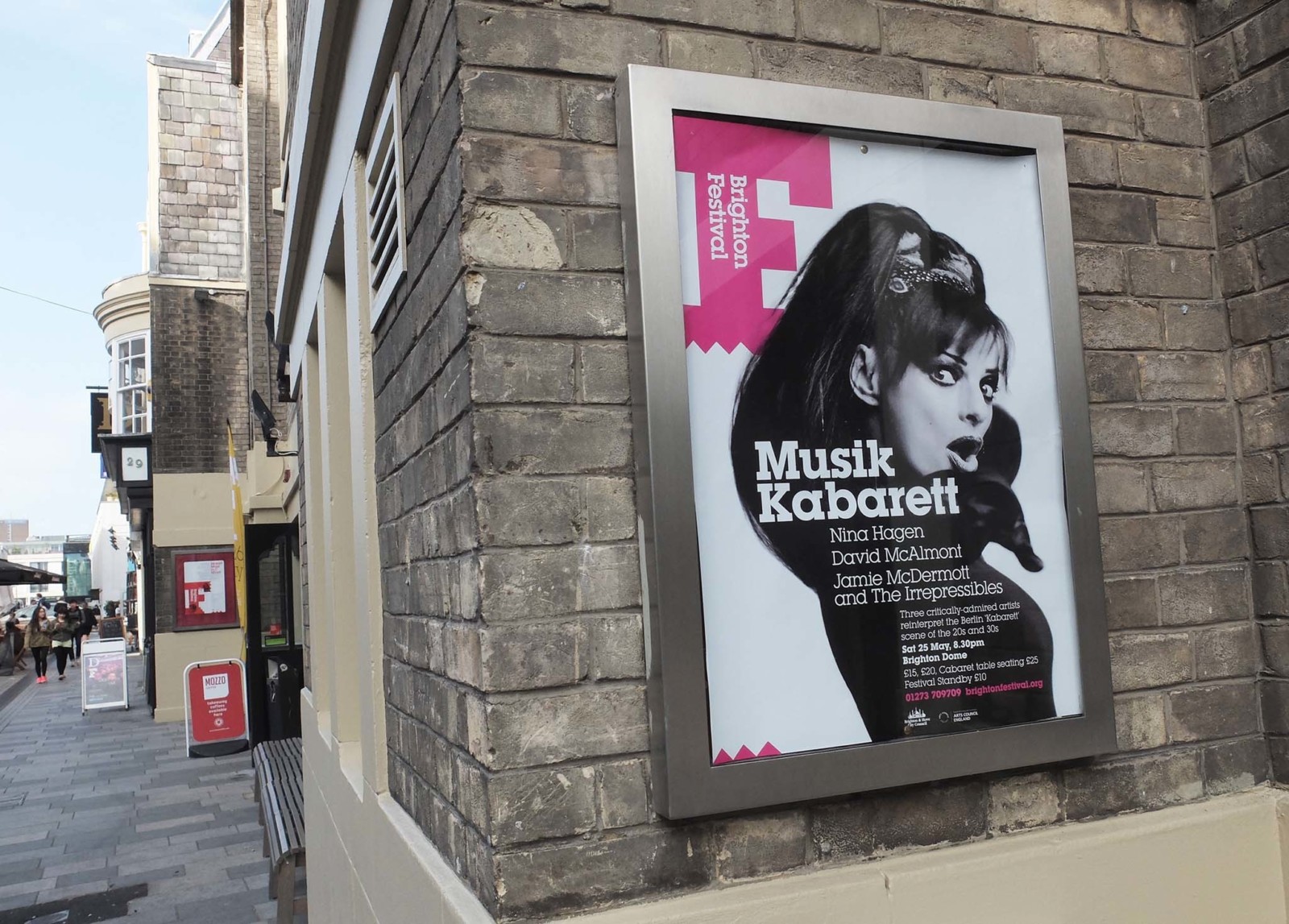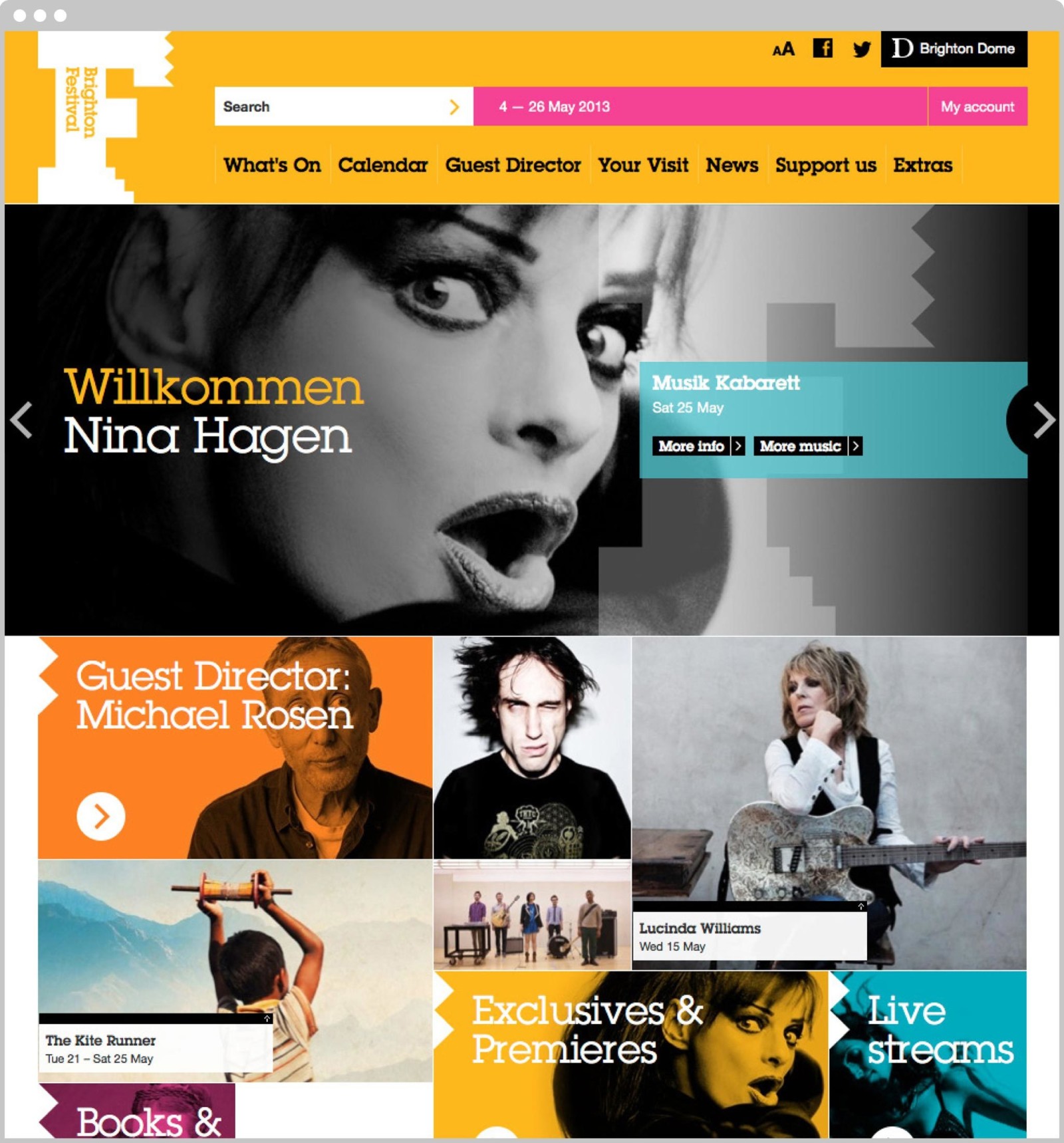 Here are a few of the core applications of the idea — showing how the F is ever-present on the communications and how, with a limited typographic palette, the identity of each show can still shine through.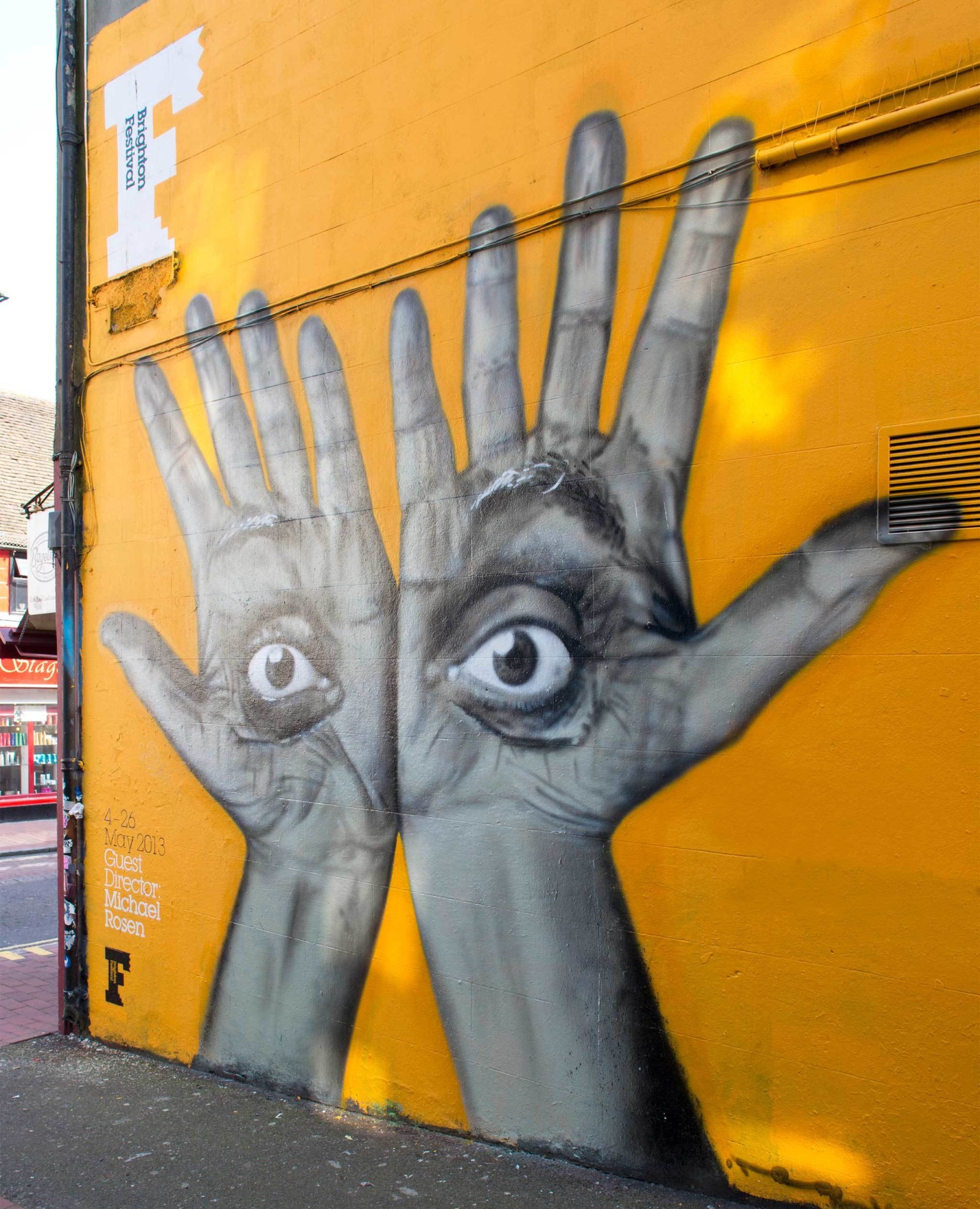 Adapting the identity for annual themes
Each year the Festival has a guest director, so each year we have been tasked with reflecting their input into the programming and design approach. For the 2013 festival, we used guest director Michael Rosen's hands and eyes to create a homage to one of his favourite periods, the Bauhaus (specifically Herbert Bayer's The Lonely Metropolitan).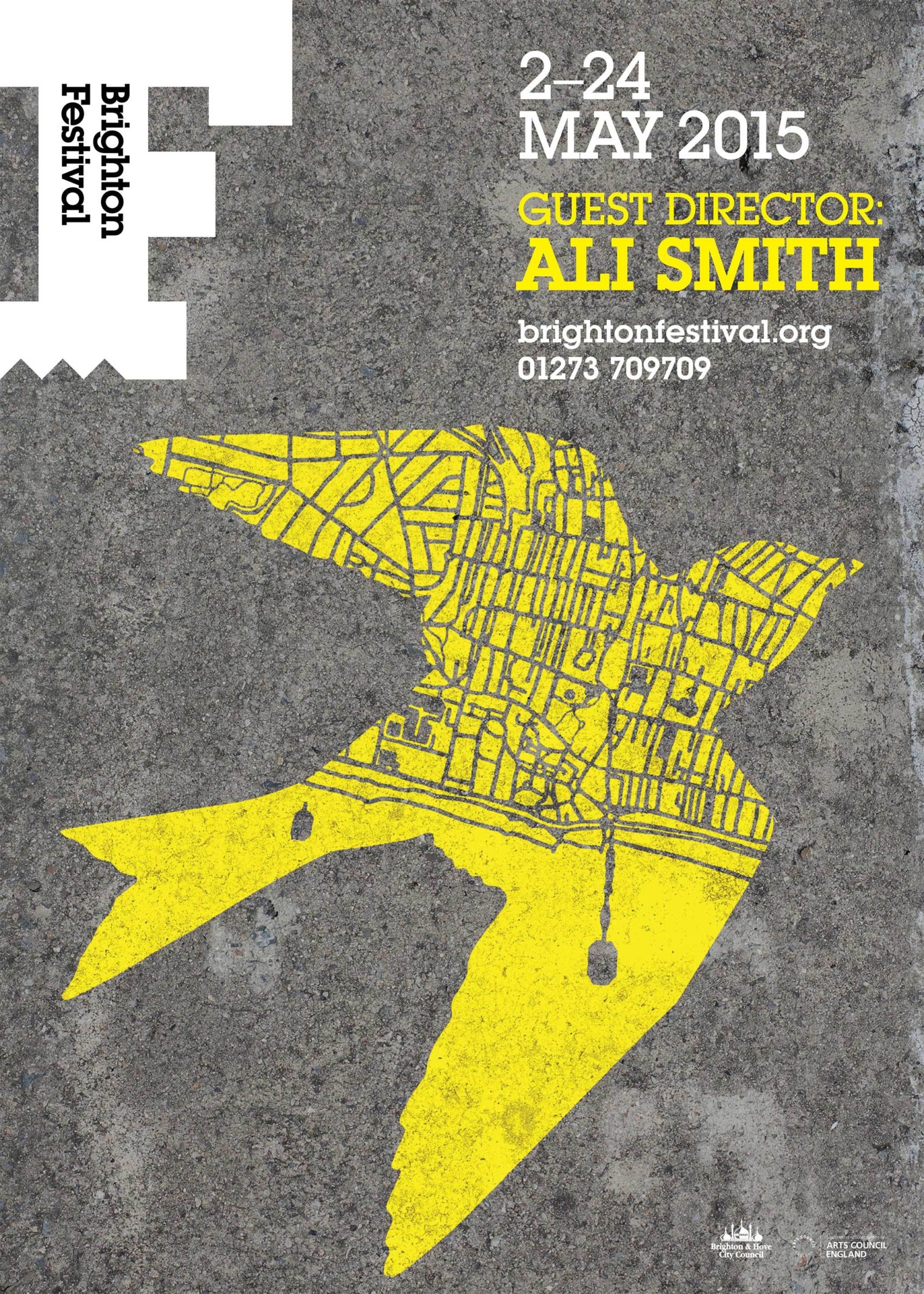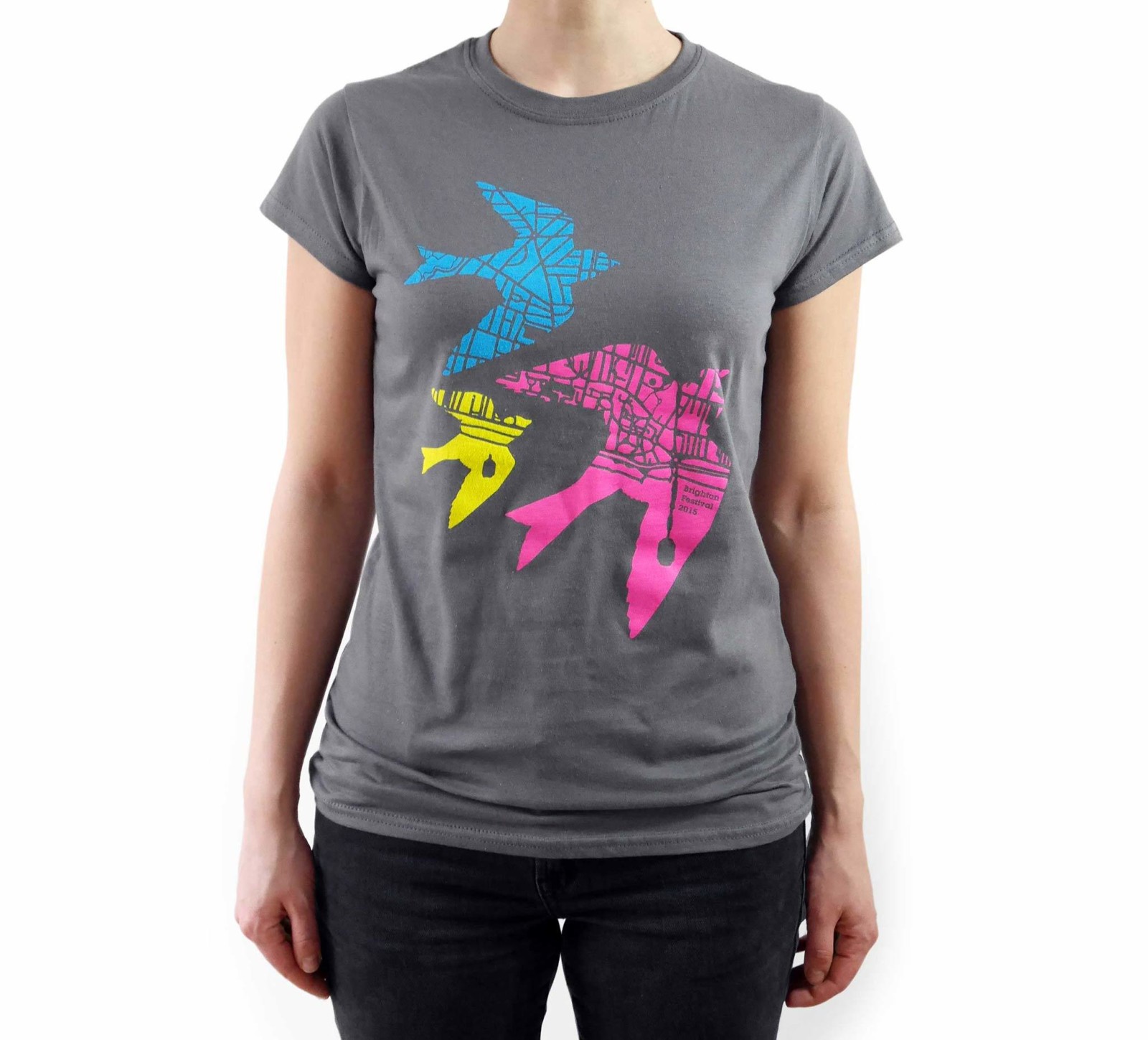 Author Ali Smith's brief was to 'imagine the world seen from the eye of a bird', which we interpreted with the use of swifts (which, own closer inspection are actually maps of the city).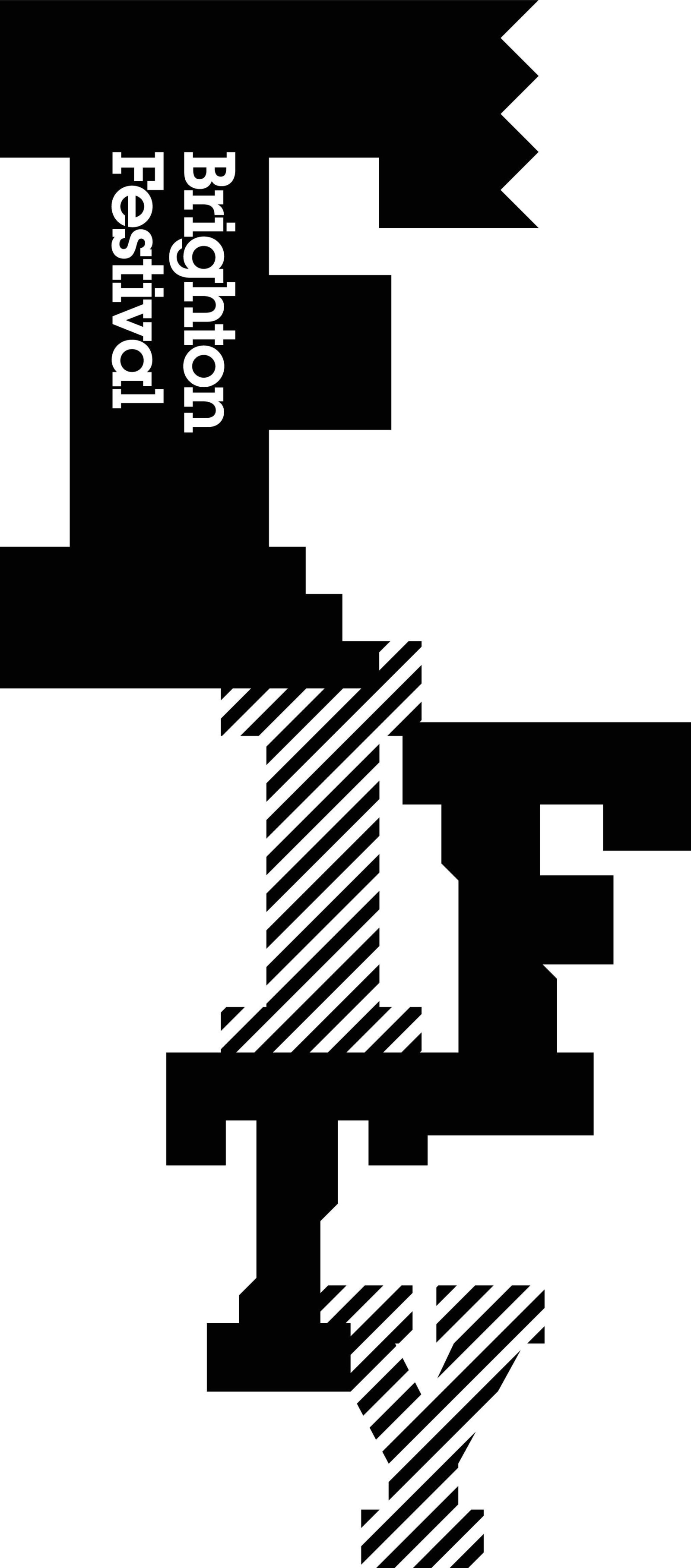 For the fiftieth festival in 2016 we simply adapted the 'F' to create a 'Fifty' wordmark, and then used that as boldly as possible with an image of that year's guest director, Laurie Anderson.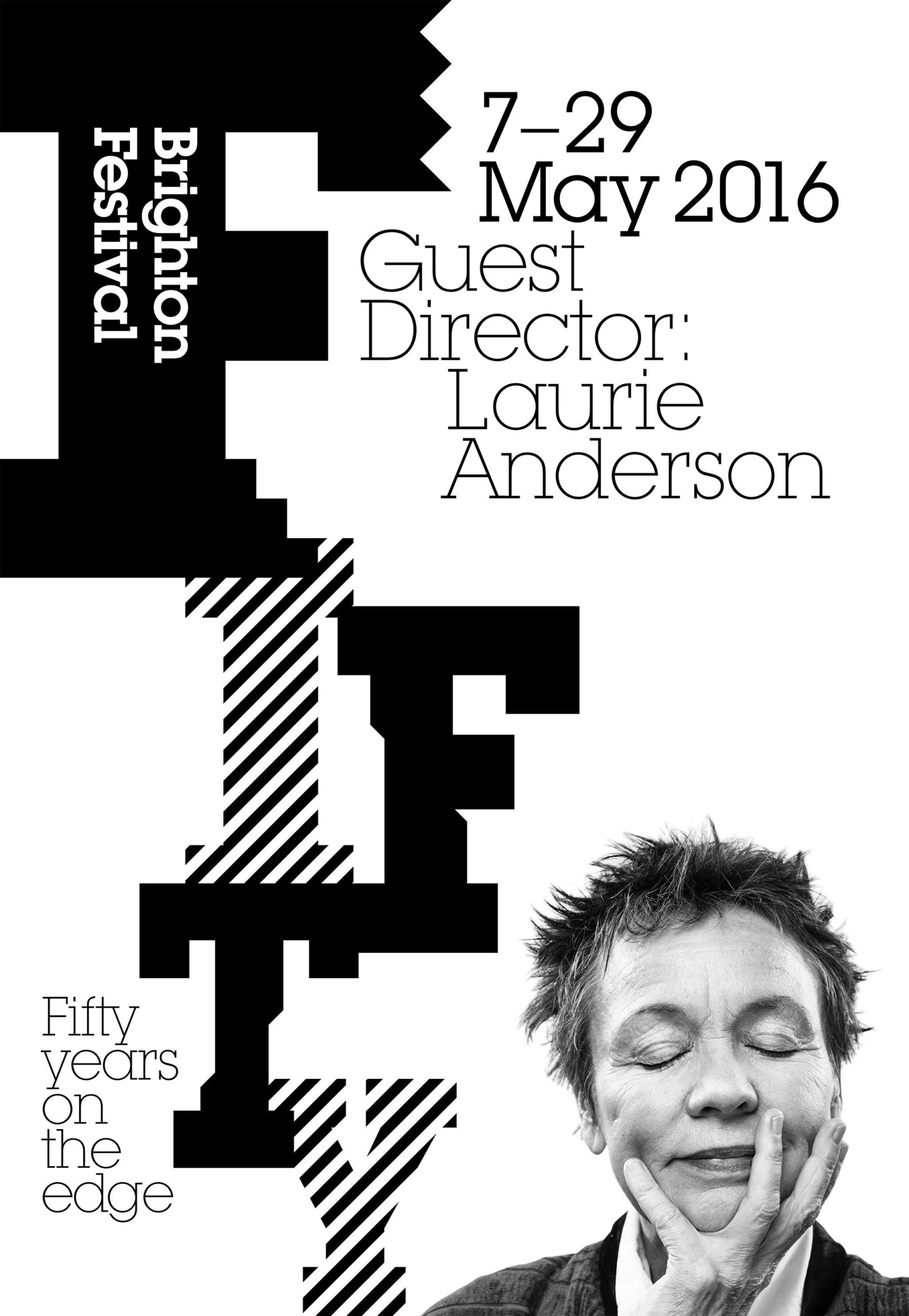 Here's a selection of the Festival themes as used on the annual brochures, including the 2017 image drawn by local tattoo artist, Adam Sage.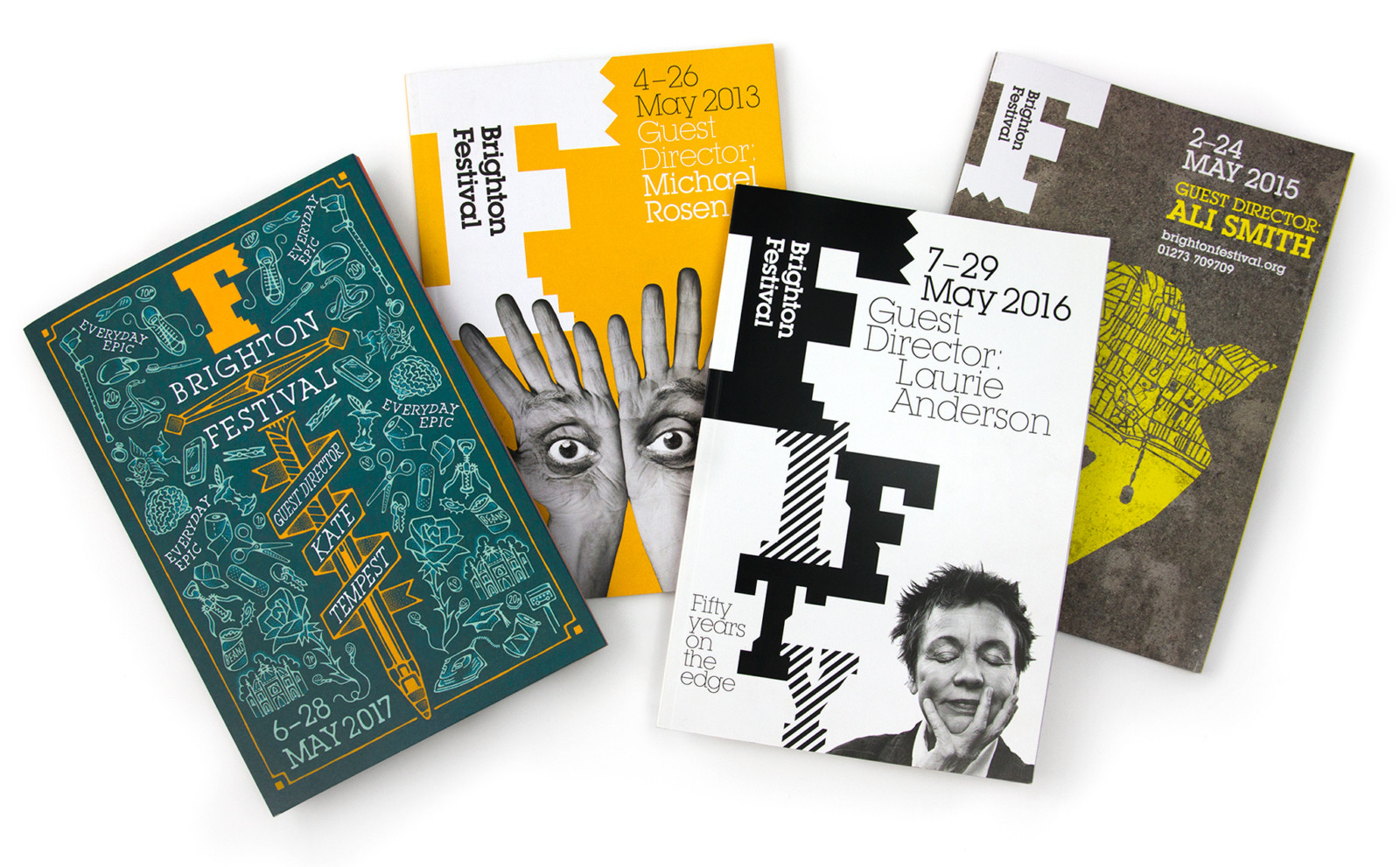 Awards
2016 Brand Impact Awards | Culture (branded campaigns) | Shortlisted – Brighton Festival Fifty Years
Credits
Website implementation: They.Create
2013 (Michael Rosen) Brand photography: Philip Gatward
2016 Laurie Anderson photographer: Tom Oldham
2017 (Kate Tempest) Illustrator: Adam Sage
Photography of festival graphics: Murray Scott
Reference to Herbert Bayer kindly sanctioned by DACS