Our task was to help create a coherent theme for their alumni and development fundraising campaign. This project had to continue to celebrate their 800 years of achievement, yet allow them to look to the future, to raise vital philanthropic funds for crucial new institutes, initiatives, buildings, graduate programmes and to continue to attract world-class academics. We also had to factor in Cambridge's position as one of the few genuinely collegiate universities in the world – not 'college' as in glorified dorm with a bar attached, but a unique constellation of 31 separate small planets where students often spend the majority of their time, including key one-to-one tutorials.
The strategy and narrative
During our research it became clear that there is now a 'default setting' for University campaigns worldwide, often talking about the future, about potential, or their boundless aspirations and the endless possibilities. These of course are as true about Cambridge as anywhere, but we were keen to find a theme that befitted one of the greatest Universities it the world, and was suitably different.
Our core theme originated from Cambridge's profound impact on the world, and the impact it will have on its future. The idea puts Cambridge's impact in the form of a letter to the world, a letter that begins 'Dear World' and ends 'Yours, Cambridge'. We realised that this could have huge potential as an idea, both in written and spoken word, by talking about 'Cambridge's letter to the world', and visually demonstrating what it has, and will, achieve. It also helps to position Cambridge as an asset belonging to, and in service of, the world – outward-facing, not inward – setting up a unique 'conversation' with the world by inviting in new thoughts and ideas.
The design approach
We deliberately chose very simple core elements – one weight of one of their core typefaces, a brightened version of their famous light blue, and a very simple letter-shaped device – then experimented with different 'letters', whether visual, verbal, or both, based on ancient or recent discoveries, balanced with current ideas and future aims.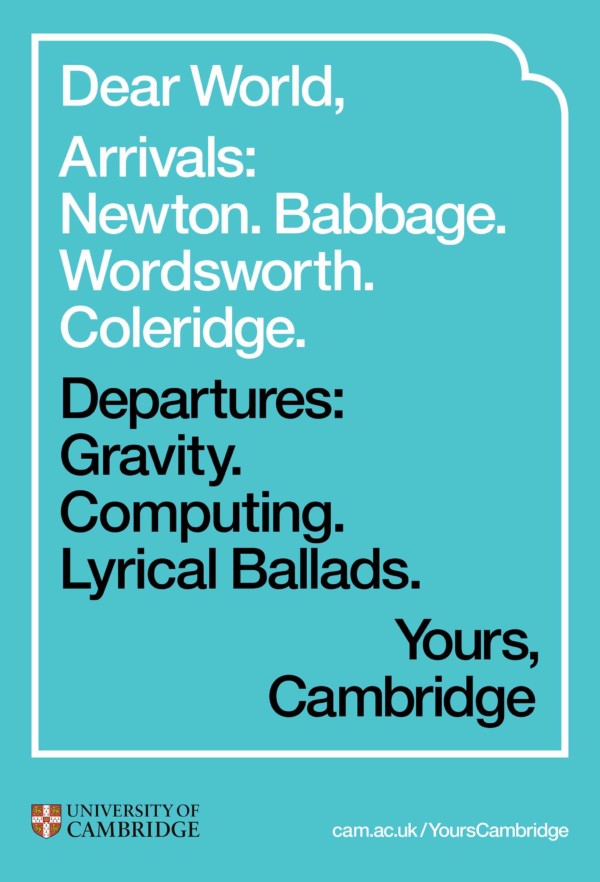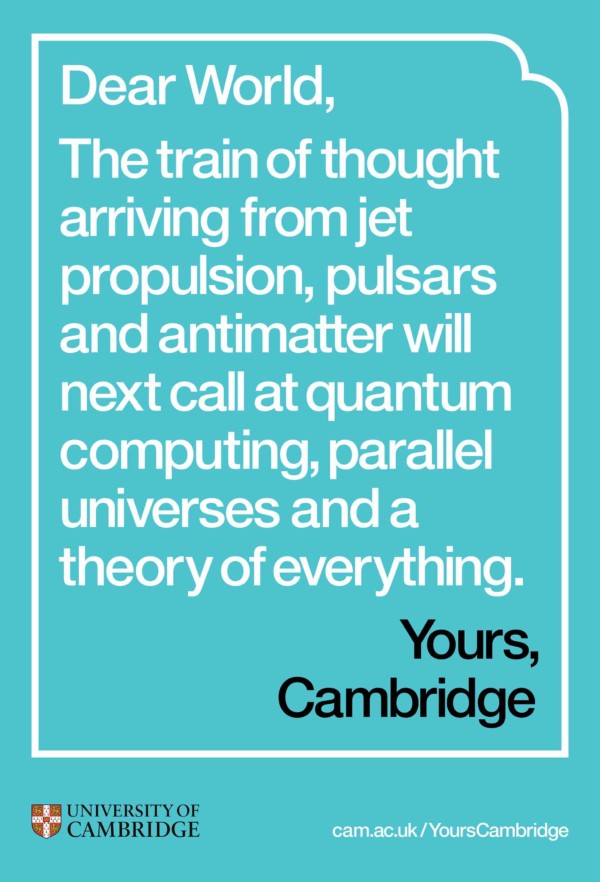 We found that, in its simplest form, the idea of the written letter (albeit in a modern format) was very powerful, so the posters above now greet visitors by train at the station. We also allowed the idea, almost from the off, to twist, turn and adapt.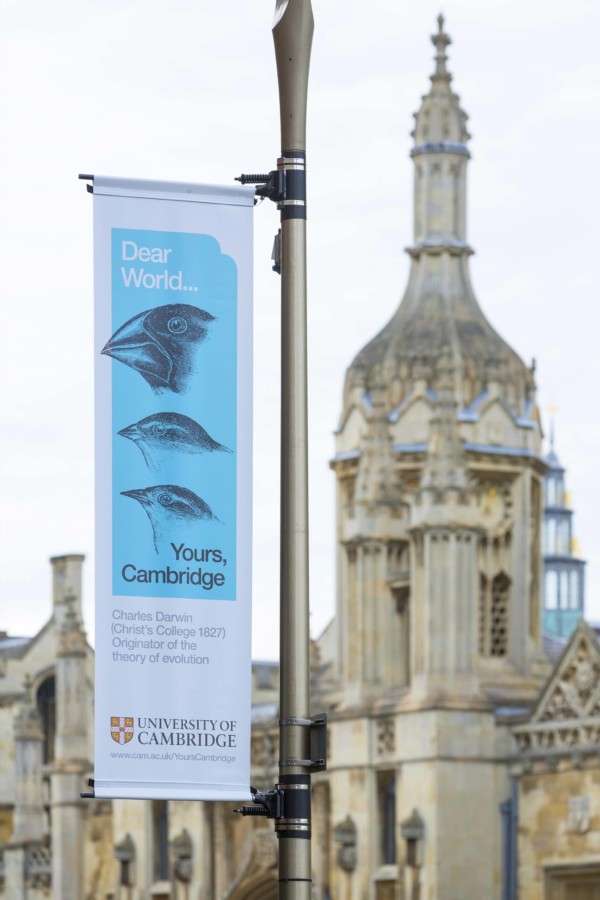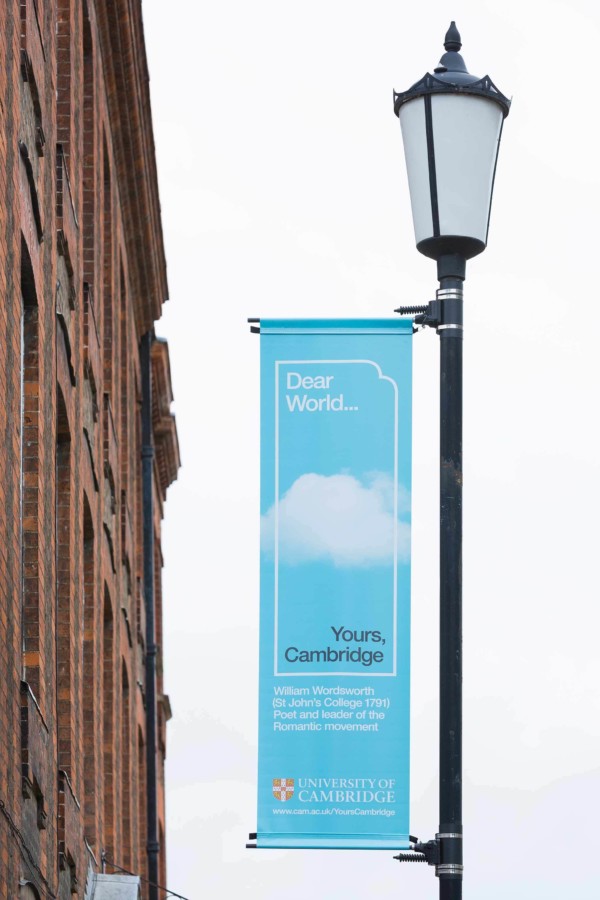 So, Darwin can be summed up by his finches, Wordsworth by a lonely cloud.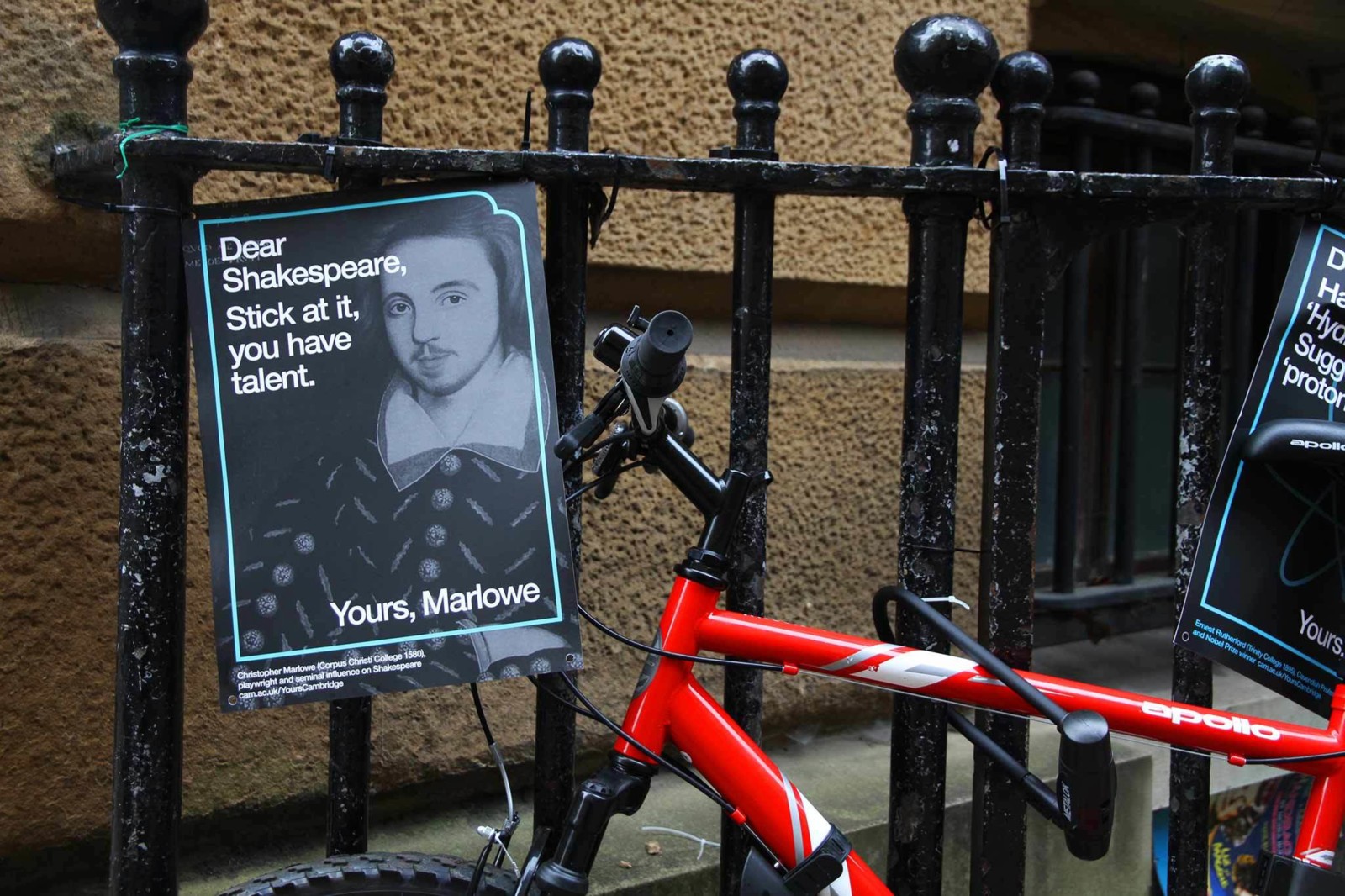 Railings covered with event posters are an ever-present feature of the city's ancient streets, so we borrowed that vernacular and created a large set of posters to use on the railings, acting as a guerrilla campaign for the launch of the scheme. The posters were a perfect way to celebrate both the University's amazing list of achievements, and its list of alumni.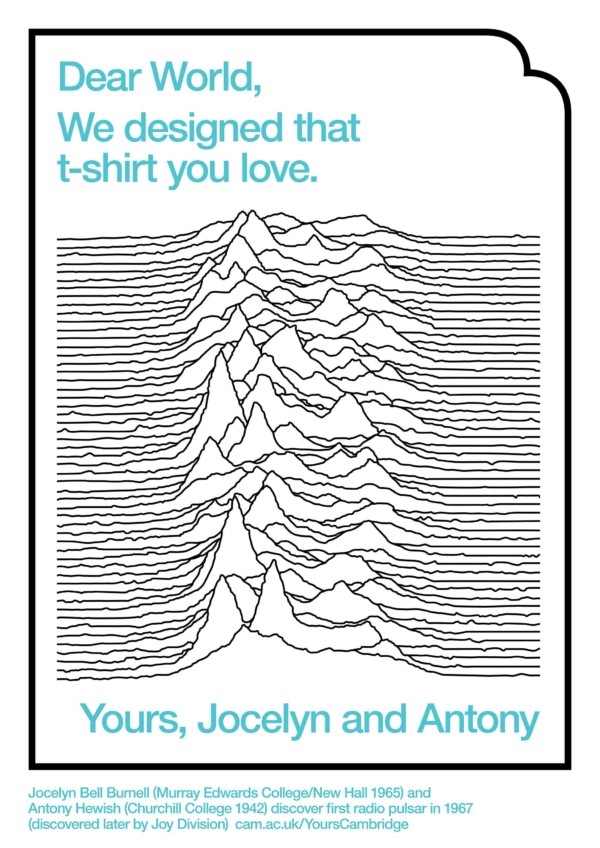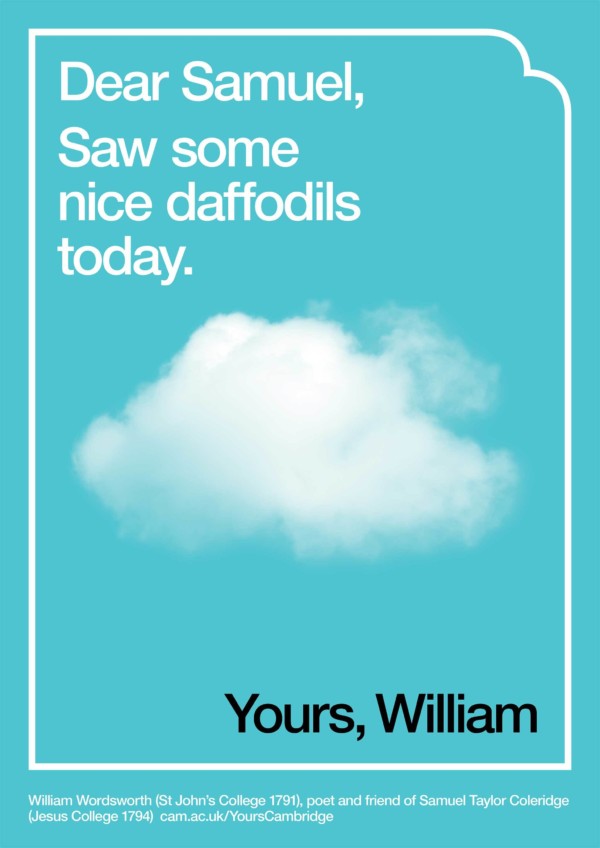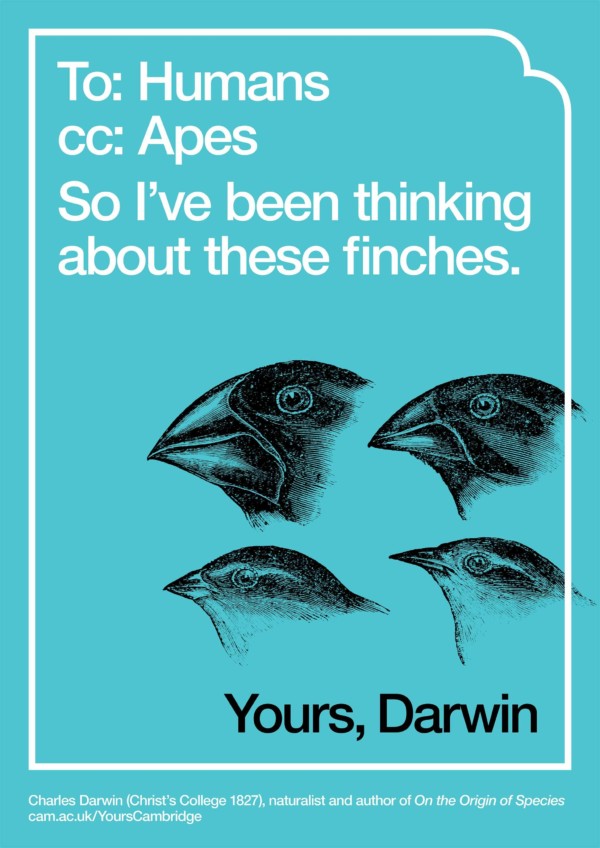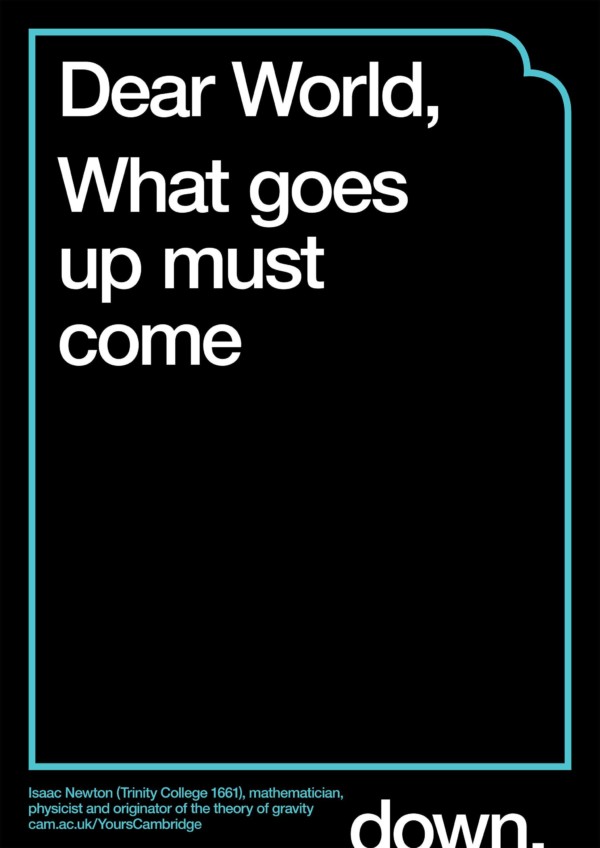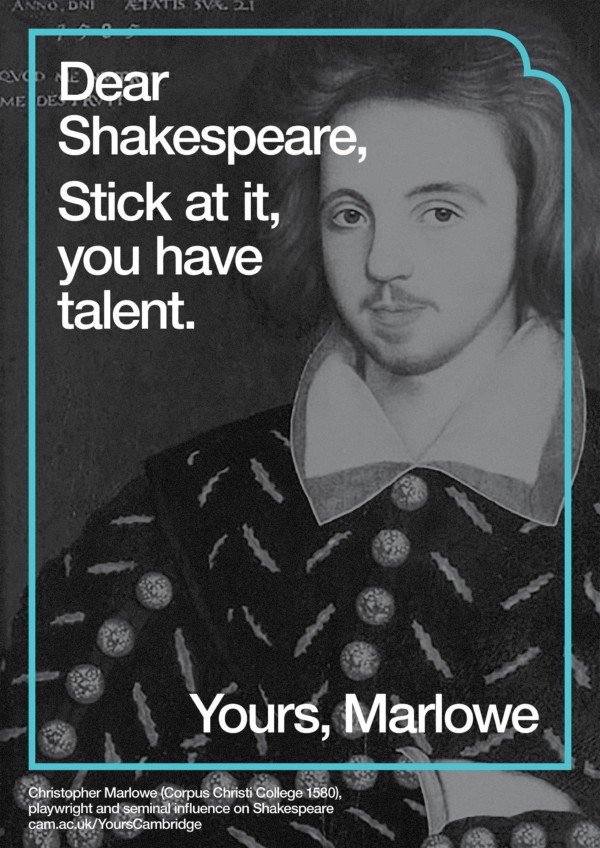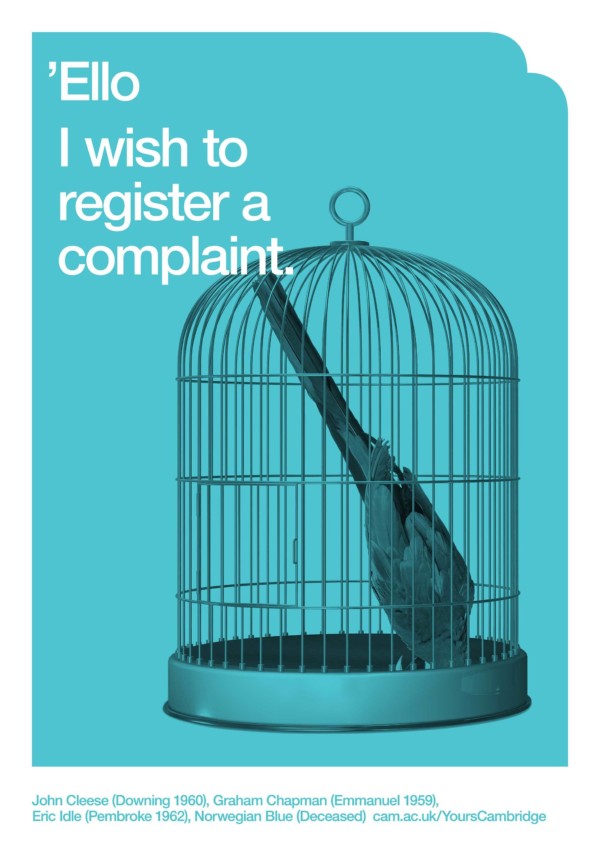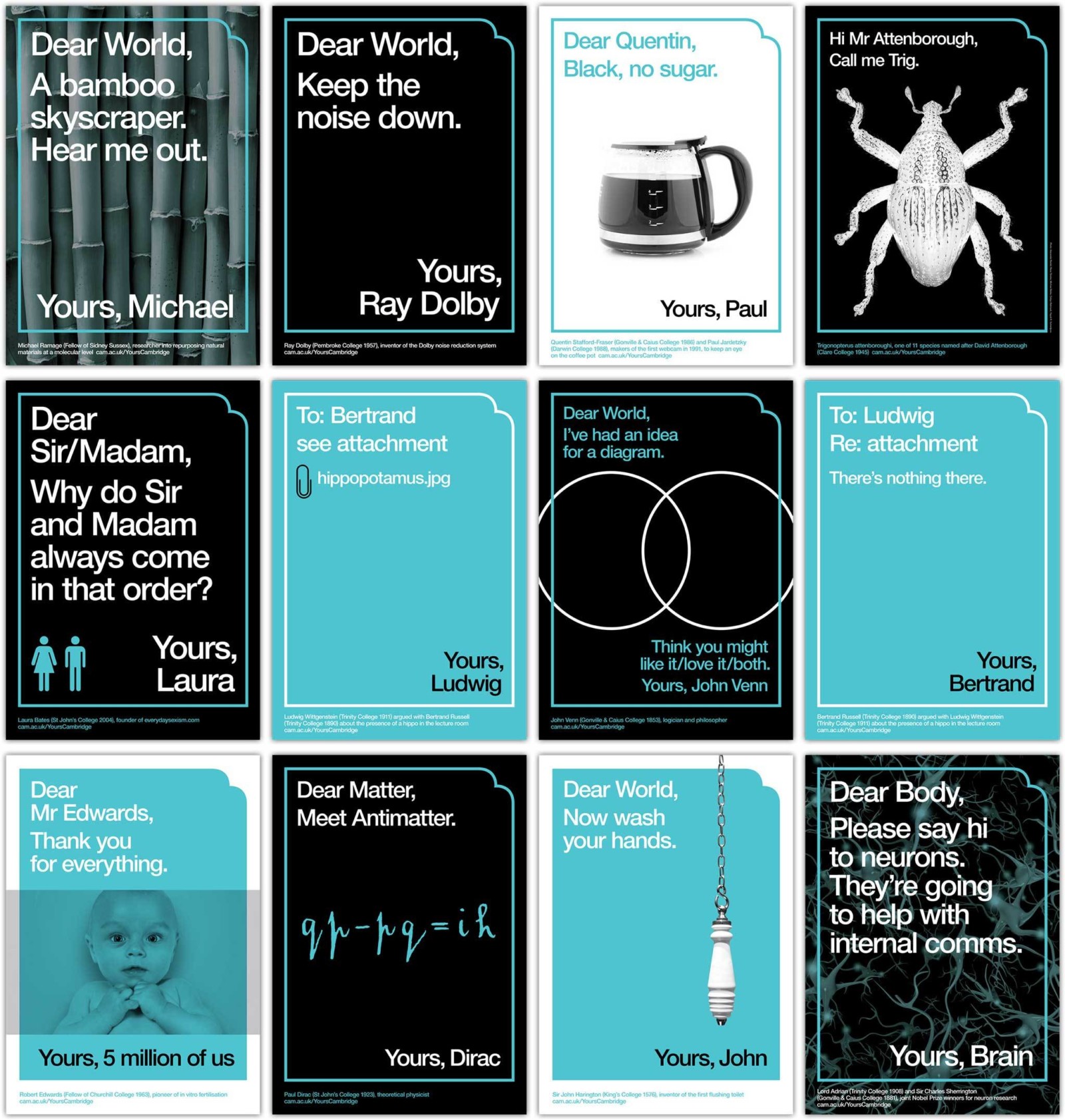 Did you know that John Venn, as in the 'venn diagram', went to Cambridge? That Frank Whittle, inventor of the jet engine, went to Peterhouse, Cambridge? That Cambridge discovered neutrons, and protons, and in 1967 discovered pulsars with this famous astronomical reading, borrowed a decade later by Joy Division? No, nor did we.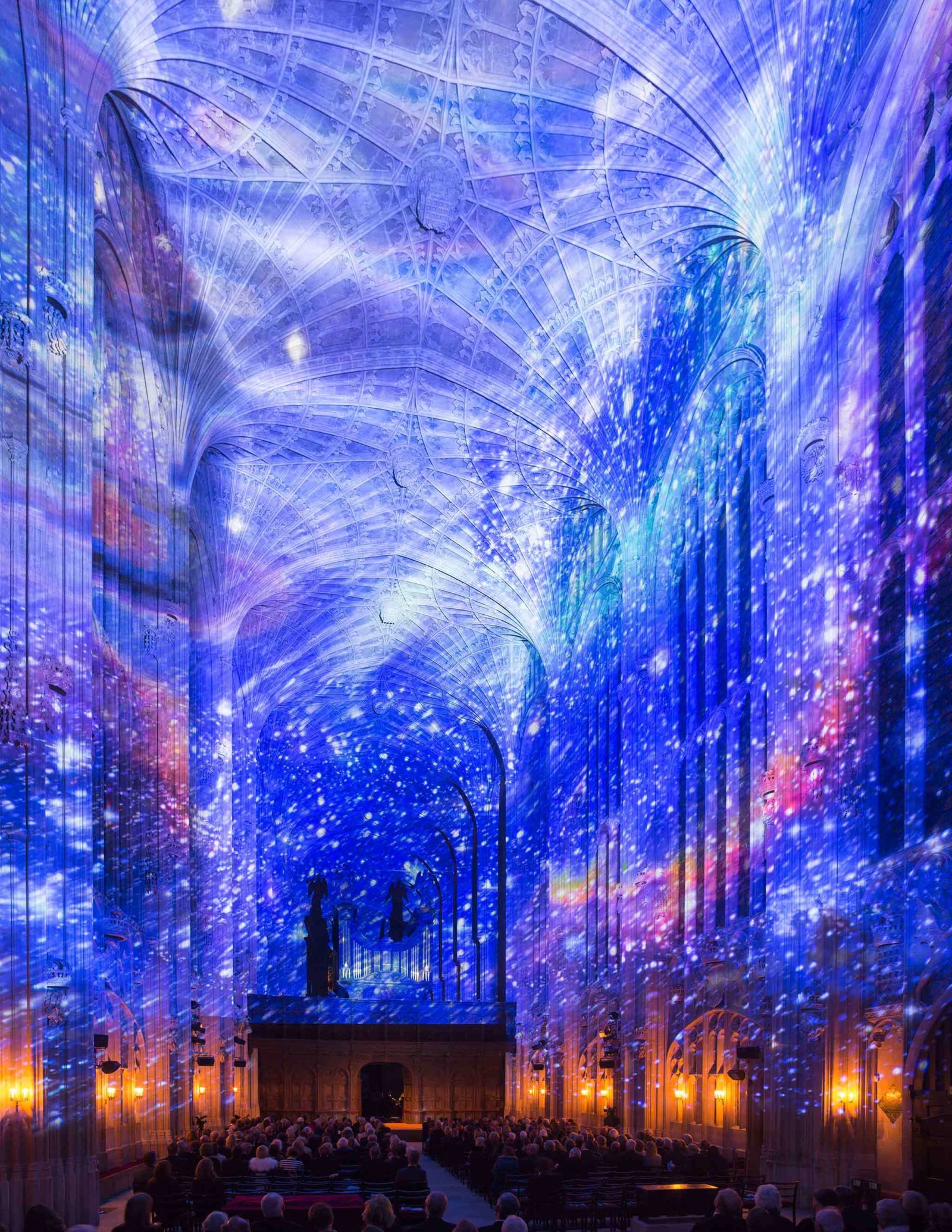 King's College Chapel illuminated for the launch by Miguel Chevalier & Artichoke
Other elements in the first phase include various examples of merchandise, clothing and personalised gifts and for the launch event we collaborated with two events teams to help script and art direct a vast, observatory style spoken-word and projection-mapping event. The core idea also translated across into web and digital applications.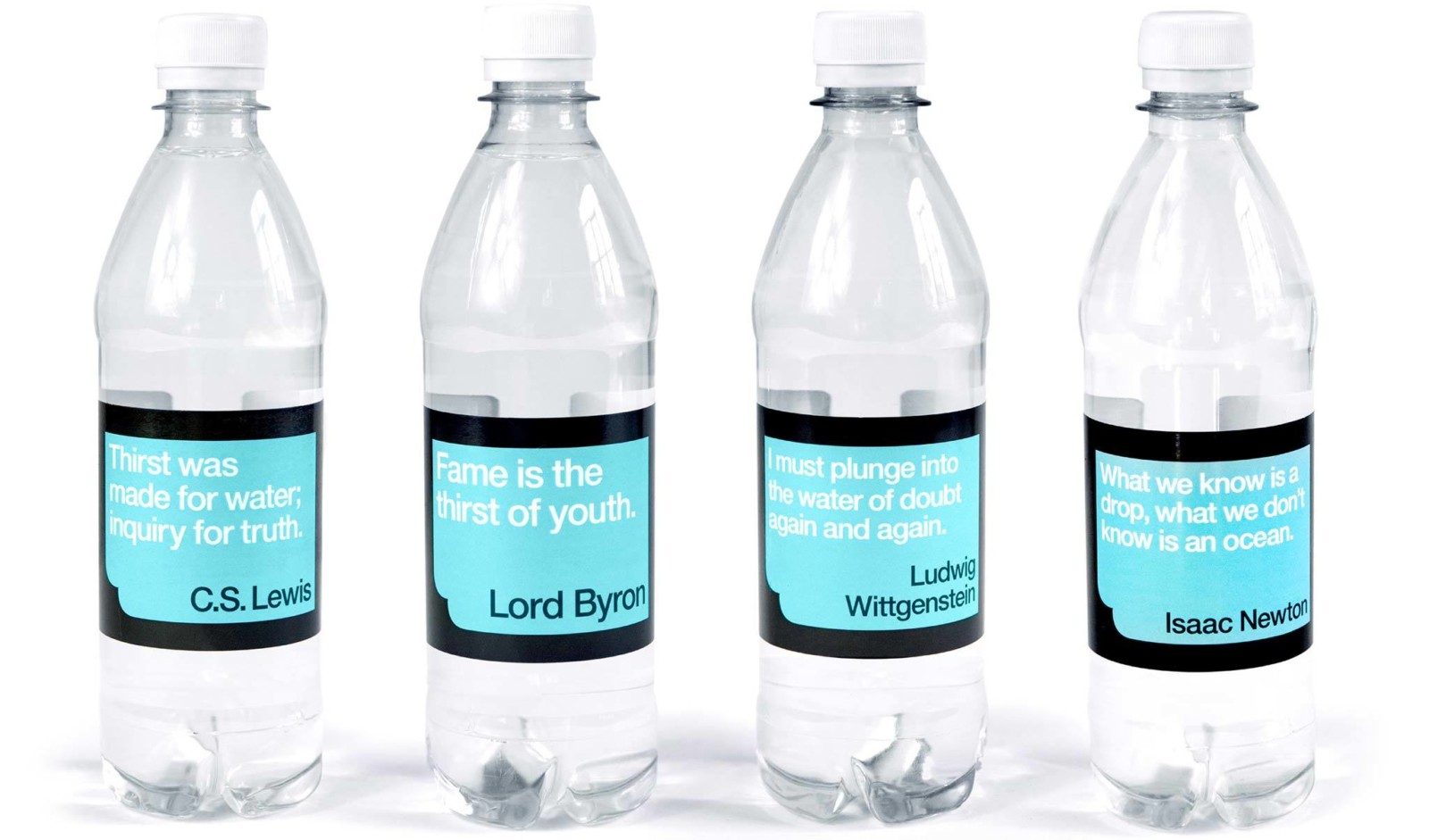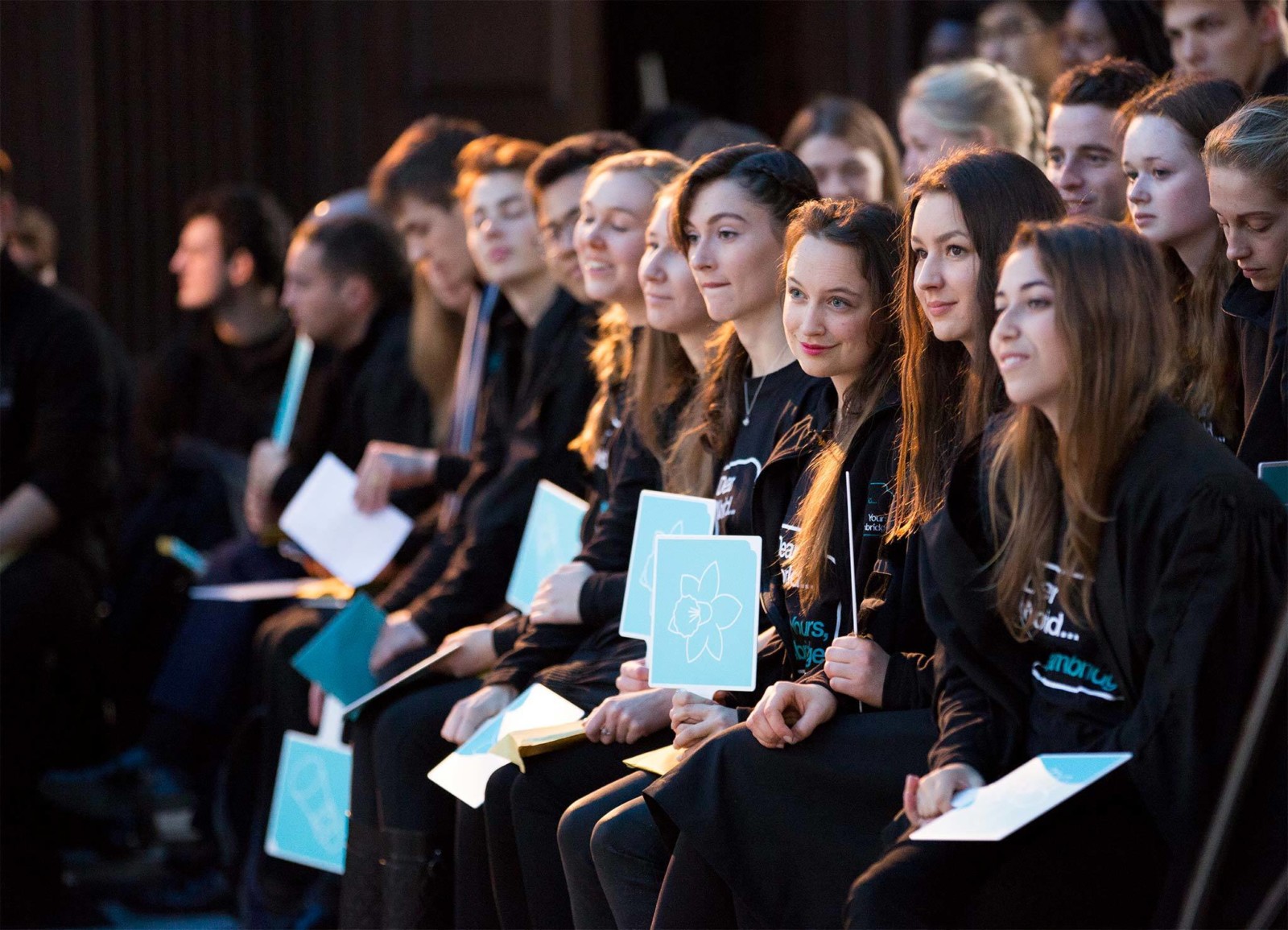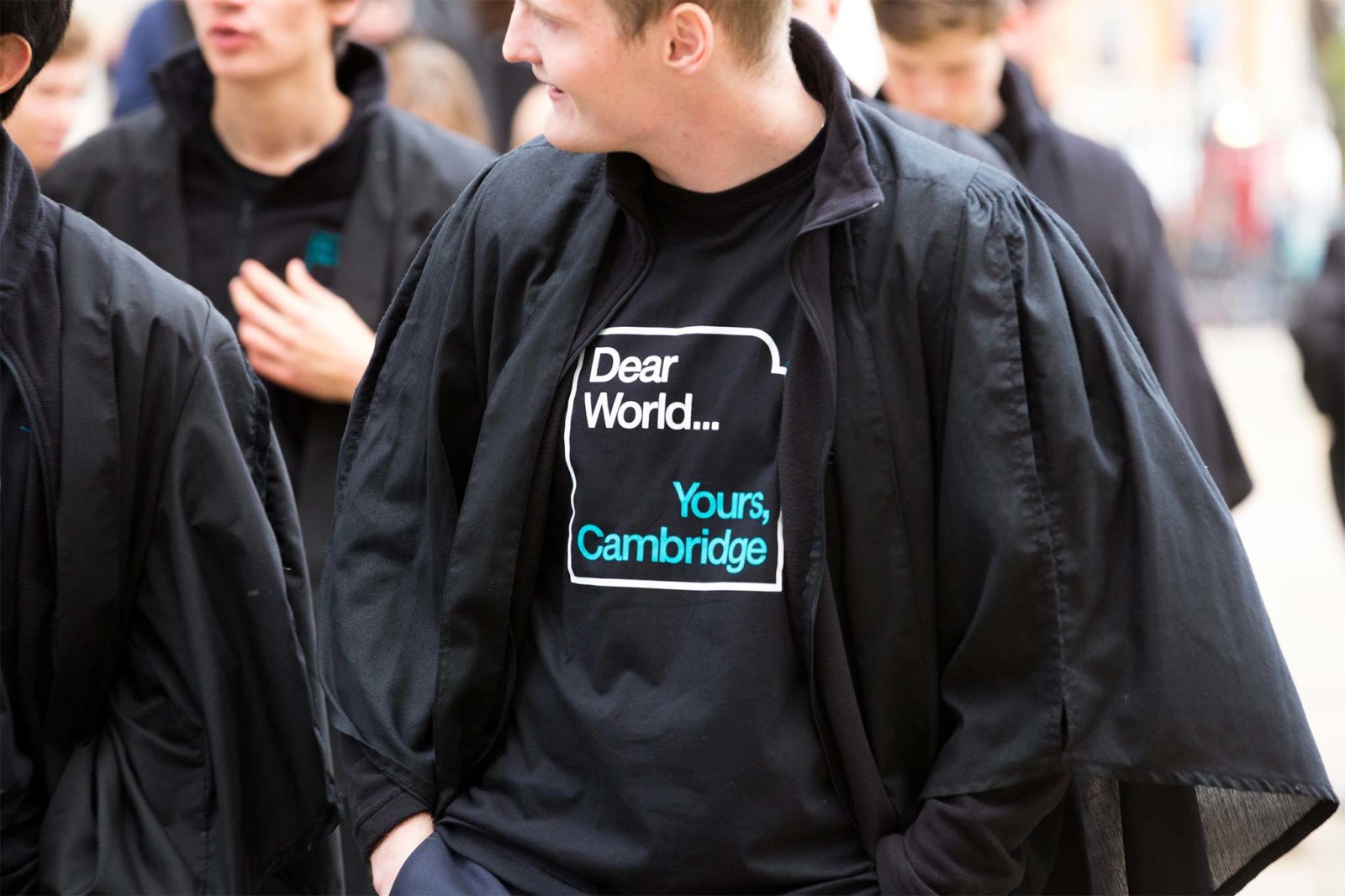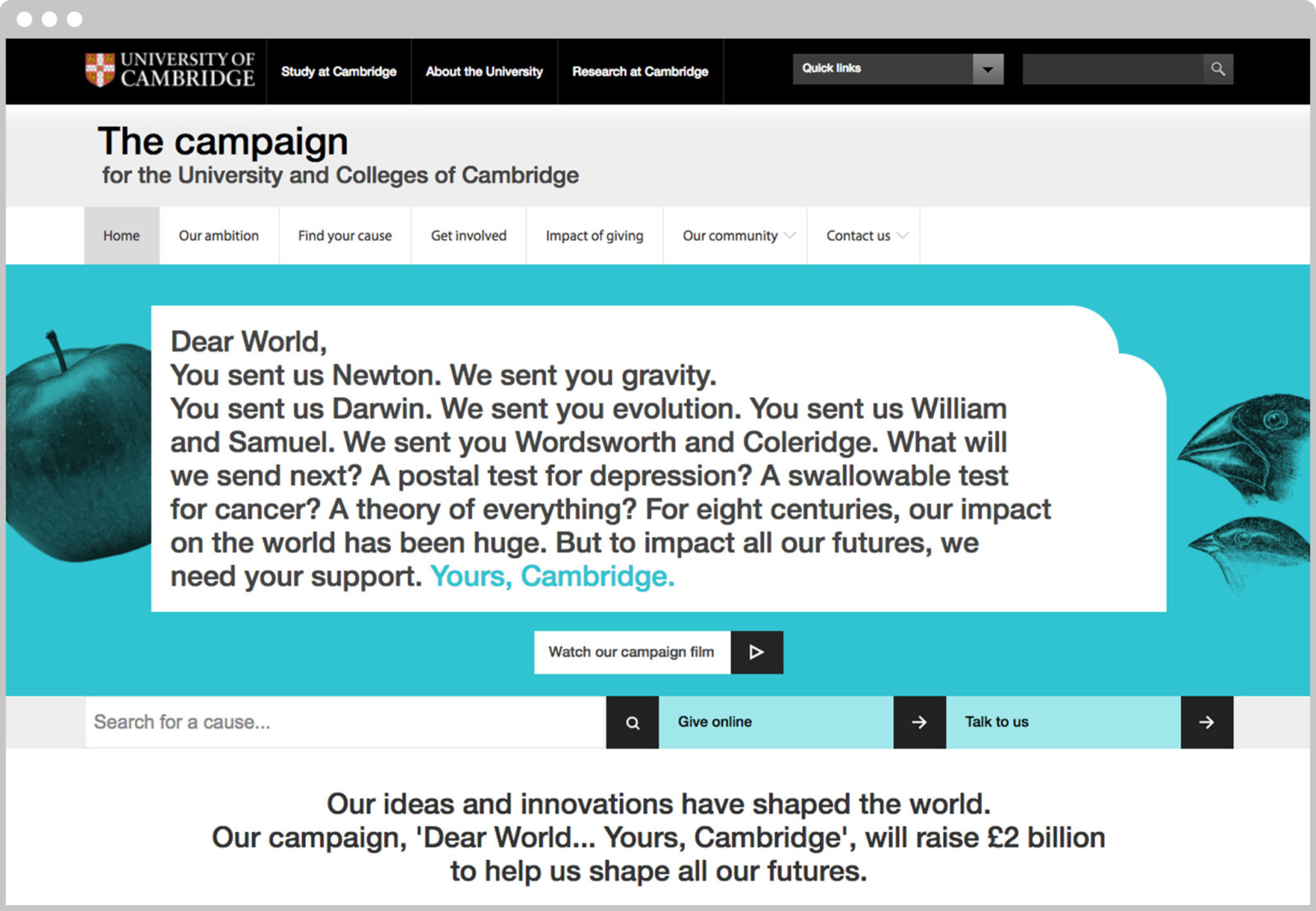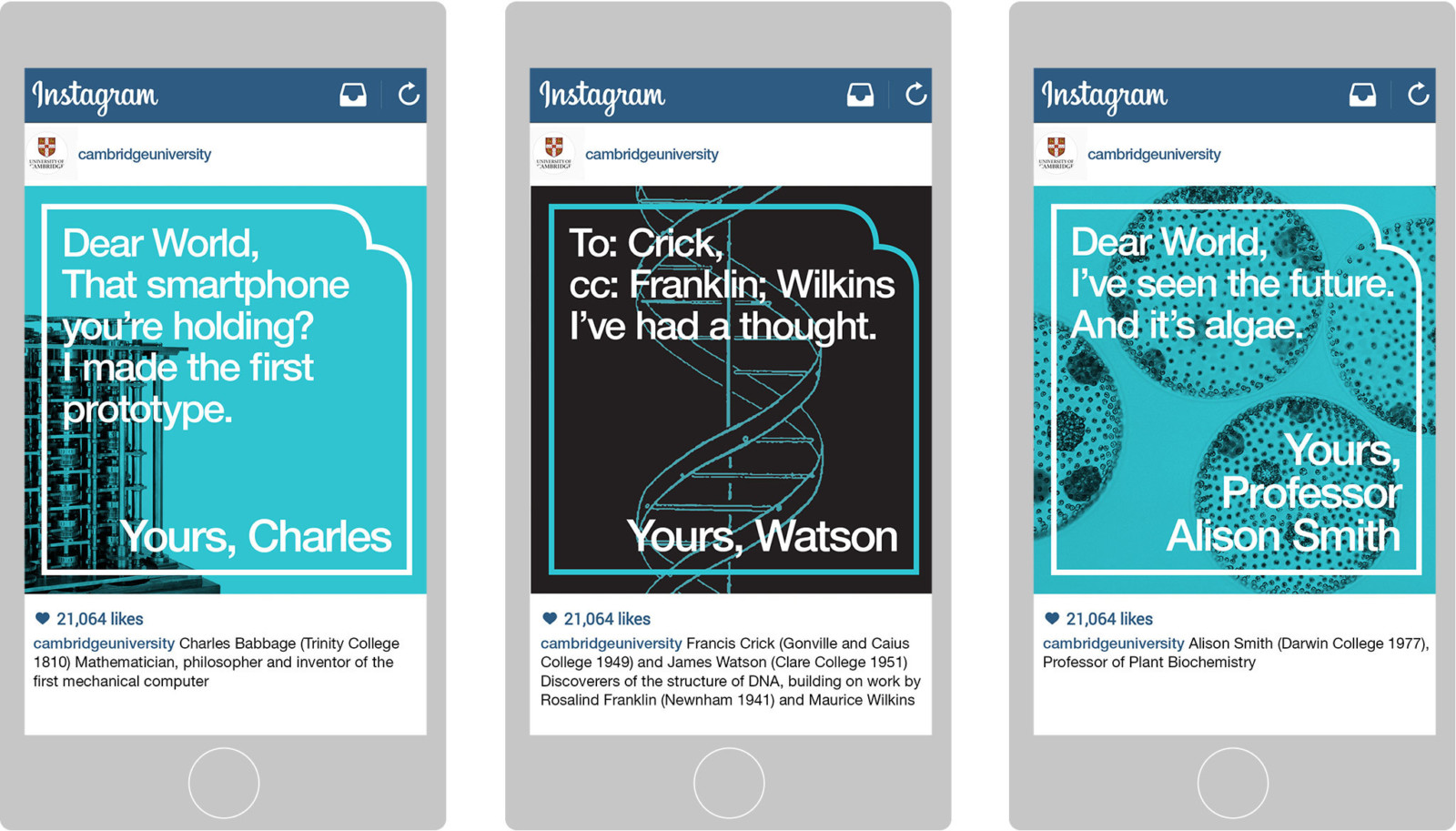 Since the initial launch, we have collaborated with the University team on four further events around the globe, shot several short films, commissioned music and scripted dozens of speeches. One of the most memorable is this short piece about Stephen Hawking.
Challenged with recreating 'Cambridge' to alumni, in far flung events in a vast hotel spaces, we have used differing techniques, varying from talking head films of famous alumni, animations of past achievements and ambient 'mood' films which play quietly in the background yet remind delegate of their illustrious alma mater.
The campaign's impact
The aim of the campaign over the next decade is to raise £2 billion – one of the highest targets ever set. Yet, the signs already are that this campaign is working well, with over £810 million already raised.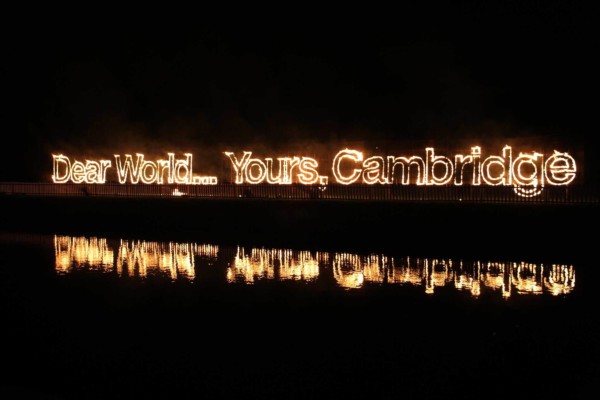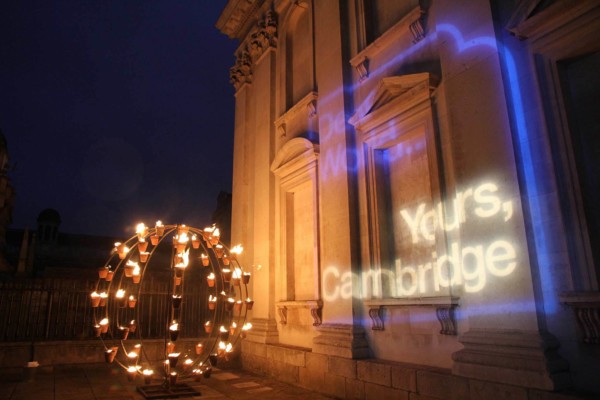 Awards
2016 Brand Impact Awards | Education | Winner
2016 Brand Impact Awards | Best of Show | Winner
2016 D&AD | Writing for Design / Writing for Branding Schemes | Graphite Pencil
2016 D&AD | Writing for Design / Writing for Poster Design | Graphite Pencil
2016 D&AD | Graphic Design / Posters (Graphic Design) | Wood Pencil
Credits