Our task was to create art with barrels for a world famous whisky manufacturer. Our problem was how to create something unusual from wooden barrels that hadn't been done before, and turn half a dozen bits of wood into something beautiful, memorable and unique.
We were asked by Glenfiddich Single Malt whisky to create some 'barrel art' that they could use at touring whisky evenings, add to their barrel art collection at the distillery and exhibit at chosen galleries in Scotland. We asked them if they had a brief or a theme? Their answer: can you base it on time? Glenfiddich make five types of whisky, from 12 years old to 30 years old but they were struggling to get the concept of waiting 21 years for a drink over to some of their audiences.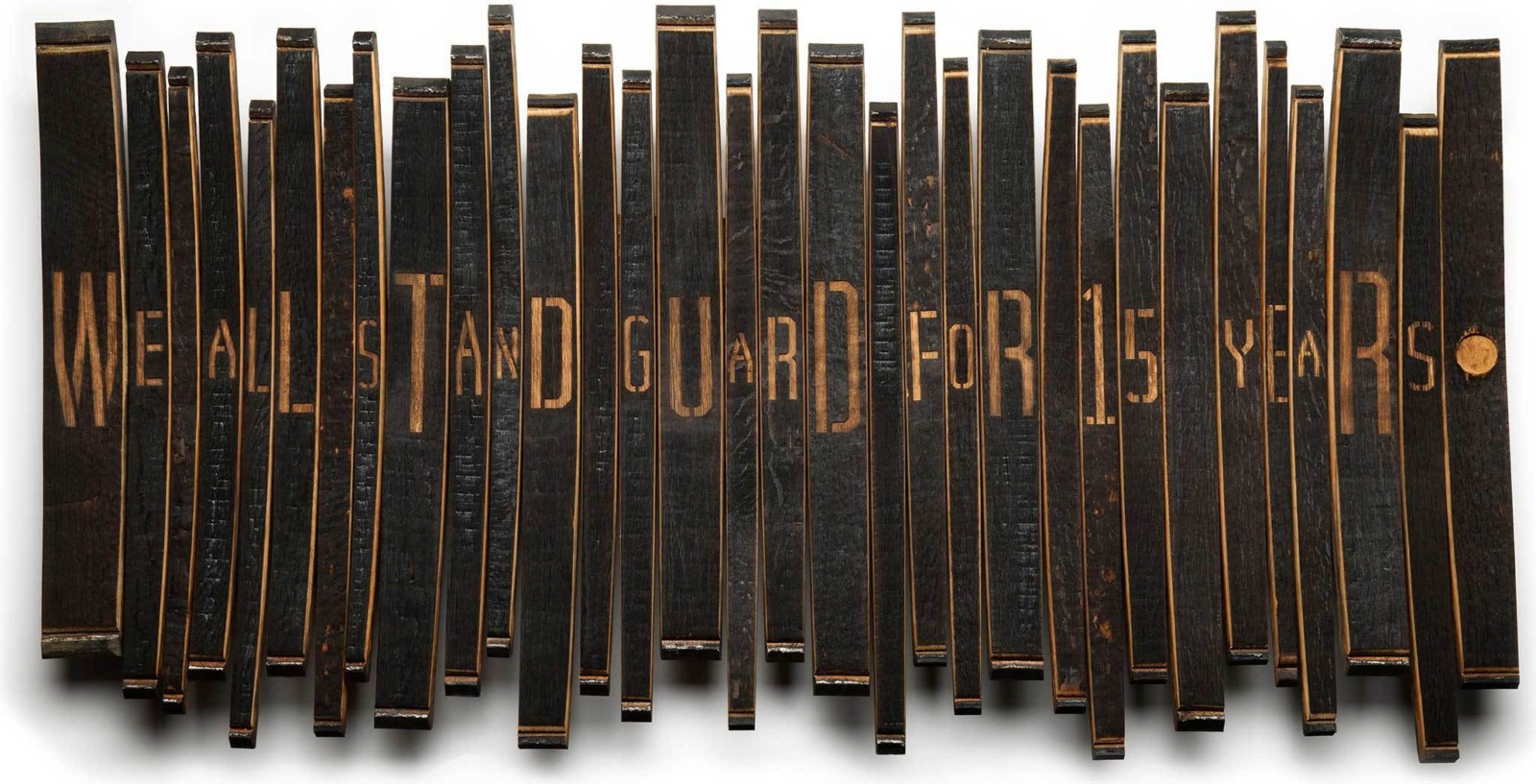 After months of research and distillery visits, we found a solution based on the 'tasks' that each part of the barrel performs as they protect and nurture their precious cargo. So for the 15-year-old whisky, we turned the 32 blackened staves of a barrel inside out and sand blasted the words 'we all stand guard for 15 years' out of the charcoal (and used the bung as a full stop).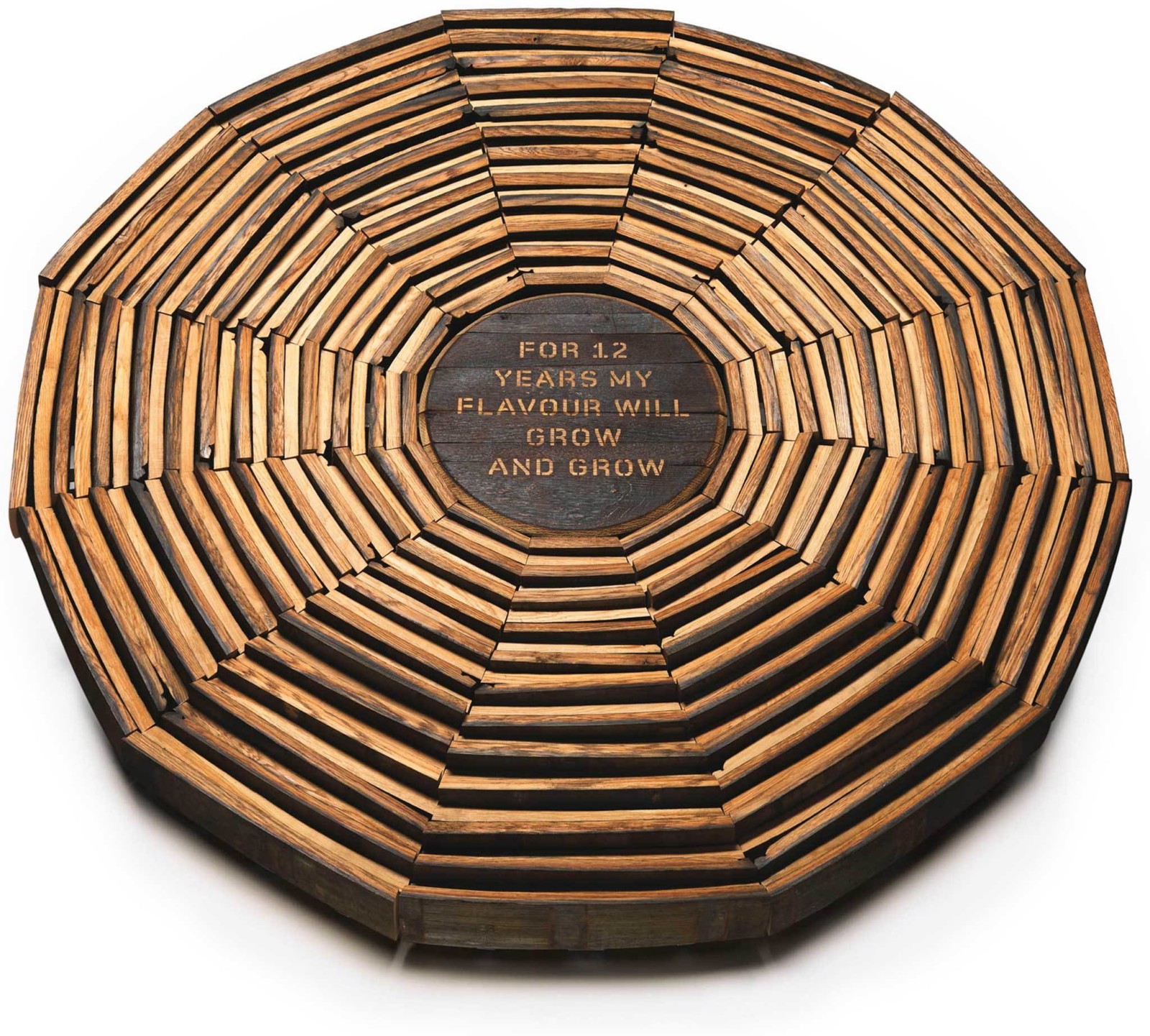 For the 12-year-old whisky, we cut up four barrels and re-created a cross section of a tree, with 12 rings and a barrel top for the centre, further enhancing the message of how the liquid matures over time. Here it is in full. It weighs a quarter of a ton, so not the most portable piece in the set.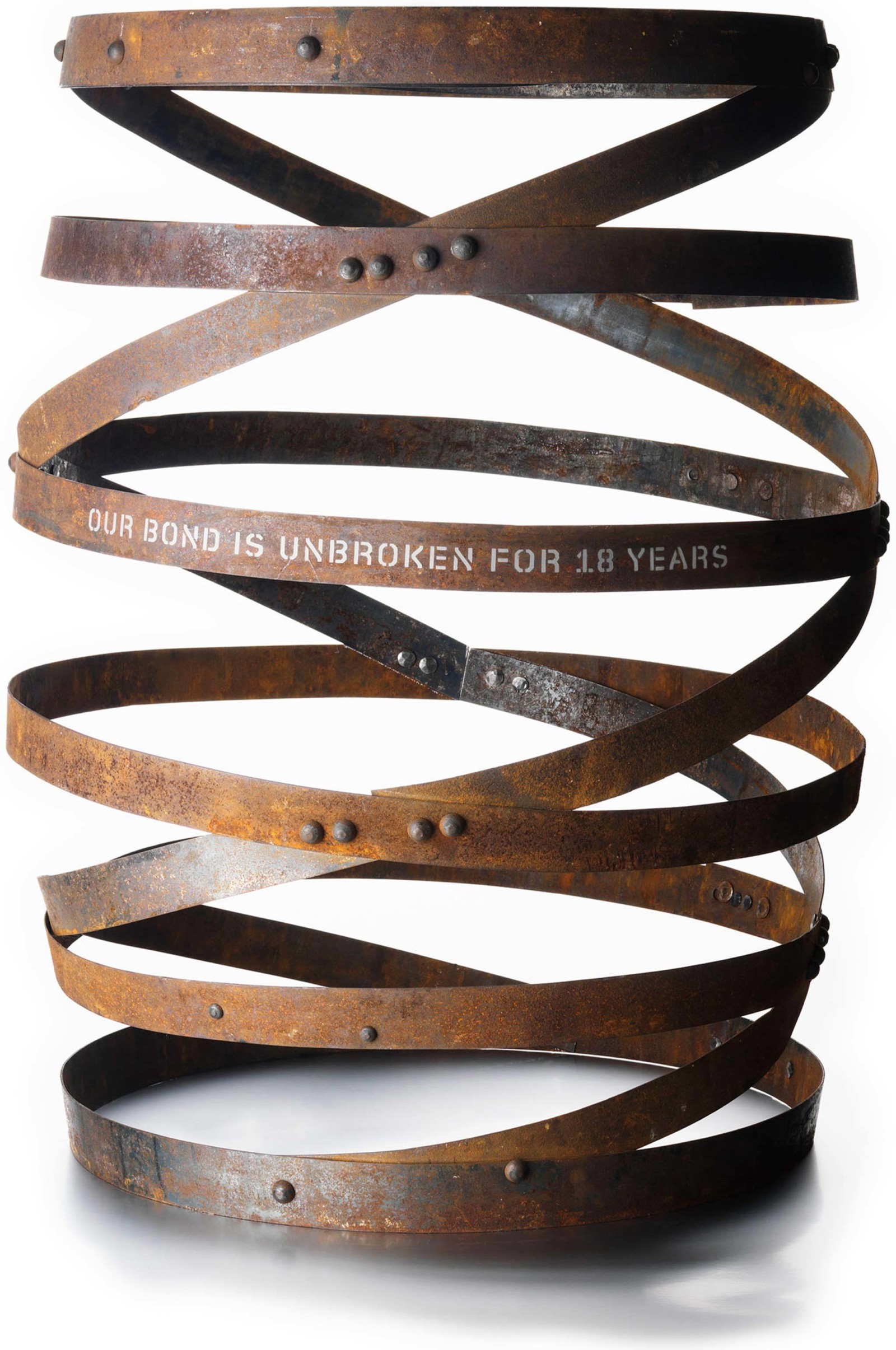 For the 18-year-old whisky, we wanted to create something using the steel 'hoops' holding the barrels together. Our first attempt at a spiral immediately turned from a spiral into a straight line, then we had the thought of making a helix-like unbroken 'impossible' barrel out of the bands.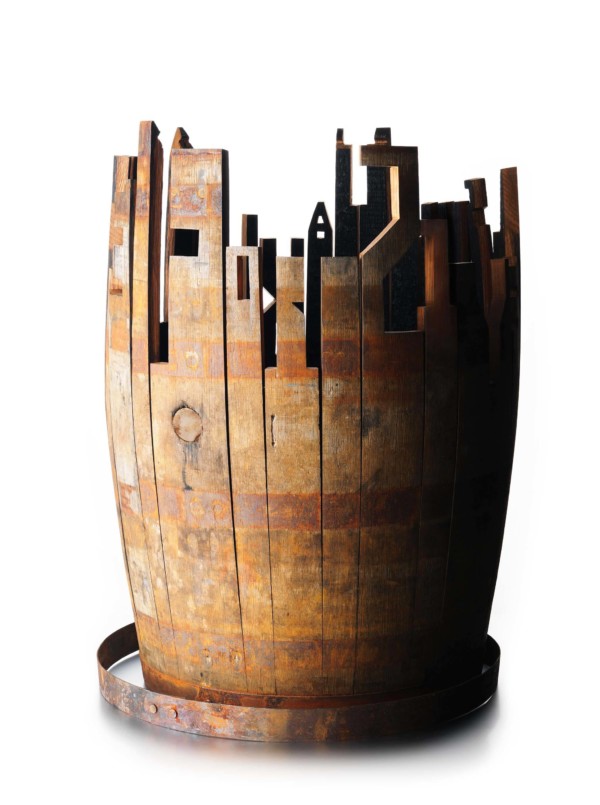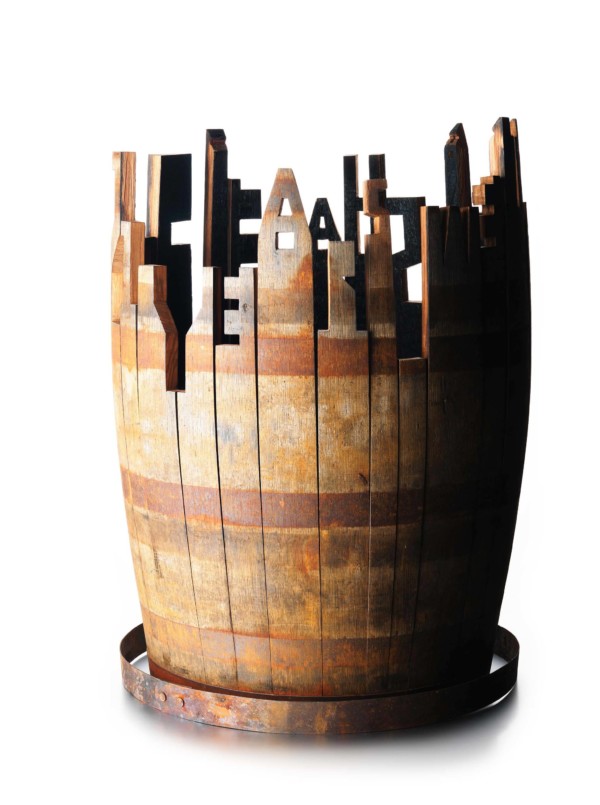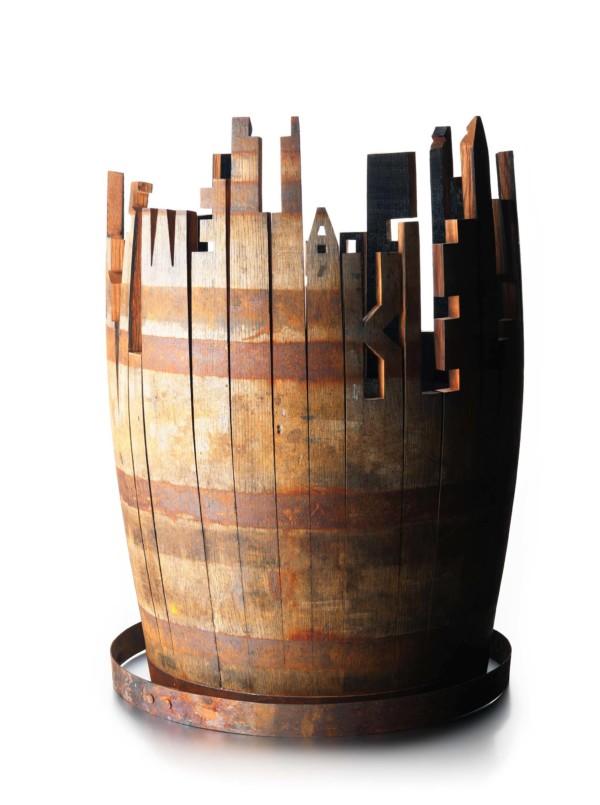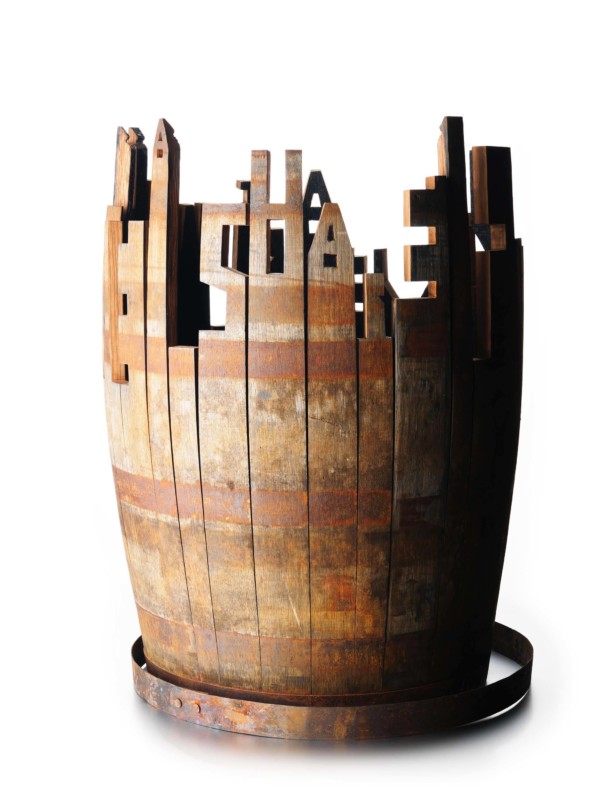 In our research and distillery trips we heard about an old piece of whisky-making folklore, that over the decades as it matures, more than half of it evaporates. But whisky men call it 'taking the angel's share'. So for the 21-year-old whisky we cut the words 'for 21 years we take our share' out of the top of the staves of another barrel.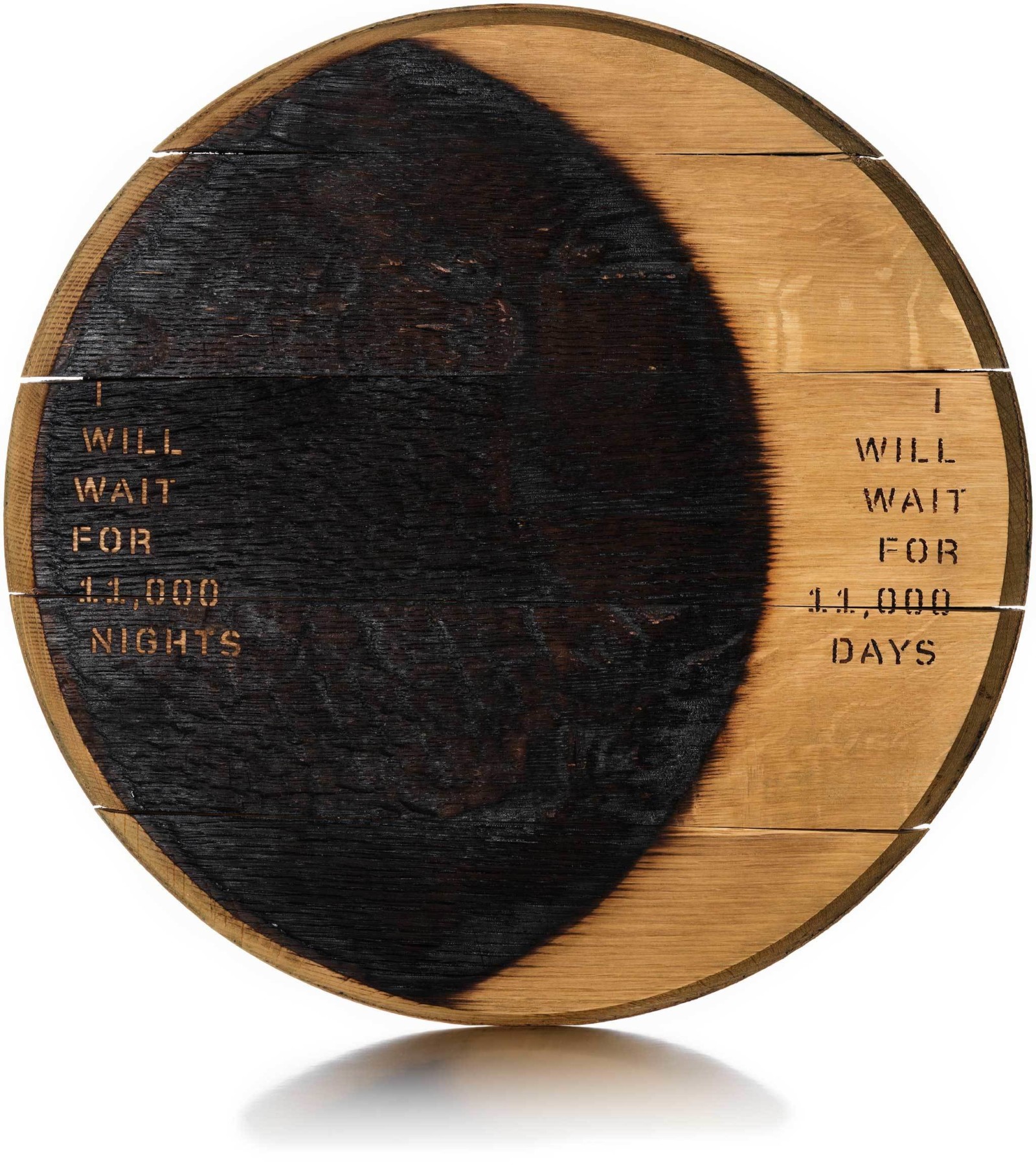 The oldest piece uses the simplest idea — just one barrel top sanded back and re-burnt to illustrate the 11,000 nights and days needed to create their oldest and most precious 30-year-old liquor.
Awards
2010 Design Week Awards | Temporary exhibitions design | Winner
2009 Art Directors Club 88th Annual Awards | Design Print: Corporate & Promotional Design | Bronze cube
2009 D&AD | Branding / Brand Applications Branded Environments | Wood Pencil
2009 D&AD | Environmental Design / Temporary Exhibitions | Wood Pencil
Credits
Barrel production: Wesley West and his team
Photography: Kevin Summers
PR: Red