The impetus for this project was Mozilla's desire to be better known and better understood by its past, present and future audiences. For too long they had been associated only with their most famous product, Firefox, and their not-for-profit status simply hadn't registered. As they themslves stated, 'we're uniquely able to build products, technologies, and programs that keep the Internet growing and healthy, with individuals informed and in control of their online lives'.
What made this project stand-out, right from the off, was Mozilla's determination that, as an open source software company, they should also rebrand 'in the open'.

Which meant that from mid-2016 onwards, every significant stage, twist and turn was shared, publicly, for both the narrative and design stages.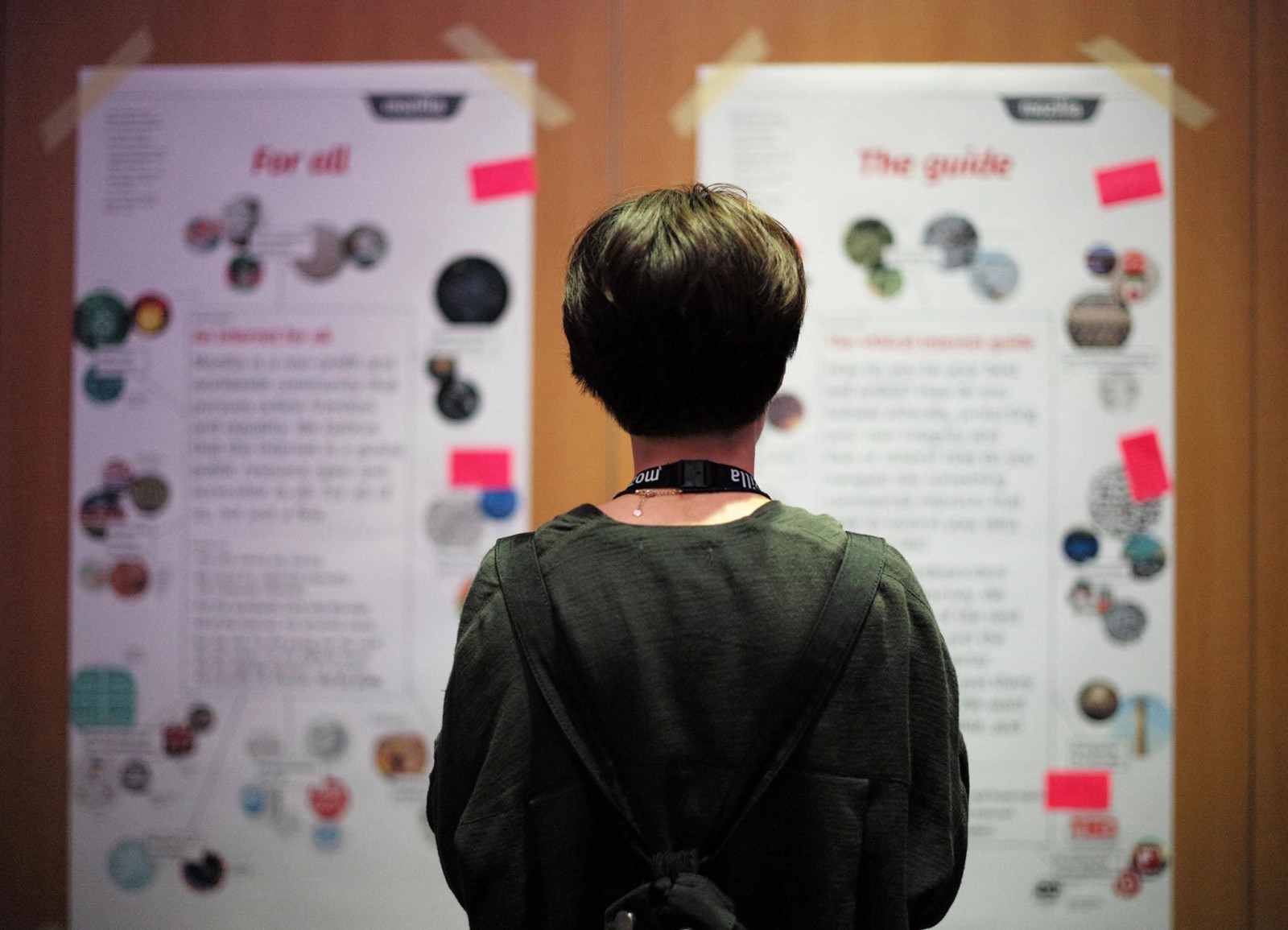 Sharing initial brand narratives with Mozilla staff at their London conference
Agreeing a strategic basis
Whilst some initial work had been done before johnson banks were appointed, our first task was to establish a set of narrative scenarios that were shared at a staff conference, and online. With this initial work, and the development that followed, we were trying to find a clear strategic 'sweet spot' to create a platform for the visual brand.
Many of us are concerned about how our lives are tracked, data-mined and exploited online, so we were keen to show Mozilla in a different light.
Eventually this work was to lead to a clearer verbal positioning:
'We want to be known as the champions for a healthy Internet. An Internet where we are all free to explore and discover and create and innovate without barriers or limitations. Where power is in the hands of many, not held by few. An Internet where our safety, security and identity are respected.'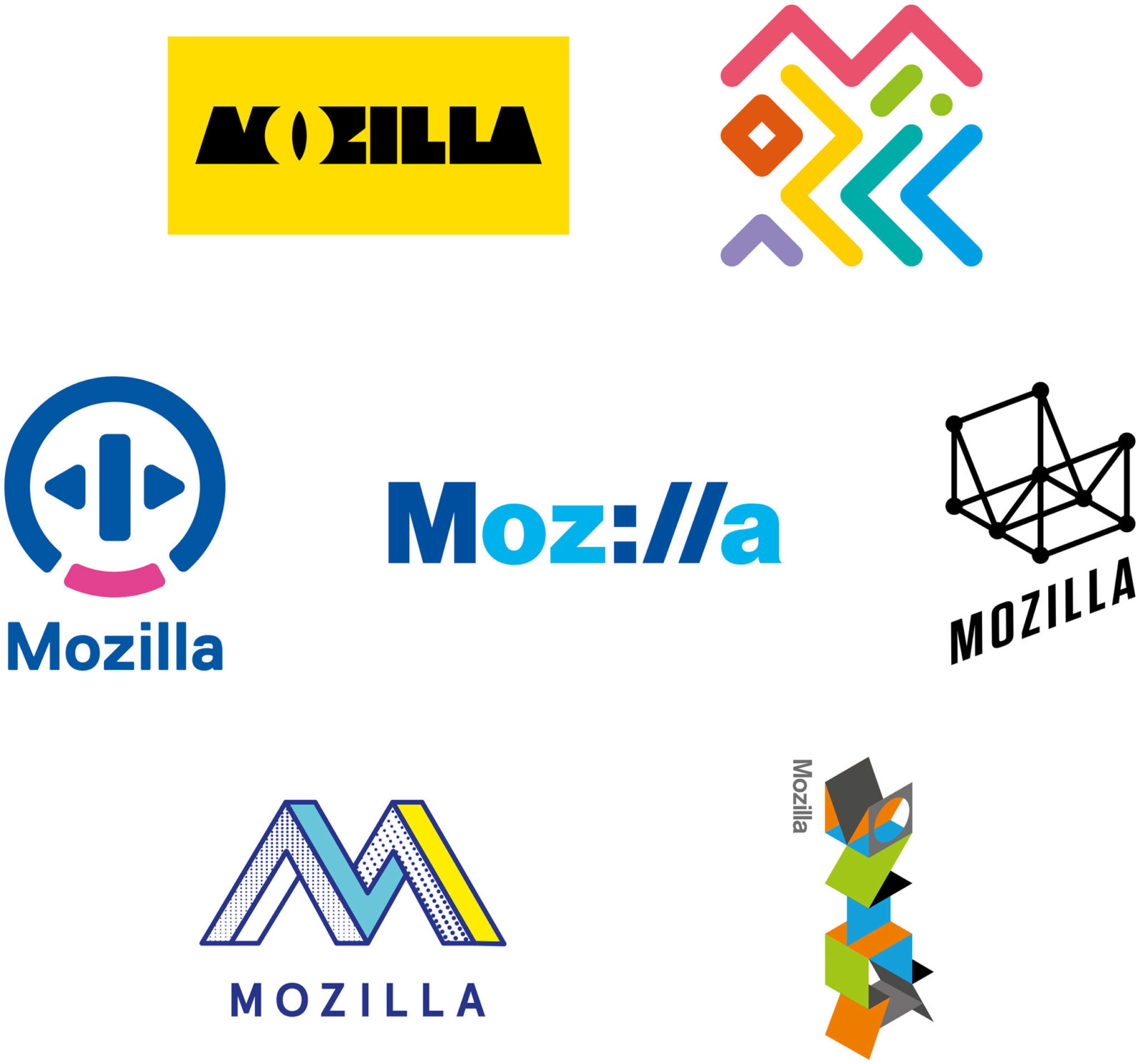 The initial design approaches
By the summer of 2016, we were ready to share our first design approaches, which gathered around five broad strategic directions: Taking stand: A Positive Impact on Humanity; Being Open; The Pioneers and The Maker Spirit. These were discussed widely within Mozilla, on the project blog, and on multiple designs and technology blogs.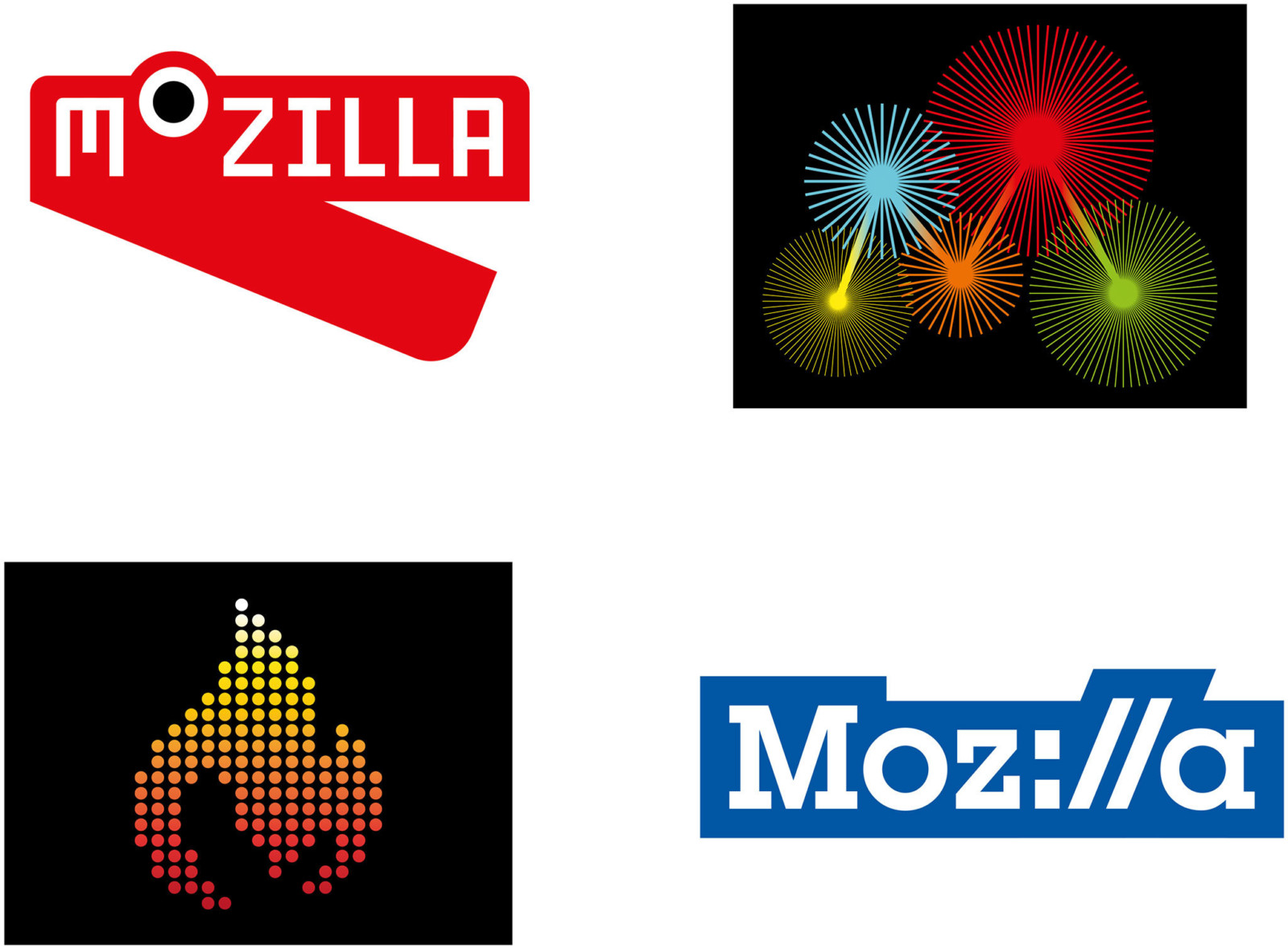 Two of the overall routes – one using part of the http:// internet protocol, one looking at Mozilla's legacy dinosaur symbol – were developed further. Two new routes were added, then an extensive round of testing ensued, online, at conferences, and in global research.

The final logo and design system
Eventually, the idea that used the internet protocol won through. It is a simple and memorable idea which neatly represents how people and knowledge are linked in an increasingly connected world, and it resonates well with their core internal and external audiences. The final design step involved 'rebooting' the idea from its two previous iterations in order to reach the final outcome, which you see here.
The use of some of the language that lies at the heart of the Internet neatly encapsulates their desire to be the champions for a healthy Internet, stand up for what's good about the web, and make it clear that they are an Internet pioneer. Above is a short animation that encapsulates the scheme.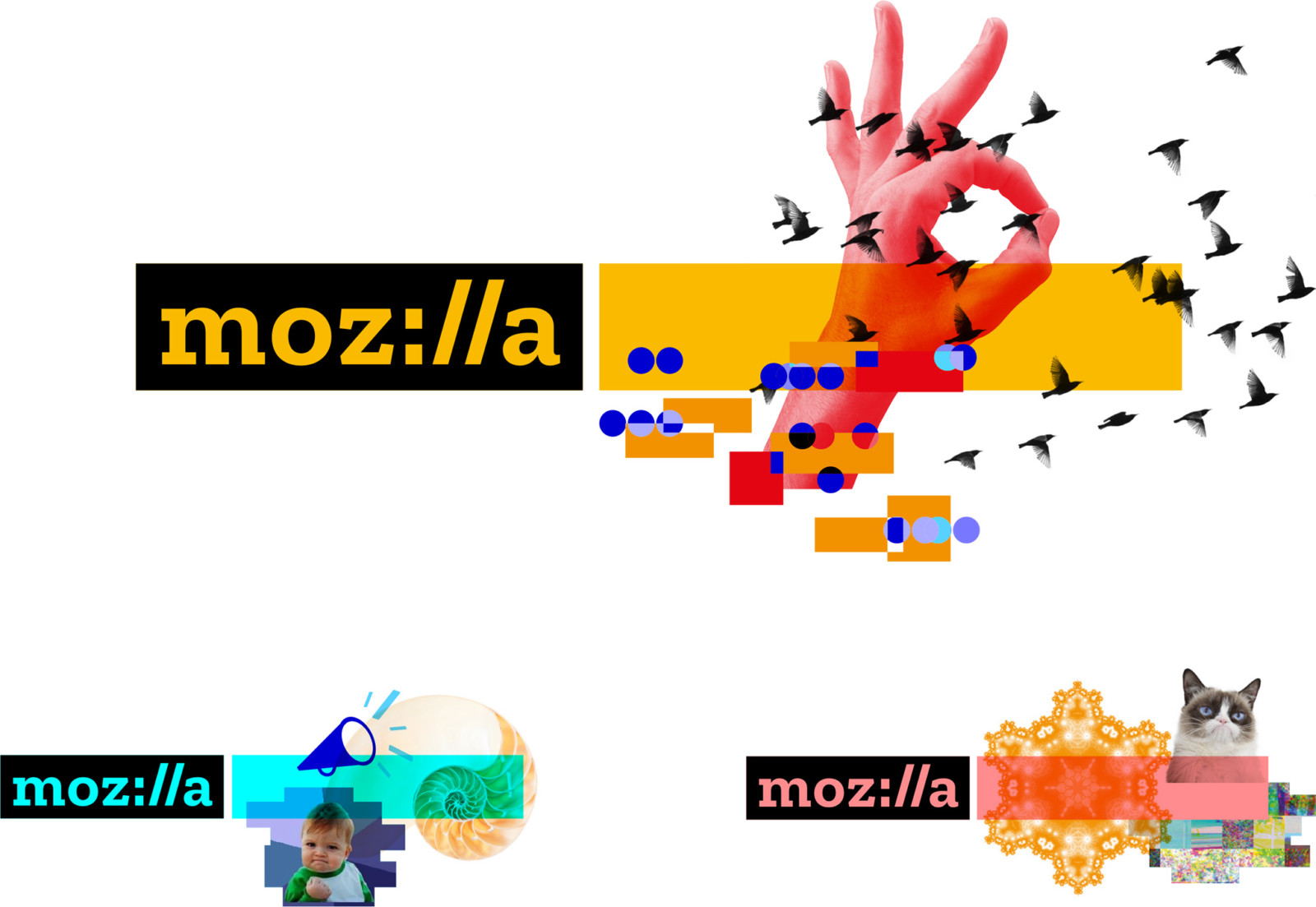 As we pushed the idea further, we were able to make the coloured bars allude to internet browser address bars and discovered that we could fill these bars with both type, messages, images, or a combination – alluding to a typical web journey. It started to become a very flexible system. And we had always enjoyed the thought that this was a logo you could type, as in 'moz://a'.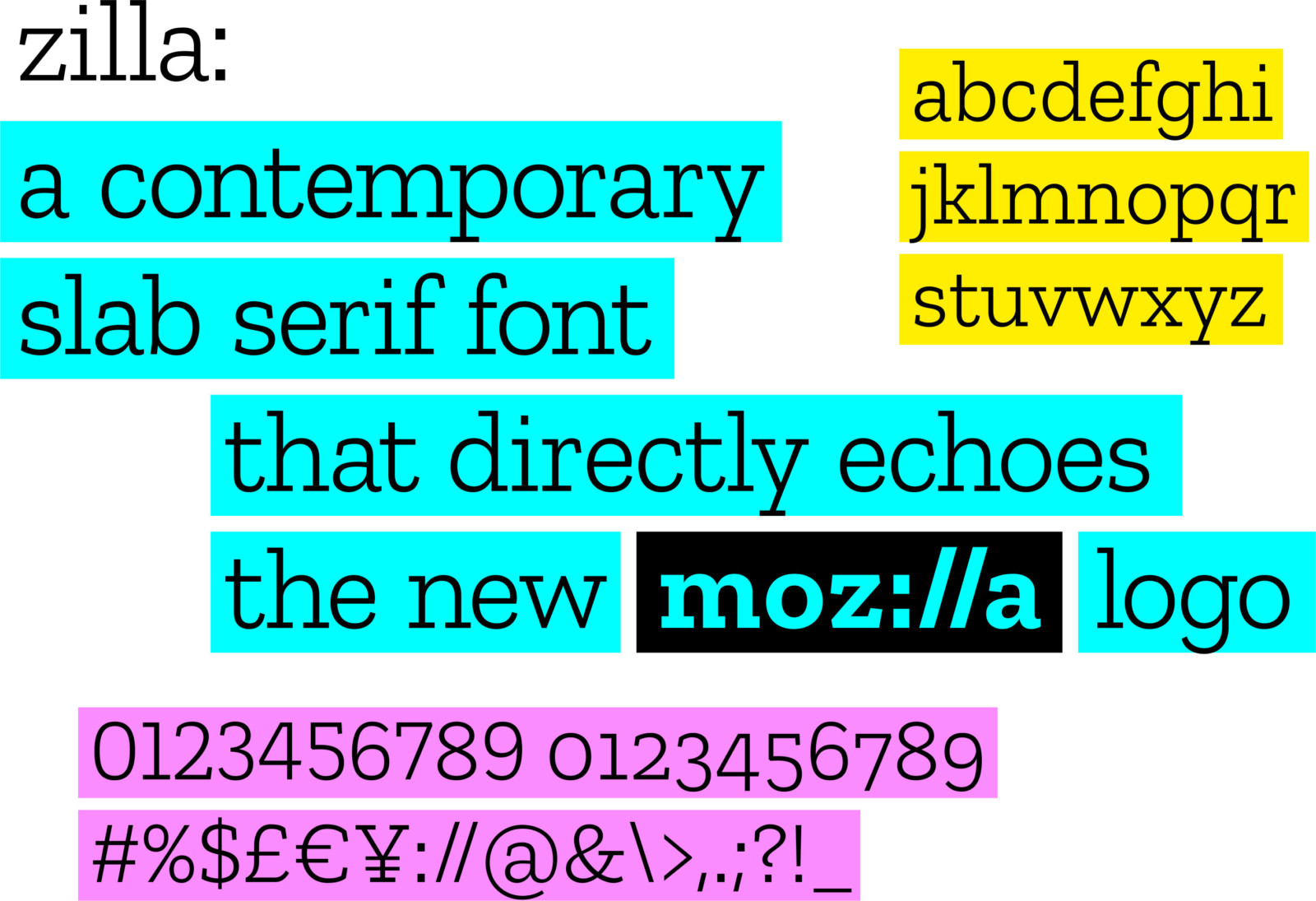 Zilla: a font for everyone
Initially we restricted ourselves to free fonts, then started to think about a commissioned font that would then be made available free of charge. The font foundry Typotheque was chosen to do this because of the fonts they had already designed that could form a basis for what we needed, and the type foundry has a long and distinguished link to some of the earliest web font designs.
The final font is carefully customised so the details that you see in the angles and serifs of the final logo carry across into the font itself. It will be extended out into several weights, and eventually into Cyrillic.
It's based on a 'slab serif' style – chosen because much coding is still done in 'typewriter' style fonts , so there's an additional link there. And, in our research, we had flagged the fact that nearly all of their peers and competitors have moved to humanist sans-serif fonts and wordmarks – we felt strongly that they should move in a different direction.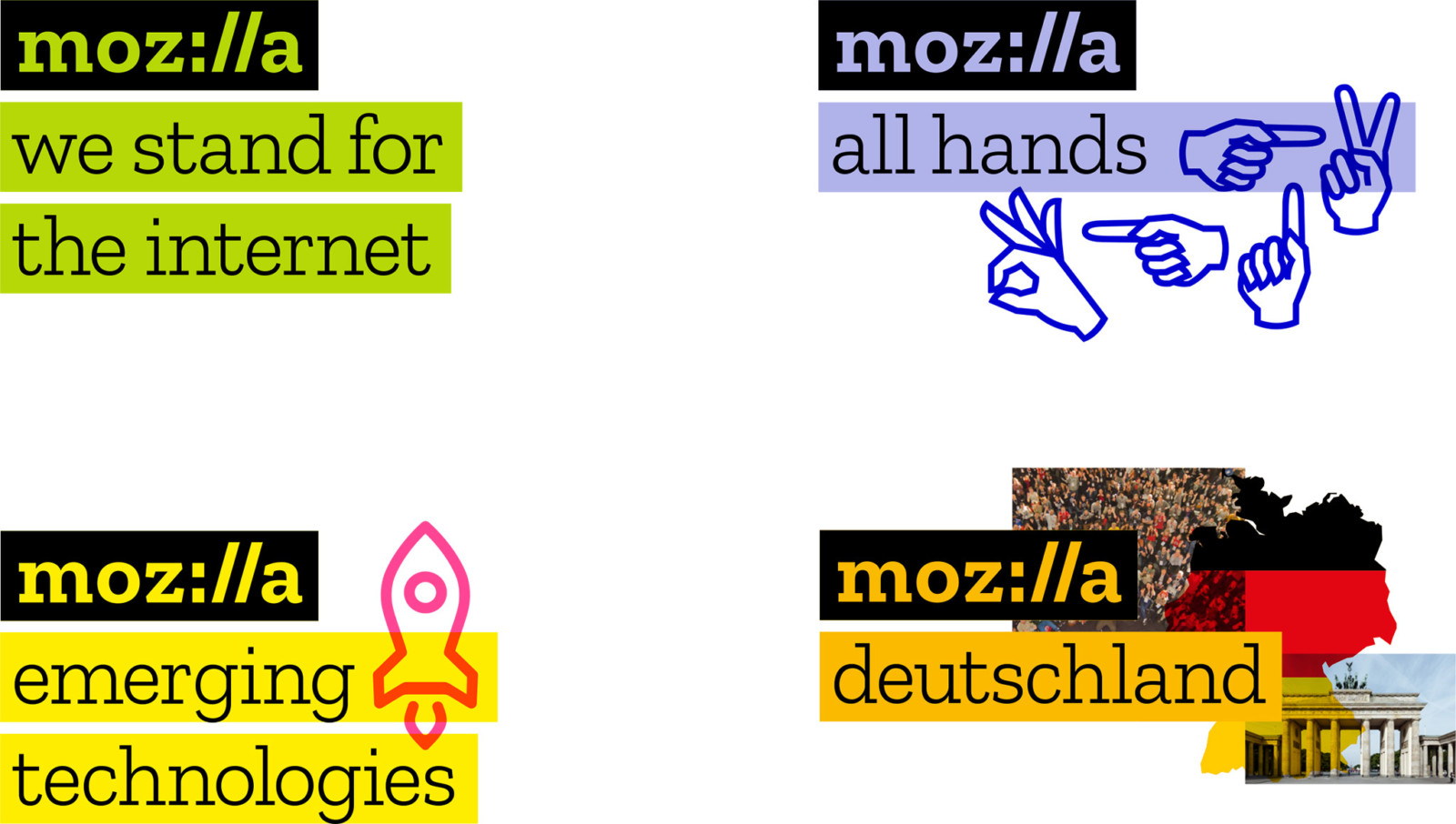 Messaging and brand architecture
In our research we'd noticed that Mozilla seemed reticent to 'take a stand' in a way that matched with our other not-for-profit clients, so it was important to find a way for Mozilla to include messages near the mark itself. We had also audited a vast array of different sub-brands and communities, so the new design plots a more unified course for these.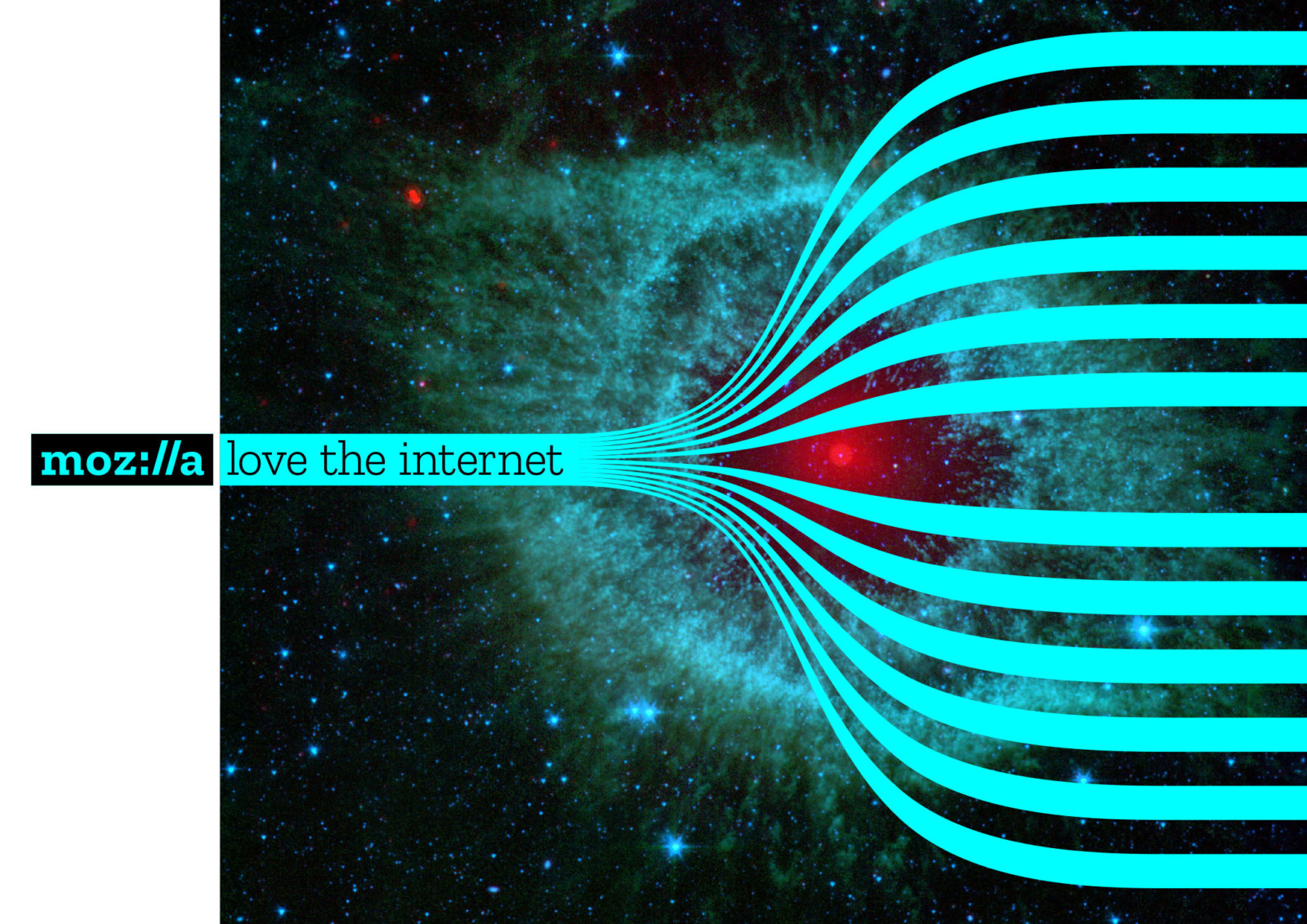 An open approach to imagery
As we explored this route further we realised that we needed an imagery palette that was as wide as possible to let us talk about people, technology, connections, open-source, privacy… …all the topics they want to cover now, and any new ones in the future.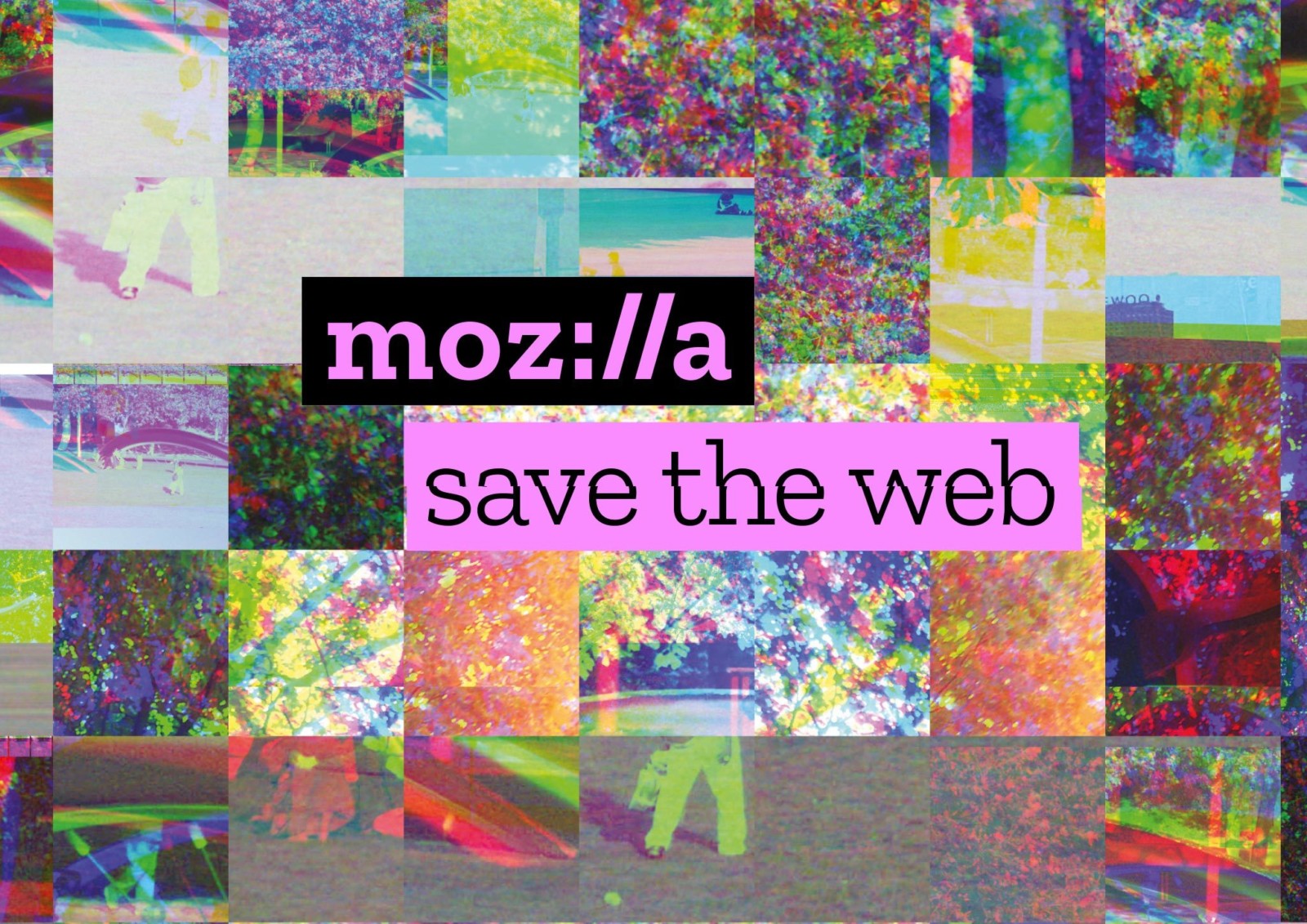 So we began to explore the idea of an almost digital 'collage' of imagery that would begin to sum up the wonder, width and craziness of the web. The next step on this will be to call for and build an online gallery of Mozilla imagery, film and animation – to source their image bank in a similar manner to how they create their code.
There follows more examples of the final route in action.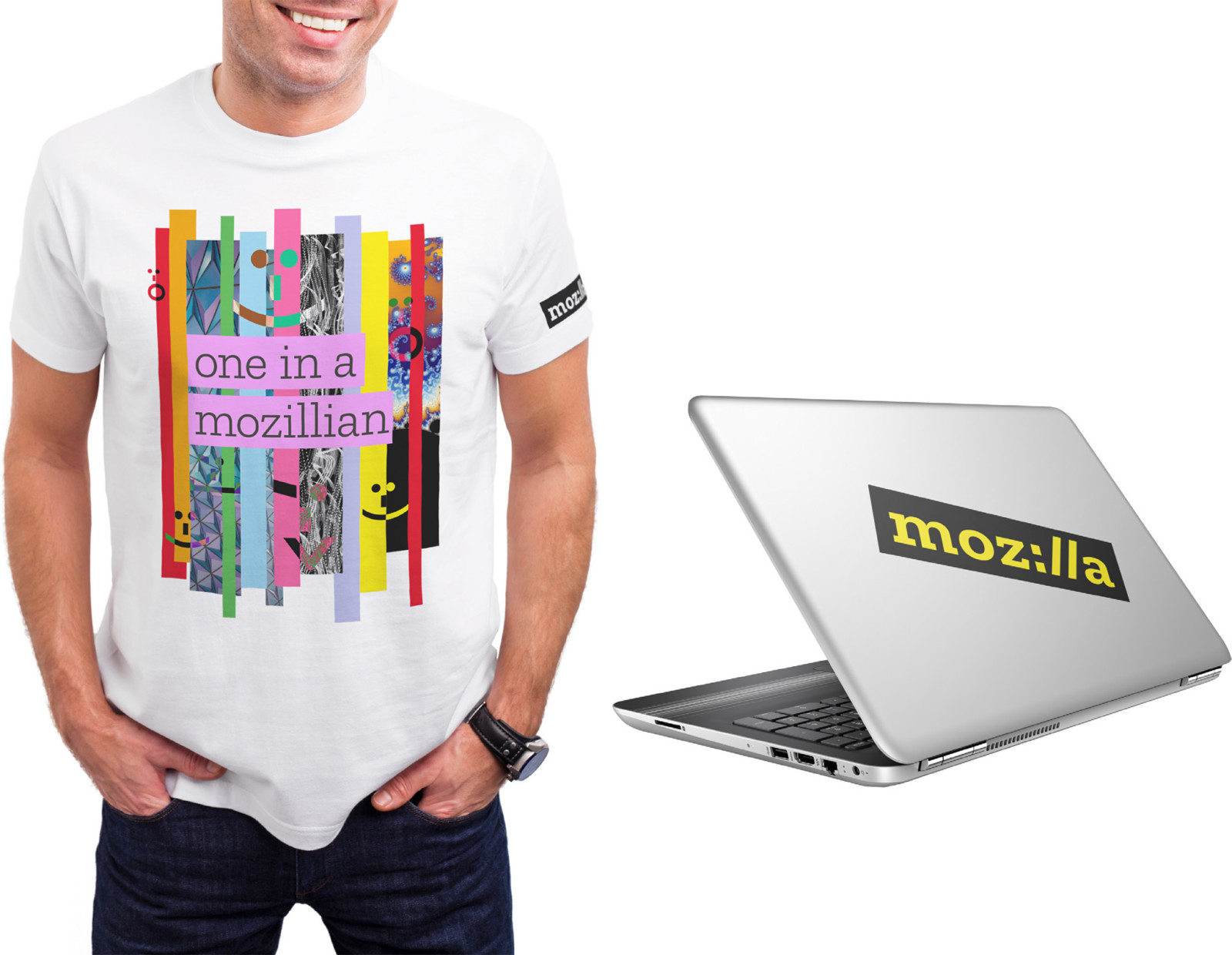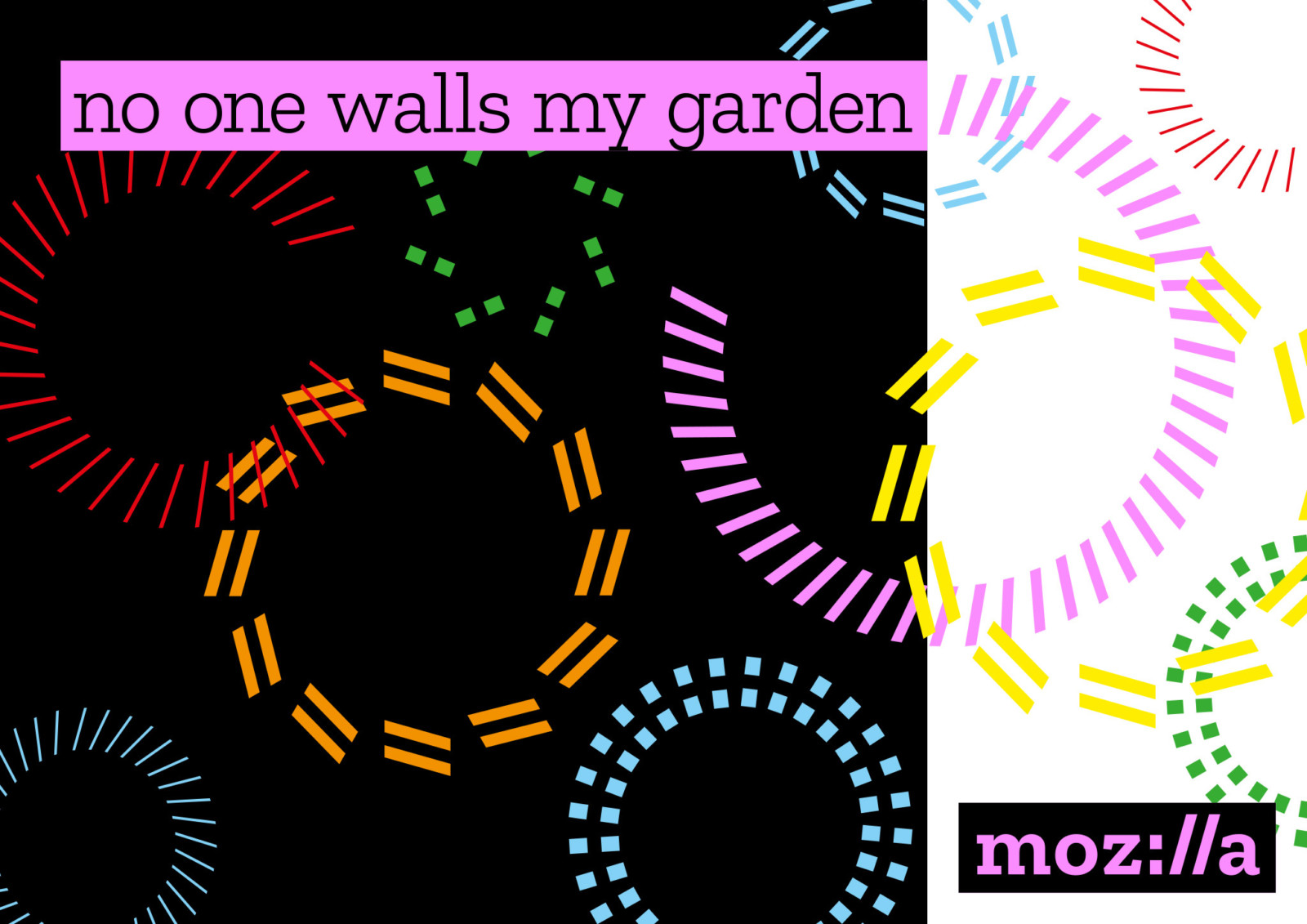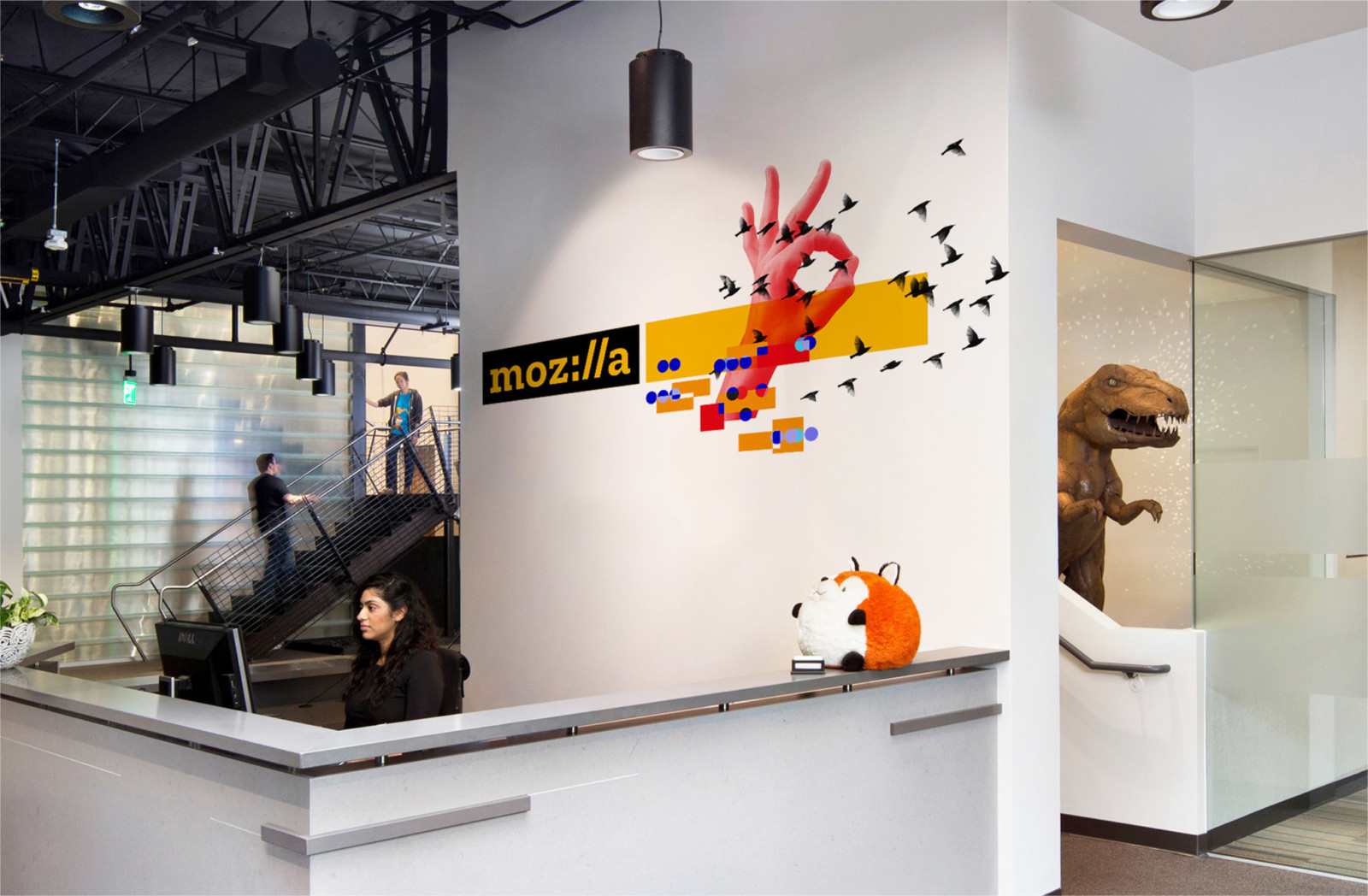 Read more about the project on the Mozilla Open Design blog.

Credits
Typeface design: Typotheque
Digital consultants: Sennep
Moving Image: Matt Ingram
Additional photography and image credits: Flower ©Forrest Brown; Birds ©mkToy; Shell ©AndreaAstes; Mouth ©GeorgePeters; Brandenburg Gate © Pierre-Selim Huard; Cosmos ©NASA/JPL-Caltech/Univ.of Ariz; Iron filings ©Windell H. Oskay, www.evilmadscientist.com; Fractal ©Tom Beddard http://sub.blue/nanoflakes