You Say You Want a Revolution?* was a V&A blockbuster exhibition covered a huge range of themes and the multiple revolutions surrounding counterculture in the late 60s: environmentalism, consumerism, individualism, drugs, sex, politics and war, and of course music and fashion.
This was the era where a key generation rebelled against the accepted norms, and where many of the ideas that form our world today seemingly originated. The internet being just one – Steve Jobs once described the 60s publication The Whole Earth Catalog as being 'sort of like Google in paperback form, 35 years before Google came along along: it was idealistic, and overflowing with neat tools and great notions'.
Our task was to find a way to encapsulate all of this visually and create a coherent brand identity for the show, throughout multiple applications in print, poster and digital form. This is quite a challenge for the V&A, which tends to take a more siloed approach to commissioning material.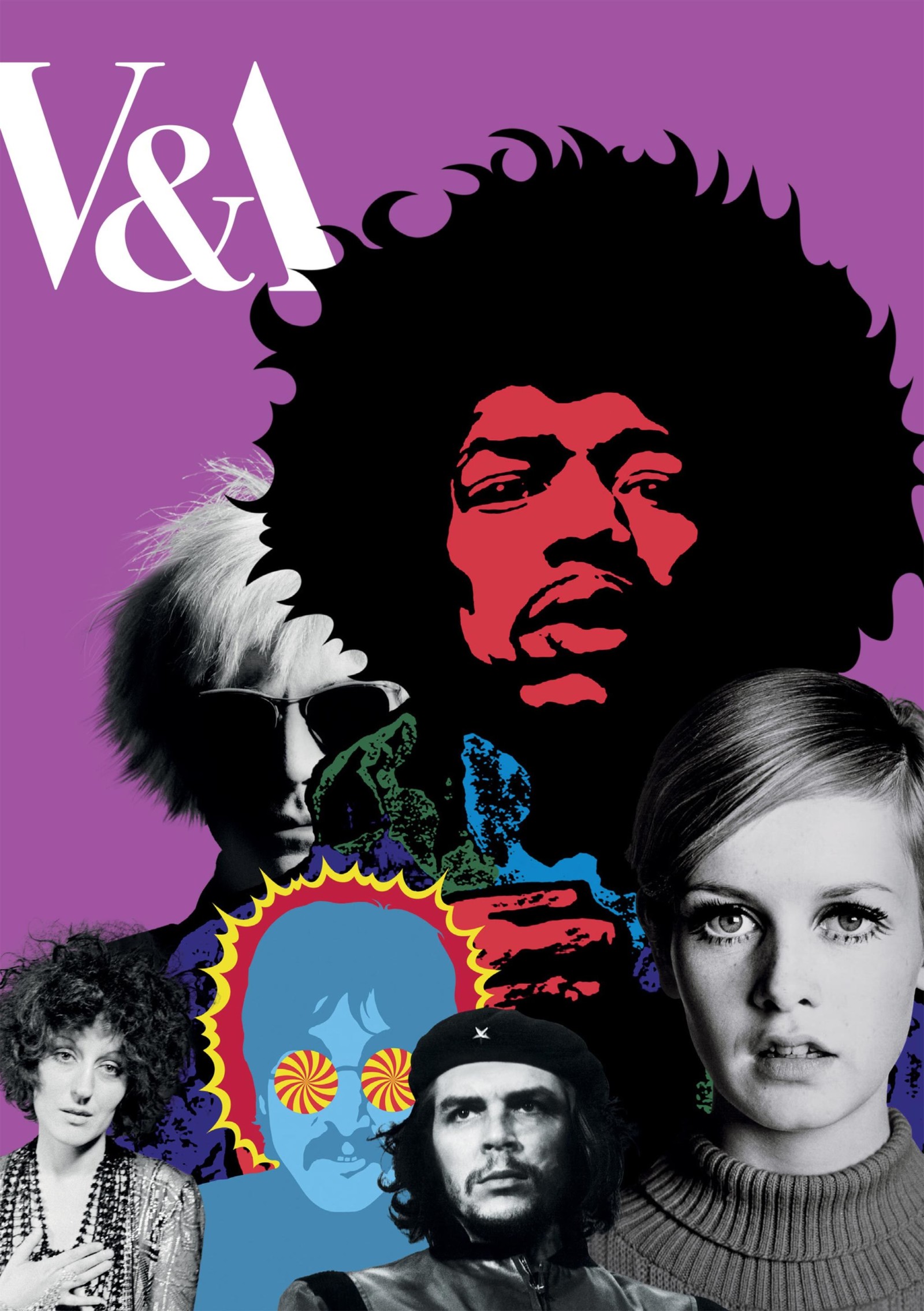 Brand identity
To unify the printed elements and the campaign graphics, we created a series of collages made up from iconic images of the key personalities from the time (with a nod to the Sgt. Pepper's Lonely Hearts Club Band cover). These 'rebel clusters' became the key to our approach, and allowed us to vary the compositions constantly.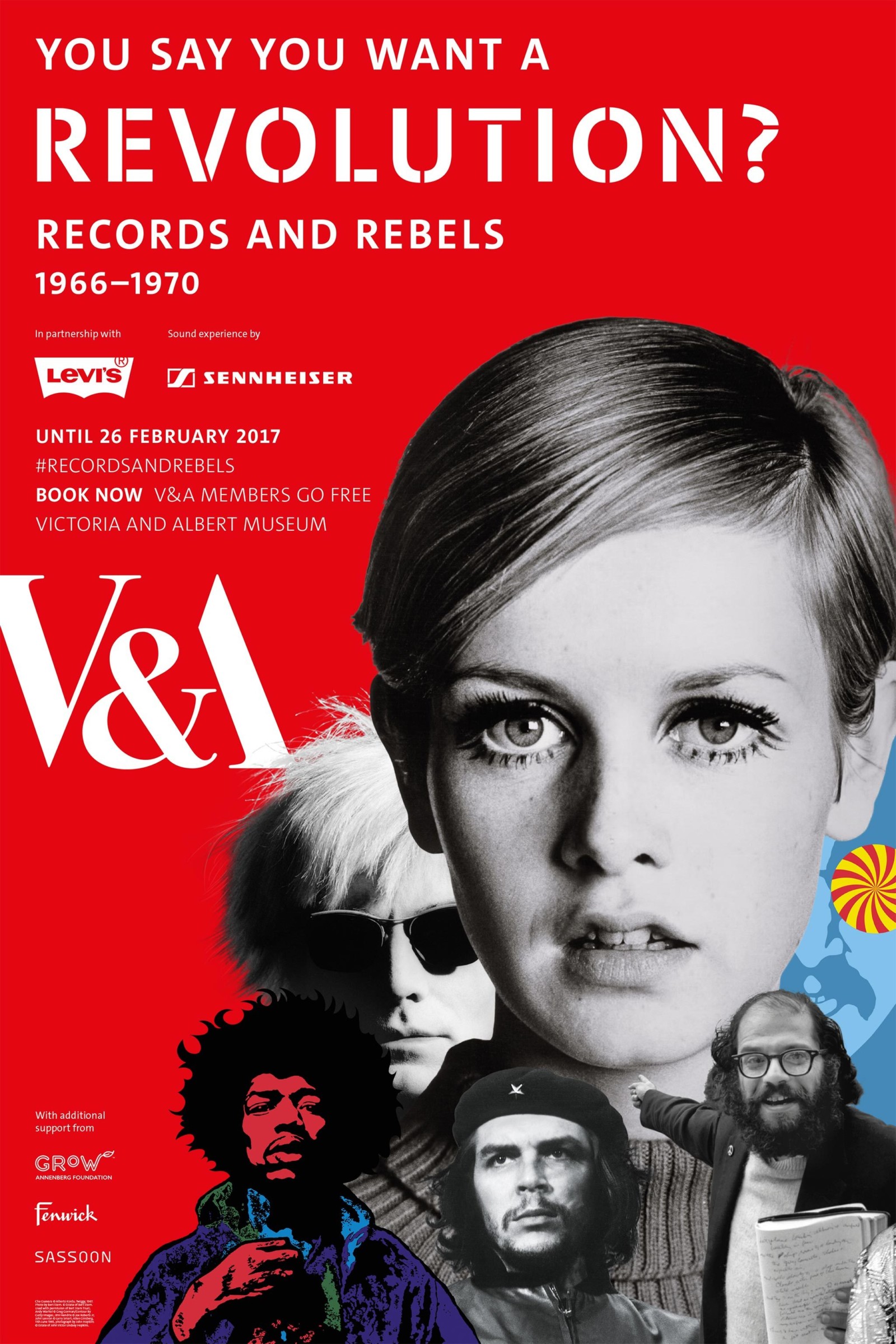 To bring together the typographic elements we commissioned a bespoke stencil weight of the V&A typeface which gave the graphics a bespoke, 'gritty' feel without formally breaking the V&A's relatively strict design guidelines.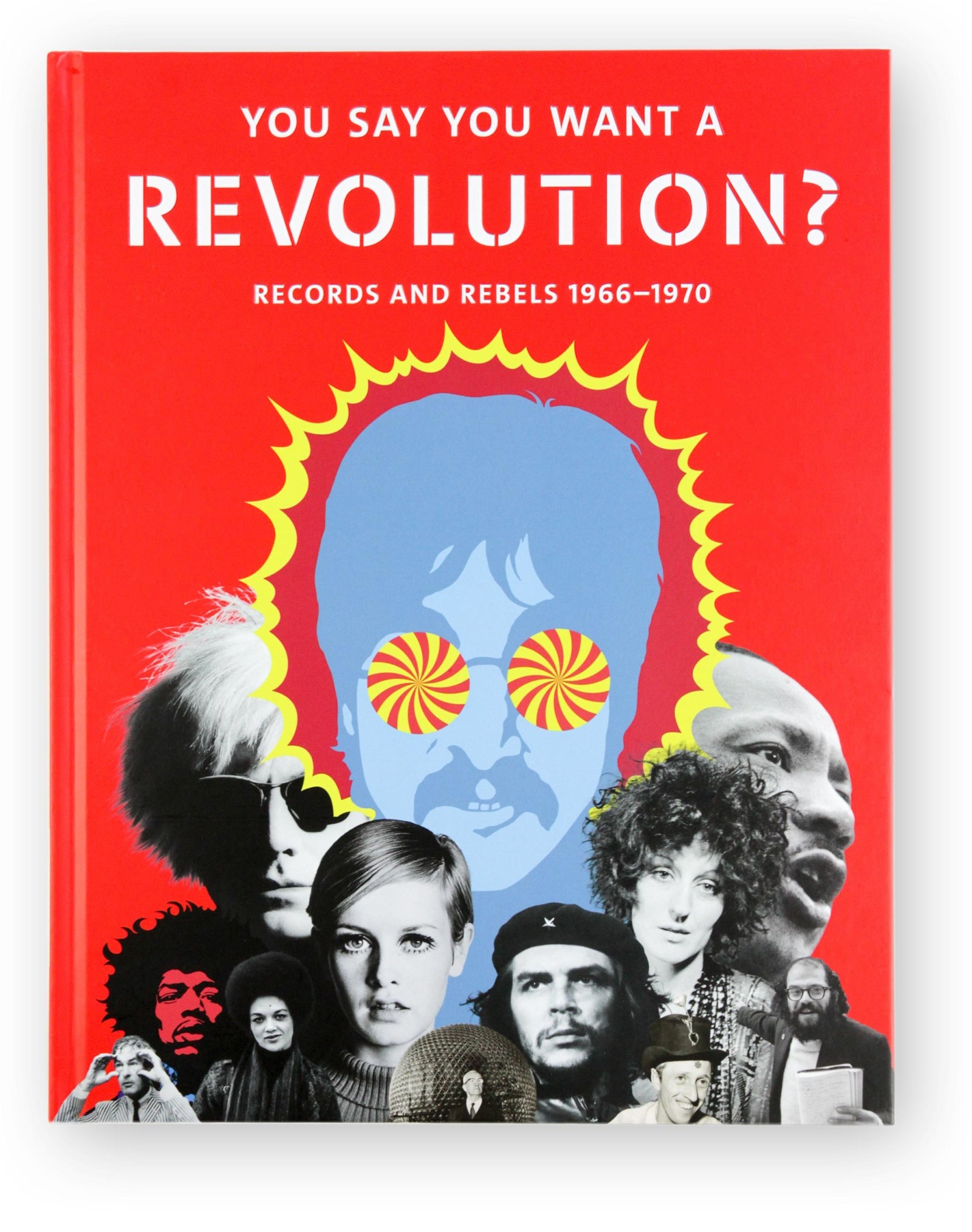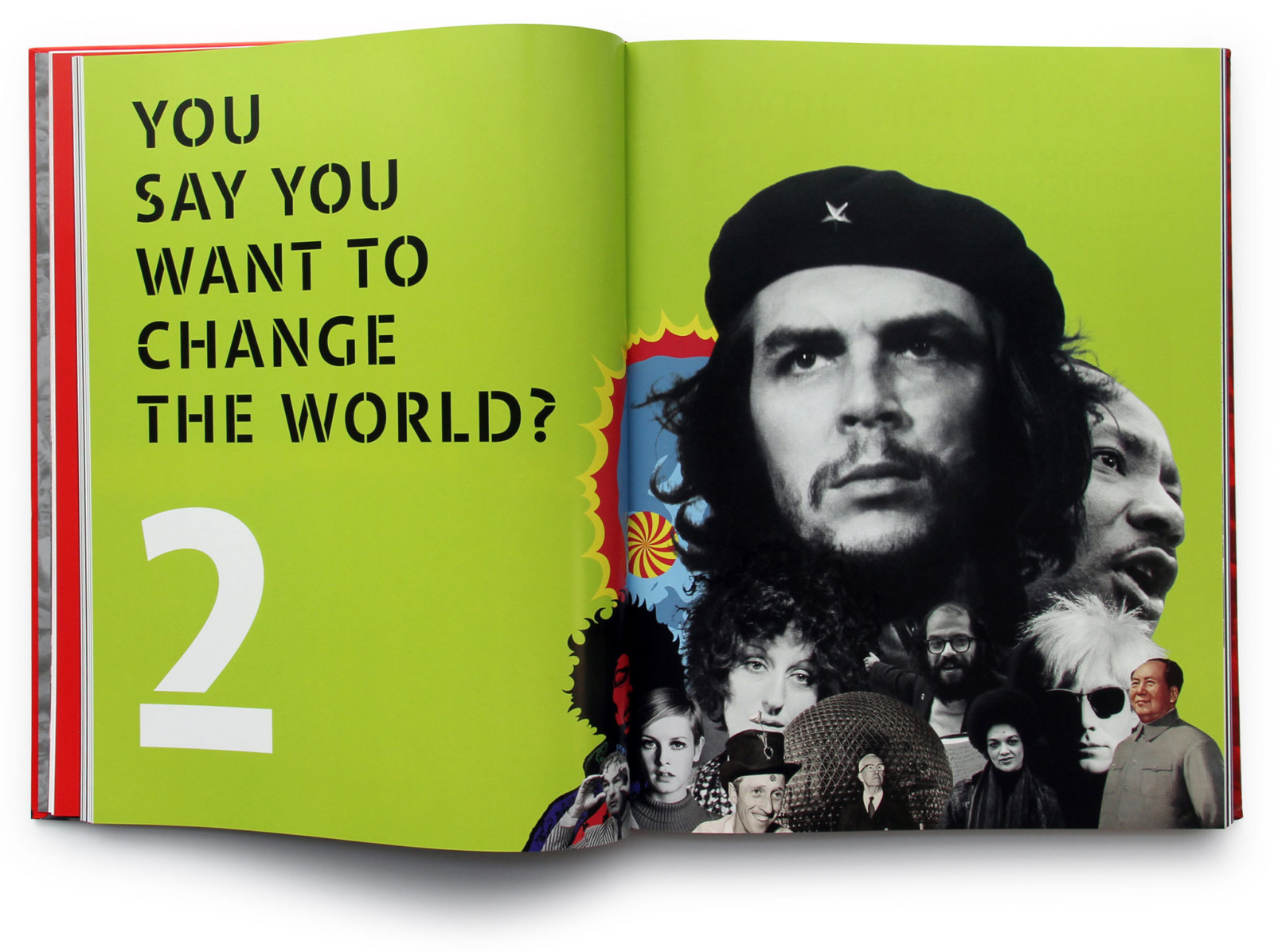 Printed applications and campaign graphics
Throughout the 300 page book of the show, the 'lead rebel' changes to represent each of the essays, from John Lennon, Che Guevara, Twiggy and Jimi Hendrix, to Germaine Greer, Allen Ginsberg, Timothy Leary, and Stewart Brand. In the marketing material, there are multiple forms of the clusters which can be adapted to each application.
For the campaign graphics we took seven of the rebels and led with the most iconic: John Lennon, Twiggy and Jimi Hendrix. Here's an example of the posters in situ.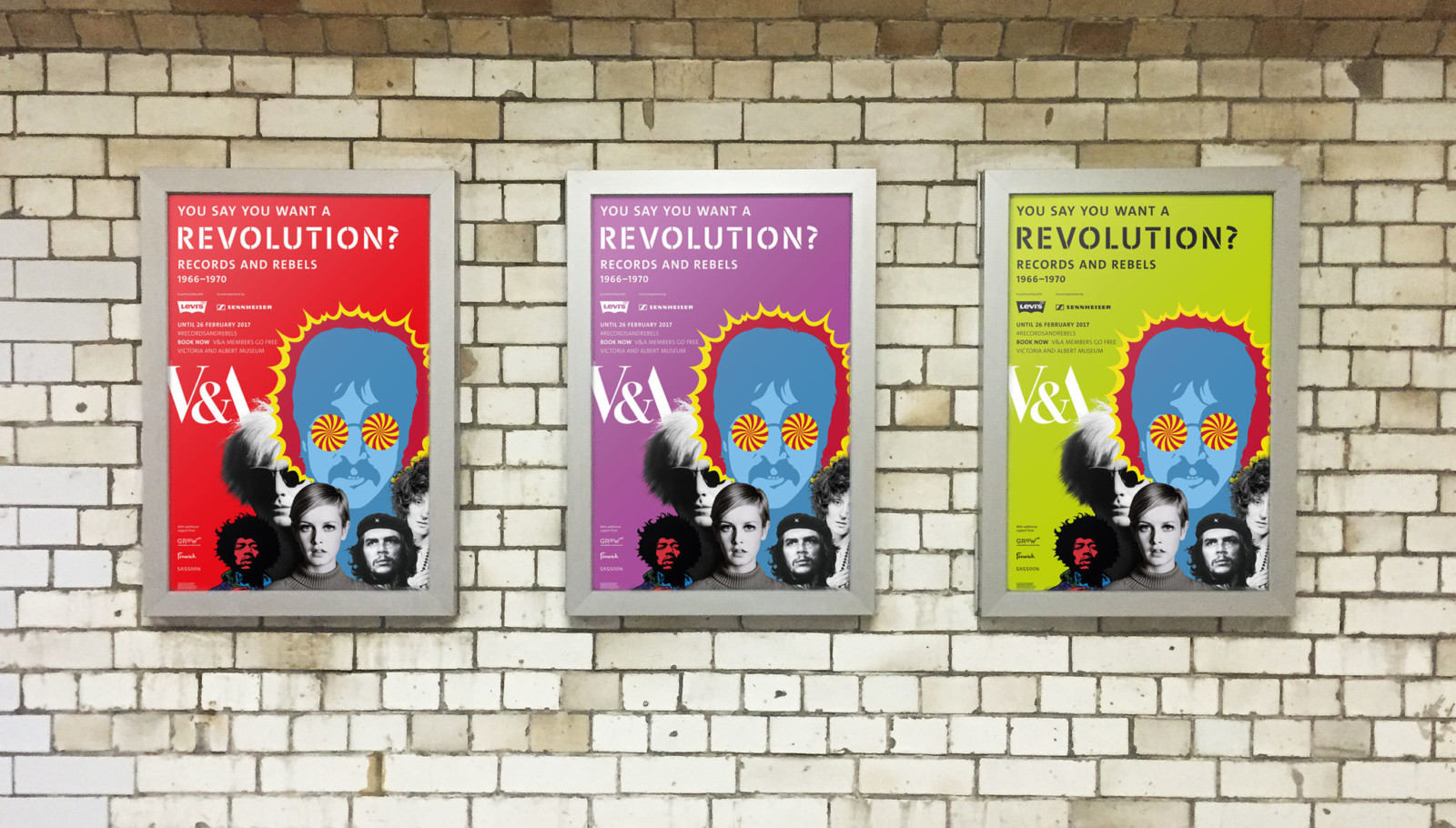 Digital
The approach of the campaign led nicely into digital applications. This is short animated film produced by the Museum and Fgreat Studio, following the design cues of the graphic style.
Impact
You Say You Want a Revolution? attracted nearly a quarter of a million visitors, only 50,000 less than the David Bowie exhibition in 2013.

Credits
*'You Say You Want a Revolution' being the opening line to the famous Beatles 1968 song 'Revolution'