Dear World... Yours, Cambridge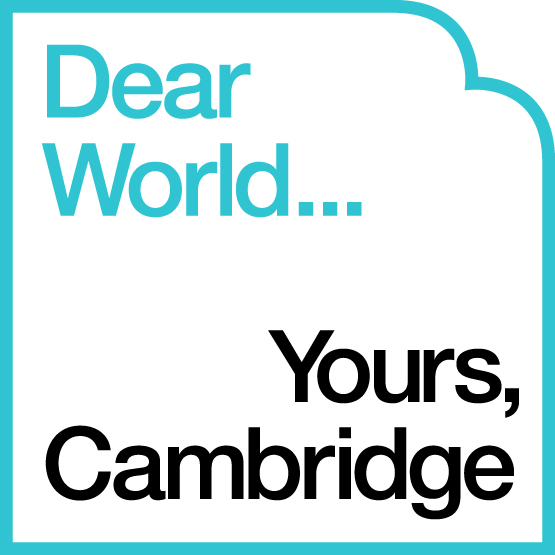 For the last eight months johnson banks has been working on a major campaign for the University and Colleges of Cambridge which launched a few days ago.
Our task was to help create a coherent theme for their alumni and development fundraising campaign. Their last campaign celebrated their 800th anniversary, and principally celebrated this historic milestone. This project has to continue to celebrate their achievements, yet allow them to look to the future, to raise vital philanthropic funds for crucial new institutes, initiatives, buildings, graduate programmes and to continue to attract world-class academics.
We also had to factor in Cambridge's position as one of the few genuinely collegiate universities in the world – not 'college' as in glorified dorm with a bar attached, but a unique constellation of 31 separate small planets where students often spend the majority of their time, including key one-to-one tutorials.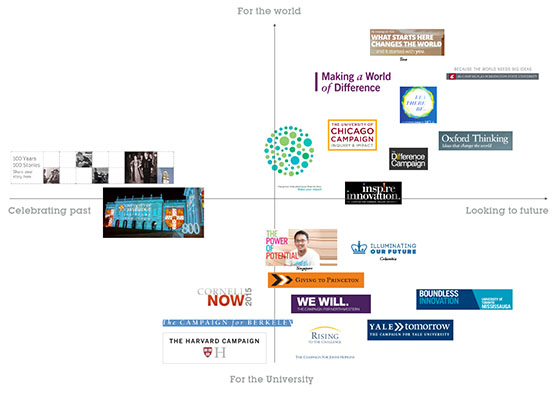 A glimpse of some of the global audit
In our research it swiftly became clear that the world of university campaigning has become highly competitive, as the elite institutions in the UK vie with some very well organised competition from the likes of Harvard, Yale, MIT and Stanford for key funds and the best students.
After an extensive research stage auditing the global market, and interviewing and workshopping with dozens of staff and academics, we finally arrived at our core theme.
This originated from Cambridge's profound impact on the world, and the impact it will have on its future. But, rather than couch this in the clichés of the sector – 'better tomorrows today' or 'The University of the future' - we took a far more personal approach.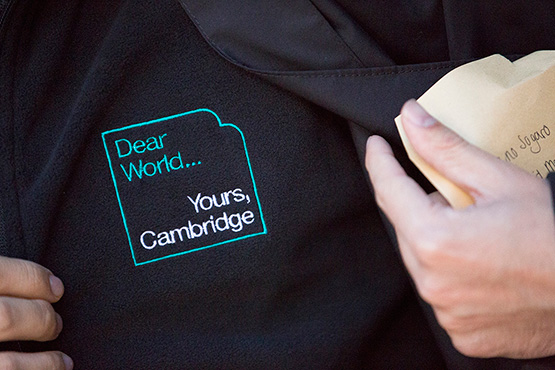 The idea puts Cambridge's impact in the form of a letter to the world, a letter that begins 'Dear World' and ends 'Yours, Cambridge'. Having found these verbal bookends, described by one of the academics as an 'epistolary conceit' (yes, we had to look it up too), we immediately realised that this could have huge potential as an idea, both in written and spoken word, by talking about 'Cambridge's letter to the world', and visually demonstrating what it has, and will, achieve.
It also helps to position Cambridge as an asset belonging to, and in service of, the world – outward-facing, not inward – setting up a unique 'conversation' with the world by inviting in new thoughts and ideas. In short, quite unlike any other University messaging in the sector.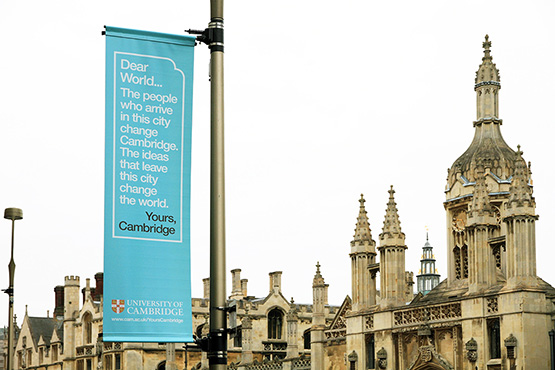 We deliberately chose very simple core elements – one weight of one of their core typefaces, a brightened version of their famous light blue, and a very simple letter-shaped device – then experimented with different 'letters', whether visual, verbal, or both, based on ancient or recent discoveries, balanced with current ideas and future aims.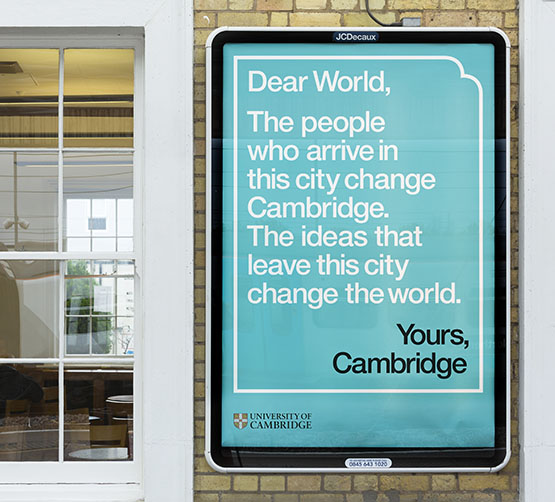 We found that, in its simplest form, the idea of the written letter (albeit in a modern format) was very powerful, so this poster now greets visitors by train at the station.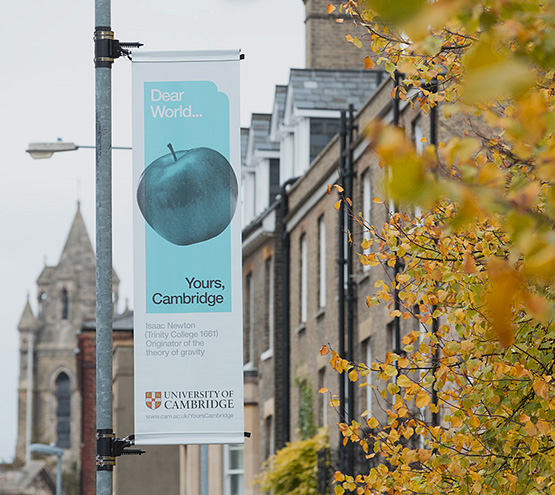 We also allowed the idea, almost from the off, to twist, turn and adapt. So, Isaac Newton, world-famous alumnus and originator of the theory of gravity, can be summed up by a falling apple on a banner…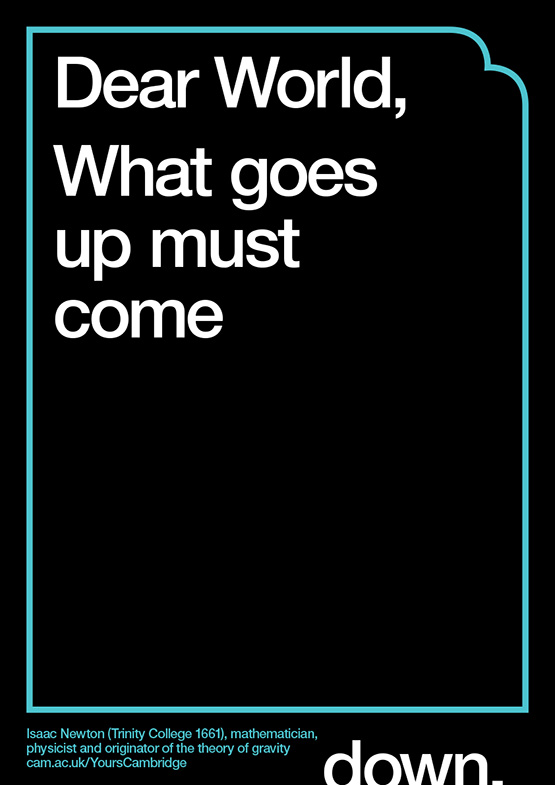 …or falling type, on a poster.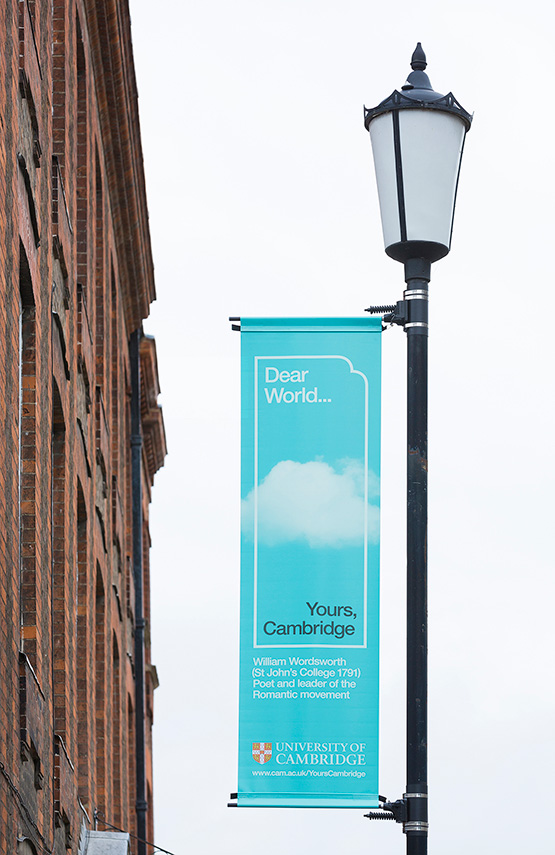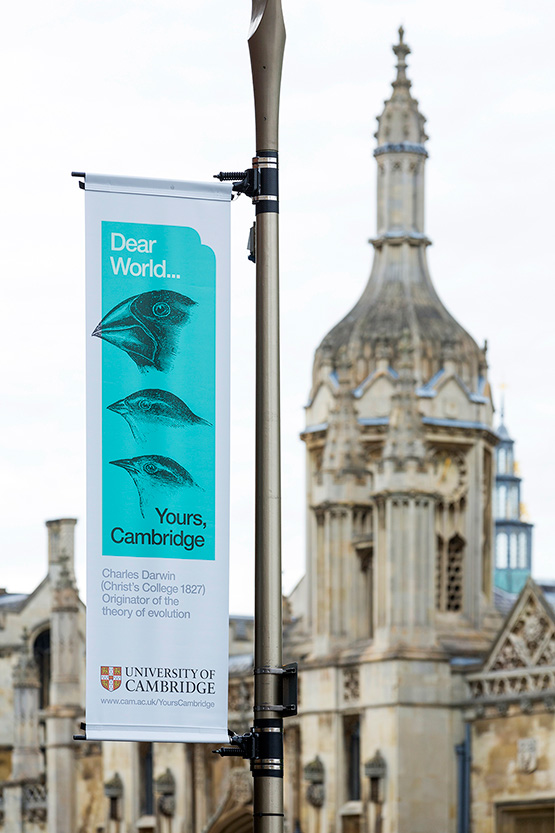 These lamp-post banners, in multiple designs, now criss-cross the town.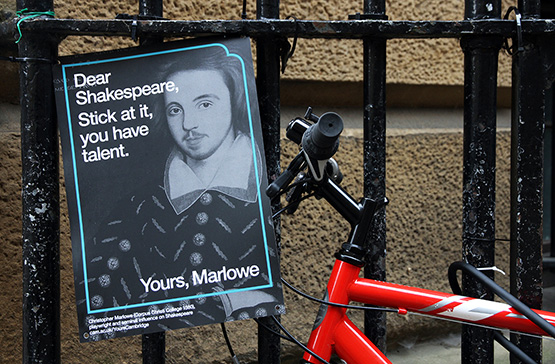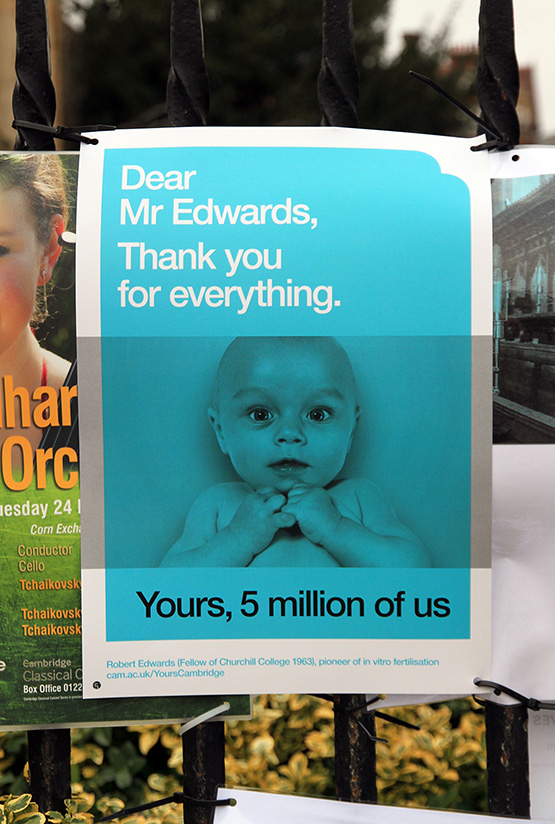 Railings covered with event posters are an ever-present feature of the city's ancient streets, so we borrowed that vernacular and created a large set of posters to use on the railings, acting as a guerrilla campaign for the launch of the scheme.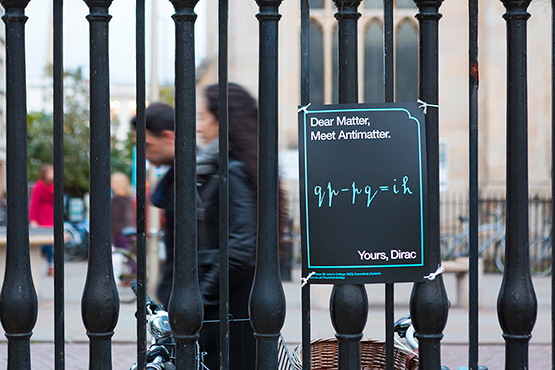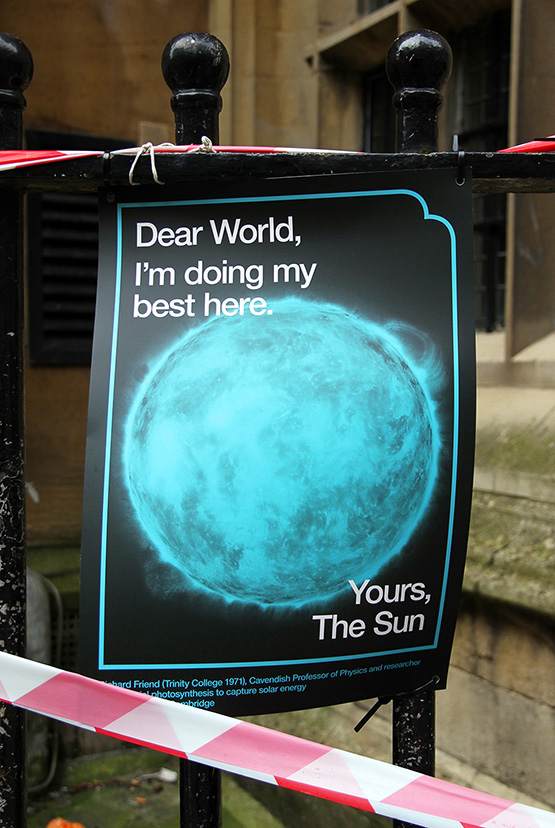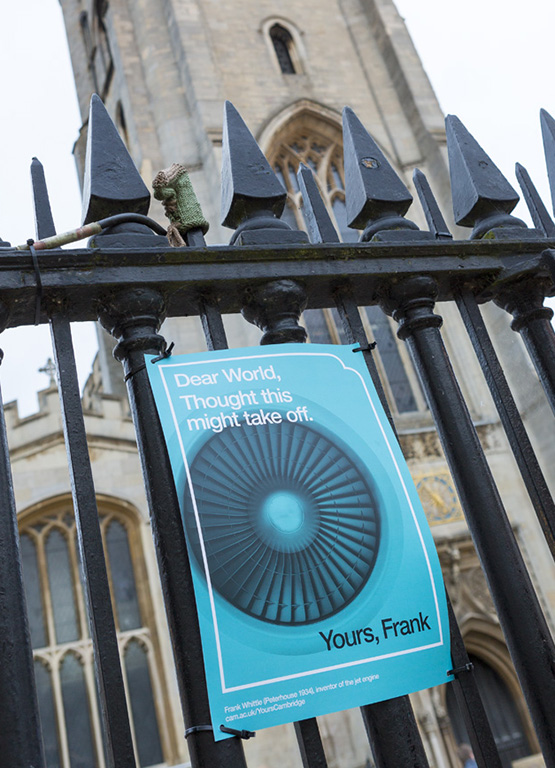 The posters were a perfect way to celebrate both the University's amazing list of achievements, and its list of alumni. Did you know that John Venn, as in the 'venn diagram', went to Cambridge? That Frank Whittle, inventor of the jet engine, went to Peterhouse, Cambridge?
That Cambridge discovered neutrons, and protons…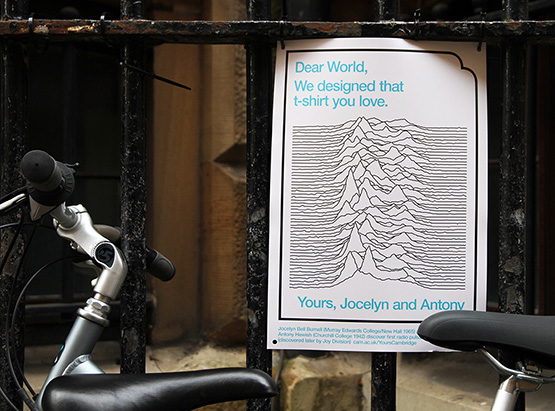 …and in 1967 discovered pulsars with this famous astronomical reading, borrowed a decade later by Joy Division?
No, nor did we.
Other elements in the first phase include various examples of merchandise, clothing and personalised gifts.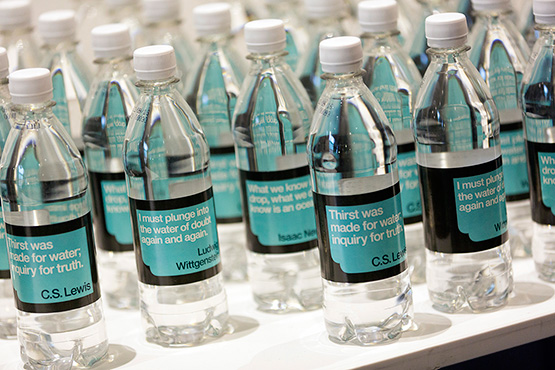 If you found this interesting you might also like to read about our work on the launch event and the set of 42 posters we created.
Credits:
Brand strategy, brand narrative, copywriting, design and implementation: johnson banks
Additional copywriting: Nick Asbury
Event photography: Murray Scott and Michael Johnson