Fifty years on the edge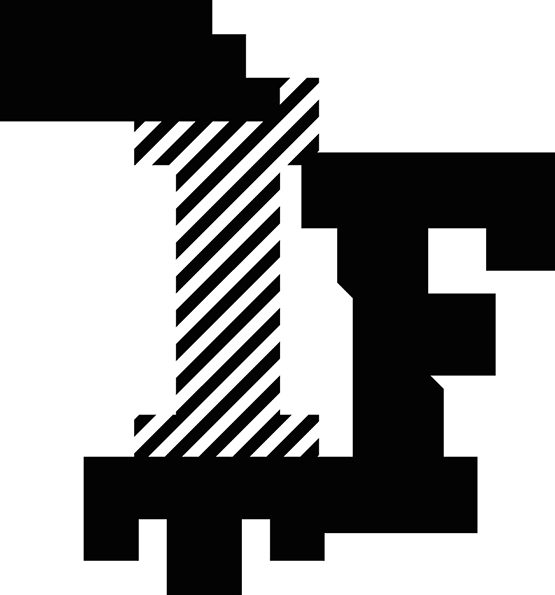 We were in Brighton this week for the launch for the fiftieth Brighton Festival, which takes place in May. We've been involved in the Festival branding since our overall rebrand of both Brighton's Dome and Festival – this year our task was to create the graphic 'glue' for their fiftieth edition.
Right from the start we wondered whether we could incorporate their 'F' logo into the word 'FIFTY', to create a one-off logotype and side-step the usual conventions for 'anniversary' logos (which always seem to involve roundels and/or type set on circles).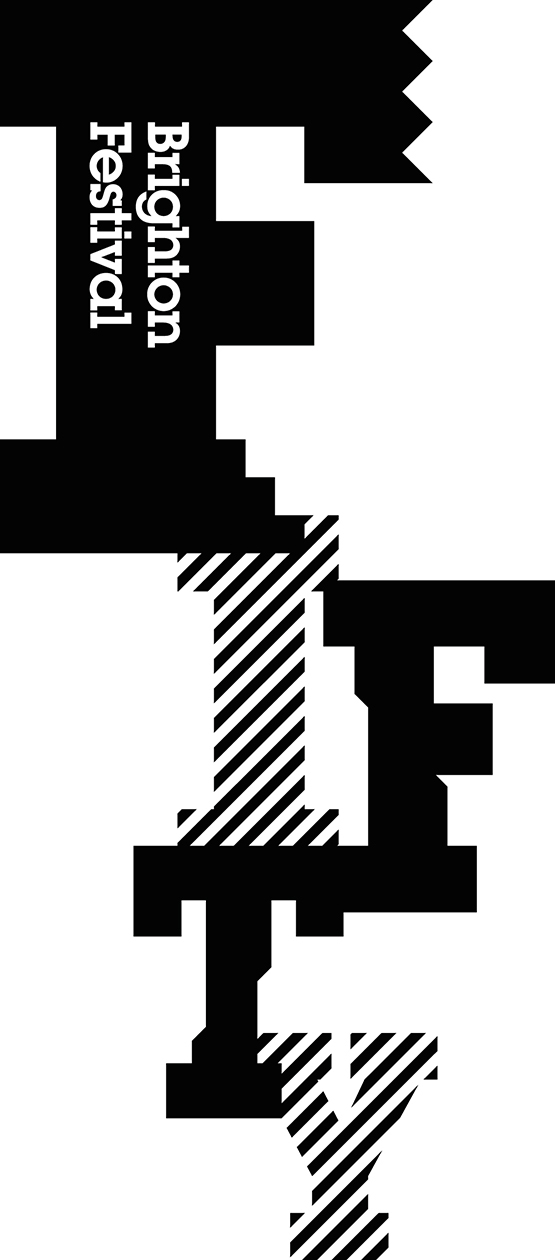 The festival has always celebrated the experimental, unusual and cutting edge in the arts, so we summed this up with this year's strapline, fifty years on the edge. The 'FIFTY' marque began from there – avoiding the traditional, and sitting on the edge, literally and figuratively. The vertical type, chevrons and diagonal cut letters add to the effect, and our aim is to carry these dislocations through into the rest of the scheme.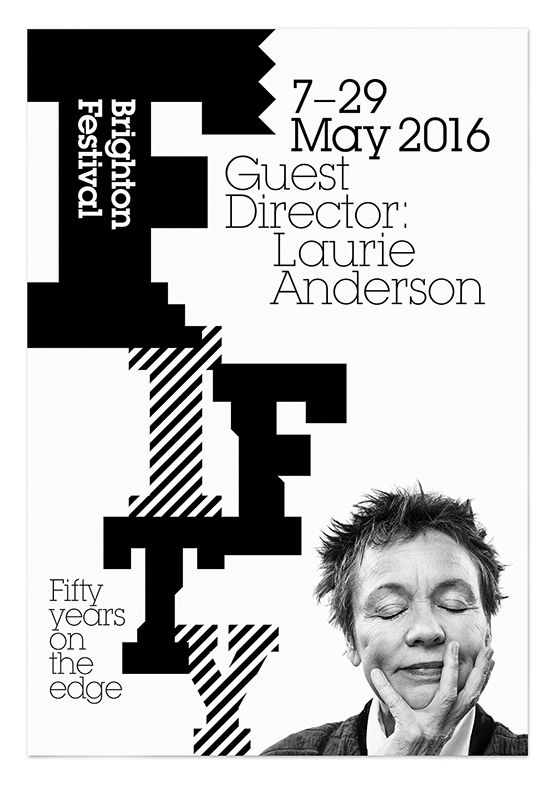 Laurie Anderson, the guest director for 2016, herself an experimental performance artist, is a good fit with the festival's ethos for this special year and features prominently across all the launch material.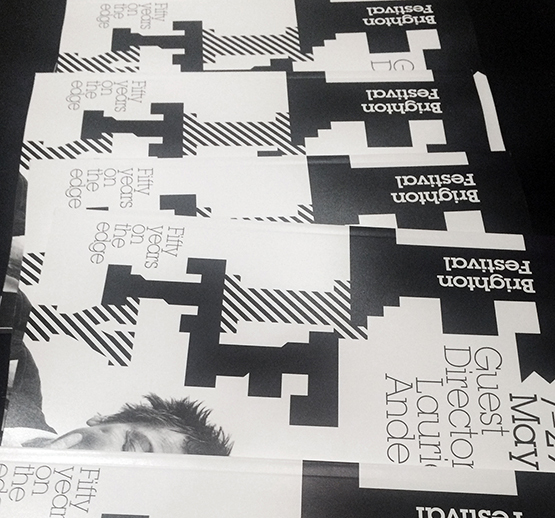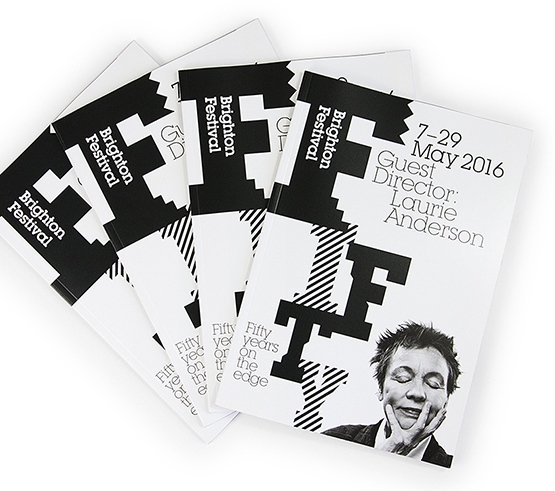 The festival takes place from 7–29 May, and highlights include: a concert for dogs (by the guest director); The Complete Deaths by Tim Crouch and Spy Monkey, where they'll re-enact all 75 onstage deaths from the plays of William Shakespeare; and Dr Blighty, an immersive experience in the Pavilion Gardens focussing on the story of World War One's Indian solider; to name but a few.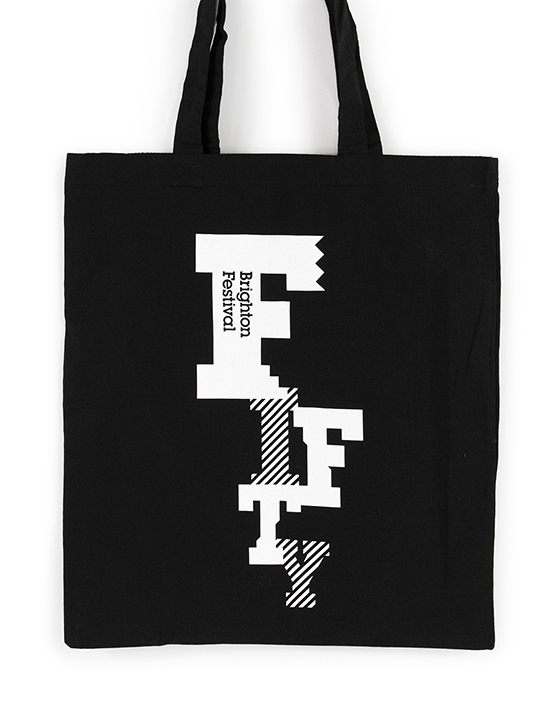 Our involvement will continue into banners, posters and who-knows-what – we'll share more in May.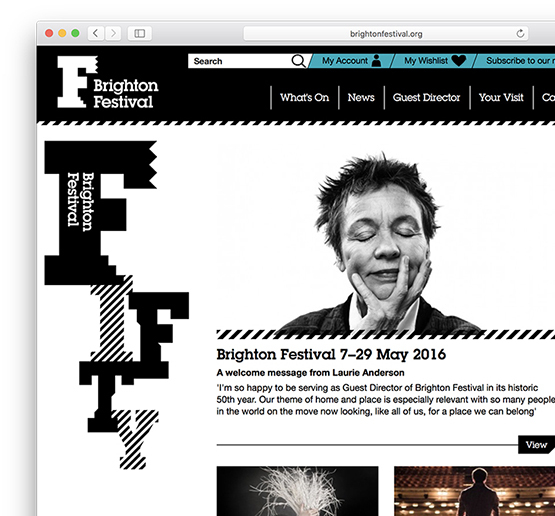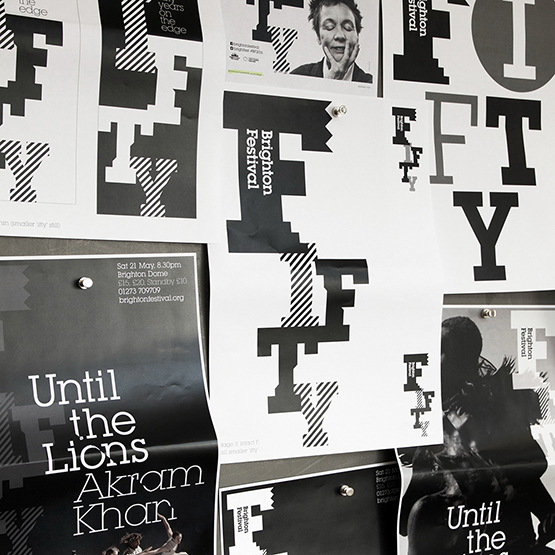 Work in progress in the johnson banks studio
Take a look at their humorous video to celebrate 50 years, which reminisces about the first Brighton Festival back in 1967. Did you know for example that concrete poetry was introduced to the UK at the inaugural festival?