Work @johnsonbanks?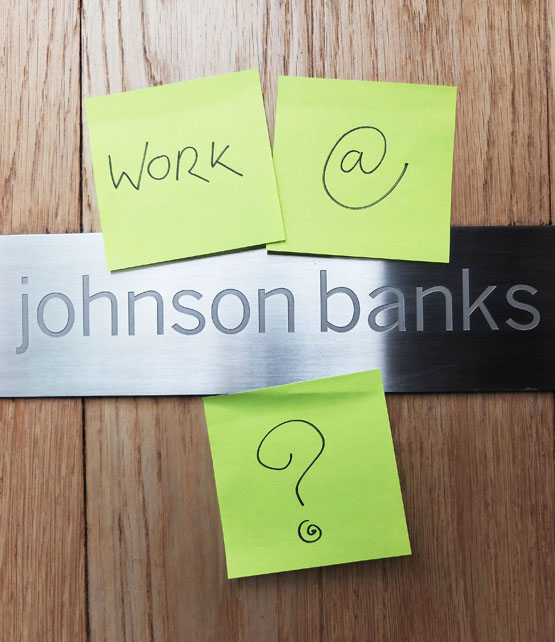 This position has now been filled and we are no longer taking applications.
This is something of a first, an advert for a junior designer job at johnson banks. Pretty sure this is the first time we've ever done this. Please read and digest, or pass on the link to anyone you feel might be suitable.
Junior designer
We're looking for either a very good recent graduate or someone with 1-2 years experience as a graphic designer.
The ideal candidate will
Have a proven interest in and/or background in branding and identity design and also the broader challenges of all areas of communication
Have the required computer skills (ie proficiency in InDesign/Illustrator/Photoshop) but also some knowledge of web/animation/digital
Have proof in their portfolio that they can conceptualise, communicate and create great ideas…
...but also be capable of working as part of a closely-knit team (and make a reasonable cup of tea)
Have a high 2:1 or 1st from a reputable design college
Have a sense of design's place in the world, and what it can do
The chosen candidate(s) (there might be room for two)
Would report directly to Creative Director Michael Johnson and the account management team
Would be expected to work on all areas of projects, from auditing and researching new clients, to helping generate brand identities and applications, to producing print designs and artwork, to transferring core ideas into digital applications, to helping with presentations and assisting the senior designers
The details
Ideally the candidate(s) would start in December. We're based very close to Clapham Common tube (Northern Line) or a short bus ride from Clapham Junction /Clapham High St overground stations.
Salary will be based on experience with regular annual reviews, and there will be access to a company pension scheme. Following a trial 3 month period a long-term contract will be raised.
We work normal hours (approx. 9.00 – 6.00) but we're flexible if people want to start earlier or later because of commutes, etc.
How to apply
Send a brief covering email for the attention of Michael Johnson outlining why you're right for this job to this email:
work(at)johnsonbanks(dot)co(dot)uk
With it, please send your cv and a pdf of what you feel is your best work – try to keep this to 15 pages or less and under 8 megs. If you make it to interview, we'll want to see real stuff, but no physical portfolios at this stage.
Please feel free to apply immediately - final cut-off date for applications is 5.00 pm November the 1st 2013. Shortlisting will commence immediately and candidates asked to attend an interview with Michael Johnson as soon as possible.
No recruiters or agencies please.
Good luck!
This position has now been filled and we are no longer taking applications.
Follow johnson banks on twitter @johnsonbanks, on Facebook on Wikipedia or sign-up for our newsletter here