Are museums waking up to branding? (The transcript)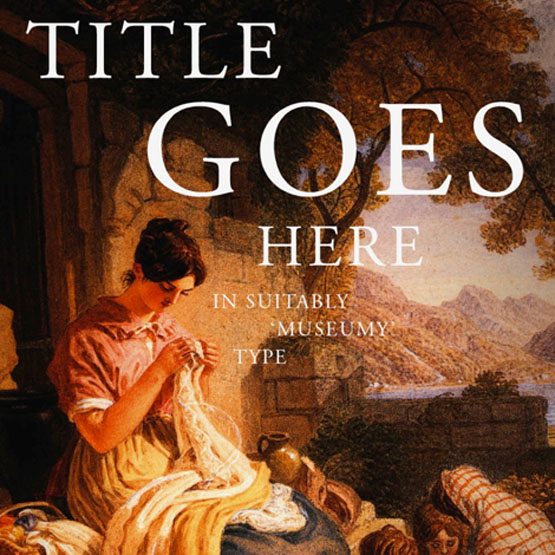 The idea of a company or an organisation having a brand, which it tries to mould and control, is nothing new. Some are better at it that others, of course, and the difference between a Mitsubishi and a Mercedes-Benz is down to a lot more than just a few slides of narrative from a brand consultant.
But we're all still surrounded by brands that essentially look and sound the same – a kind of 'herd mentality' sets in, whichever market sector you choose, where everyone follows one another.
And it's no different in the museum sector, where brands have been defined for decades simply by their buildings and the art (or artifacts) they contain. Just as public transport logos and luxury goods logos all look the same (the former, simplistic and geometric, the latter letter-spaced and typographic), museums follow each other's lead. Their communications become generic and indistinguishable.
The biggest challenge now for museums and institutions is the explosion of digital platforms, rather than the traditional media they communicated through before. Once a museum's building, its exhibitions and its leaflets were its public face - now it can be everything from its online store, facebook page, curators' blogs or twitter feeds.
The brand 'experience', if you like, has become one where the physical museum has become just one part of a series of ways we weigh up an institution. Whilst the V&A has dramatically increased its analogue, physical visitors – up to around 3 million – online it has ten times as many. MoMA has committed to recording its entire collection online. This isn't a passing phase. It's here to stay. Once, the visit in person was everything – now its just one constituent part of a greater whole.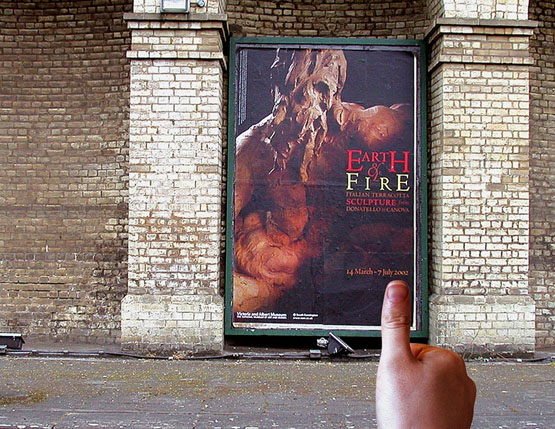 My view is that standing out across all these mediums, being noticed, and fighting anonymity, has become increasingly important.
But, paradoxically, some museums are really struggling. Put your thumb over, or remove the logo from many museums' posters, then ask someone to guess whose posters they are. You'll be amazed how difficult they find it.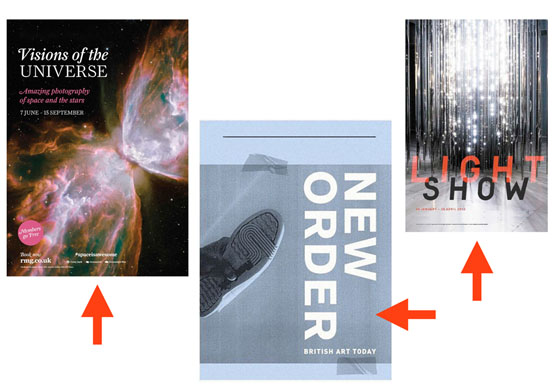 For some reason, be it the power of curators, or overly precious art departments, a lot of museums don't seem to have understood even the basic tenets of brand and 'housestyle' - the idea of having a consistent design and brand toolkit that can be used to communicate.
Look at the way that the Tate, V&A and Barbican have been developing and controlling their brand identities and you'll see controlled flexibility, within overall guidelines. Different events and exhibitions can 'breathe' within broad design frameworks.
Yet, also in London, there's another set of museums and cultural institutions where each piece of communications seems almost unrelated to the last and there's very little of a thread running through (at least one that's visible).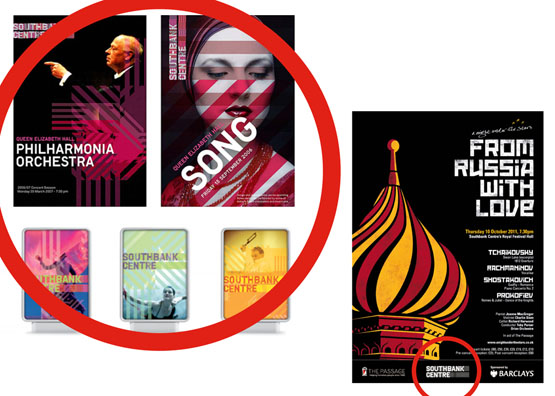 Initial identity work by Wolff Olins
Even if a good toolkit has been created, it seems to be difficult to keep up consistency. The Southbank's rebrand from a few years ago was uniform, consistent and vibrant, yet now has almost disappeared. It's as though the team internally has turned against what they were given and just stuck the logo back in the corner.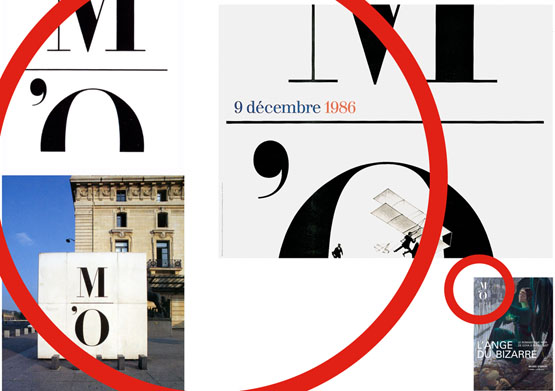 Logo by Bruno Monguzzi
Musée D'Orsay's great symbol from the mid-eighties has, over time, been gently relegated to a corner, and across the world's great cities this trend will be echoed. Arrive in any world city and almost every museum's poster will look the same. About a decade ago I designed the 'fake' museum poster shown here, as a kind of joke, but it's still just as applicable today.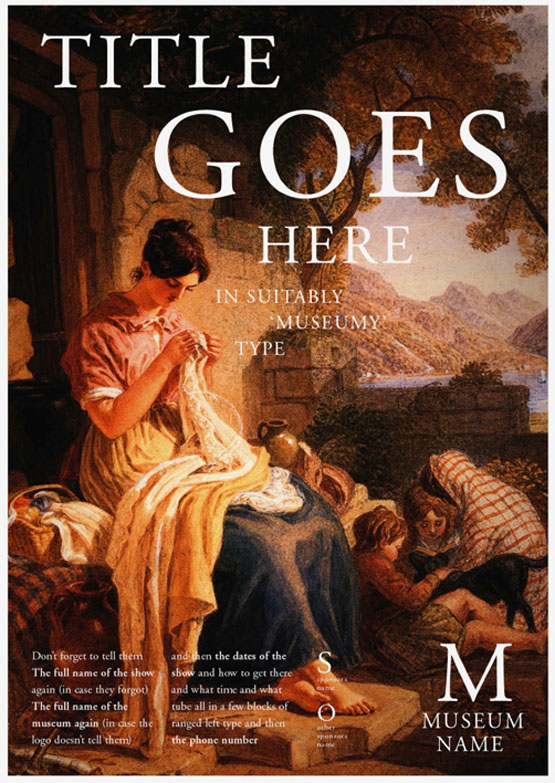 So, if we can all see the problem, how do we get around it?
First of all, it helps to have good graphic 'glue' that successfully sticks all the different elements together. When we worked for Parc de La Villette in Paris for eight years, the clear and evident problem was that their 'green triangle' park logo was getting lost in the obligatory line-up of sponsor logos. When we turned their triangle into an entire branding bar that ran down the edge of posters and introduced one consistent typeface, everything was both immediately framed and typographically linked. There was never any chance of a single sponsor's logo being confused with an entire edge of a poster.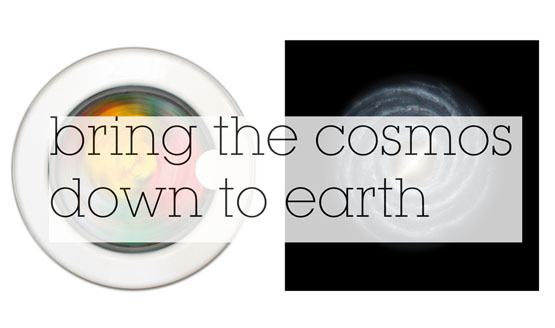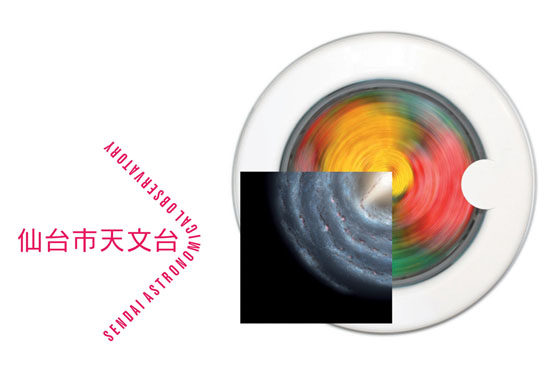 Secondly, try to have simple, consistent ideas. This space observatory in Sendai, Japan just does one thing in its communications: it brings the cosmos down to earth by always comparing something huge and astronomical with something small and everyday.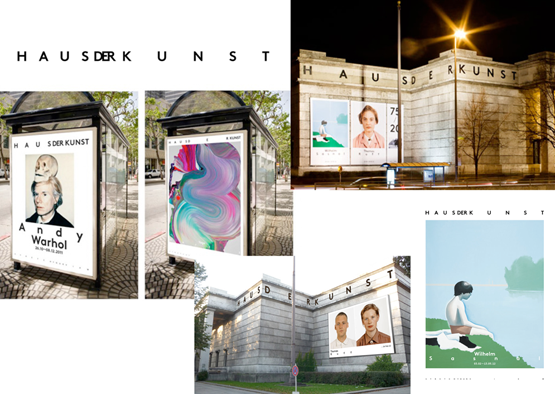 Identity by Base design
Thirdly, consider ideas that are elastic, that can shrink and expand. Haus Der Kunst's new visual identity cleverly letterspaces itself differently in its different applications. This gives the impression to a potential visitor of a vibrant organisation in motion and constant flux, not one stuck in any artistic mud.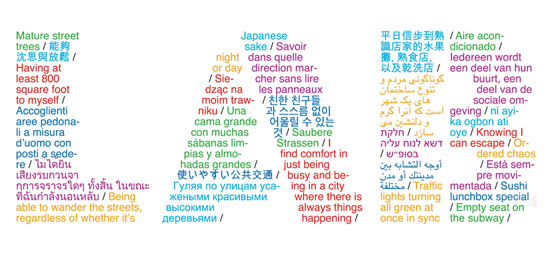 Logotype by Sulki & Min
Two recent Guggenheim projects for global initiatives allow for movement and interaction. Its 'LAB' project that moves from city to city lets twitter uses see their comments in its logo, whilst 'MAP' (its global art initiative) uses overlapping icons of all the countries whose art it will be curating over a three-year period.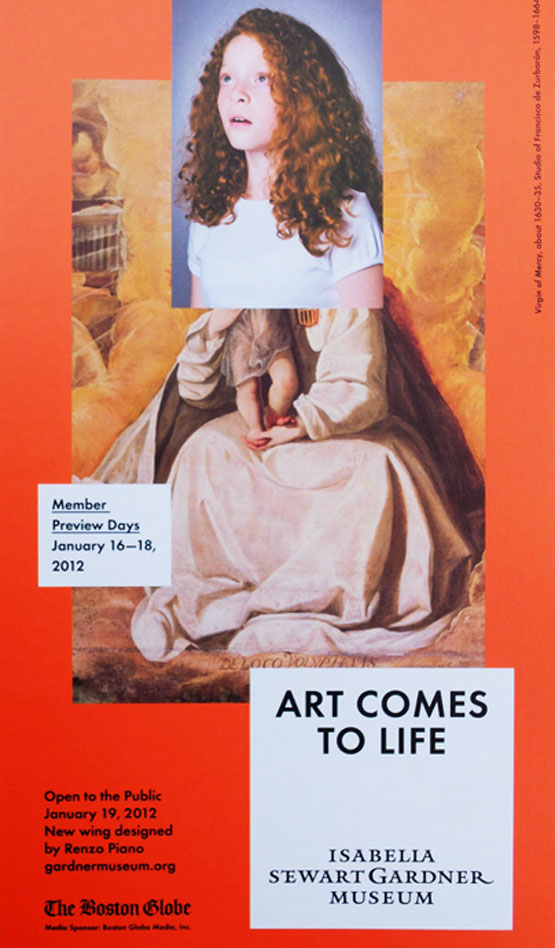 Poster by 2 x 4
Fourthly, take more risks. Try harder. A recent campaign for the Isabella Stewart Gardner Museum in Boston allows its images to be cropped and interacted with by actual, real people in its endeavour to let 'art come to life'.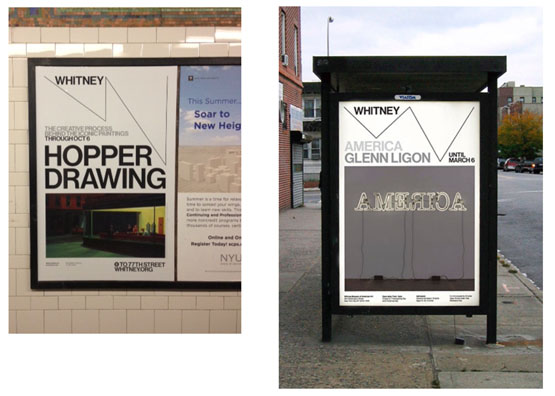 Whitney identity by Experimental Jetset
The Whitney's new identity takes a 'W' monogram as its theme (nothing new there then). But this, superhuman, superstretchy 'W' can widen and compress into whichever space is required. A gamble? Perhaps. Will they get noticed more? Probably.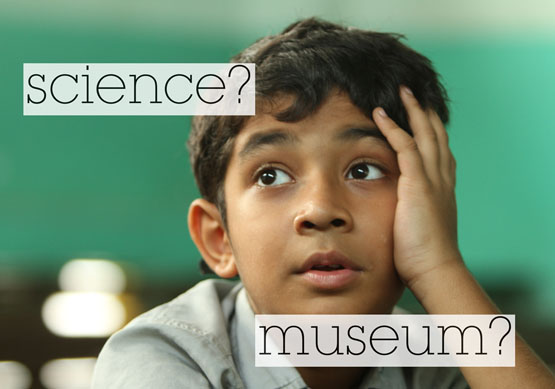 Fifthly, see the whole, not just the parts. Our scheme for the Science Museum in London started as a simple proposal for a new, coded identity that would finally supply a strong 'stamp' for all of their work. But it swiftly became applied across interiors, exteriors, clothing and merchandise. One unique typeface quickly became four, and a previously disastrous brand architecture was cleaned up, virtually overnight. New galleries and exhibitions are advertised and communicated not just as one-offs, but as part of one overall vision, not piecemeal. From Christmas posters to climate change galleries, from websites to animations, everything links together.
So the next step is to take these five tips, and follow them through, with consistency and clarity, with good rules (but not a straightjacket), allowing a scheme to breathe.
Of course there are always fiefdoms within museums that don't 'get' brand, and will always argue for inconsistency - that 'their poster needs to look different' or 'their picture can't be cropped'. But if the sector is to truly understand branding, use it to their advantage and stand out, not disappear, these arguments need to be won. And fast. Otherwise anonymity beckons.
This article is loosely based on talks given in 2013 at the London Design Festival and the Communicate the Museum Conference in Stockholm by johnson banks creative director, Michael Johnson. A translated version appears in the recent edition of German design magazine, Page.
Follow johnson banks on twitter @johnsonbanks, on Facebook or sign-up for our newsletter here