Michael Bierut: Second Thoughts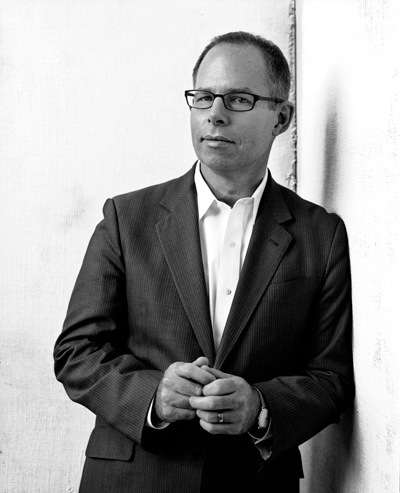 Michael Bierut © Christian Witkin
Here's the fourth in our Second Thoughts series, Michael Bierut.
He studied graphic design at the University of Cincinnati's College of Design, Architecture, Art and Planning. Prior to joining Pentagram in 1990 as a partner in the firm's New York office, he worked for ten years at Vignelli Associates, ultimately as vice president of graphic design. He has won hundreds of design awards and his work is represented in the permanent collections of the MOMS and the Met in New York, and the Musee des Arts Decoratifs, Montreal. Michael is a co-founder of Design Observer, and his book 79 Short Essays on Design was published in 2007 by Princeton Architectural Press.
How old were you when you first suspected you could become a designer? I always wanted to be a graphic designer but didn't know the profession existed. S. Neil Fujita's book 'Aim for a Job in Graphic Design/Art' happened to be in my high school library. I read it from cover to cover at the age of 15 and never looked back.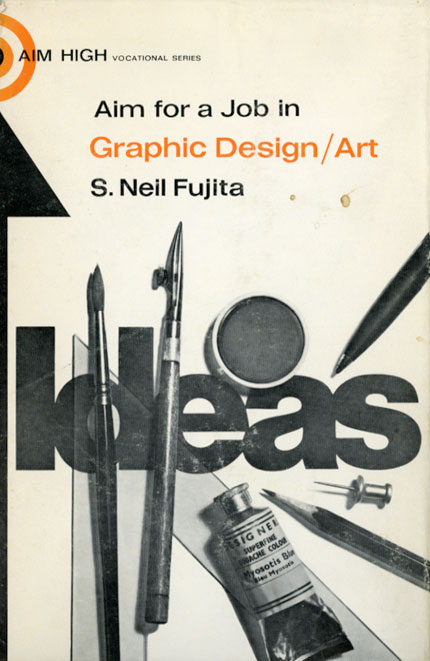 Cover of Aim for a Job in Graphic Design/Art by S. Neil Fujita
Did you see or experience something early in your life that was a significant influence? I remember seeing the logo for Clark forklift trucks when I was a kid. My dad said, "Look, that's clever: the L is lifting up the A just like the trucks do." I was absolutely electrified. It was like he was revealing a secret world, and I wanted to go there to live on a permanent basis.
Here's the logo, evidently unchanged for 50 years or so:

Who were your early heroes(and what do you think of them now, in retrospect)? As a high school student, I was obsessed with record sleeve designers: Roger Dean, Nick Fasciano, Mati Klarwein. I loved them then, and I love them now.
What's your recurring dream (or nightmare?) I have the actor's nightmare: being thrown on stage to perform without ever having rehearsed (or even knowing) the play. The only variation is whether I have clothes on or not.
Describe the worst boss or client you've ever had. My worst clients are three different ones over thirty years that I preemptively quit on, to save them the trouble of firing me. They all hated that and behaved like crazy girlfriends, calling me, writing long, ranting, single-spaced letters. If you ever want an interesting experience, fire a client. They take it so badly.
What's your worst Apple-z ('undo') moment? I was answering a backlog of emails late at night and a very nice lady was following up on something we owed her. I jokingly wrote an email to one of my designers saying something like "Please get this [expletive] whatever she needs" and hit reply instead of forward. I didn't realize my error until I checked my inbox the next morning. She was not amused. I was mortified. That was the last "funny" (or even interesting) email I ever sent.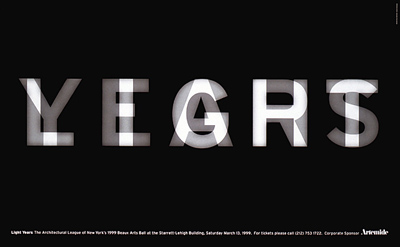 Light Years, poster for the Architectural League of New York, Michael Bierut and Nicole Trice, 1999
What do most people cite as your best/most well known piece of work? Hard to say, but my "Light Years" poster (above) for the Architectural League seems to be widely recognized. Interestingly, most people have no idea what it was meant to accomplish or whether it did its job well, sketchy testimony to the power of "problem solving" as a cornerstone of design practice.
What do YOU think is your best piece of work? Why? I've always liked this one (below), hand lettered by my oldest daughter. She is 26 now.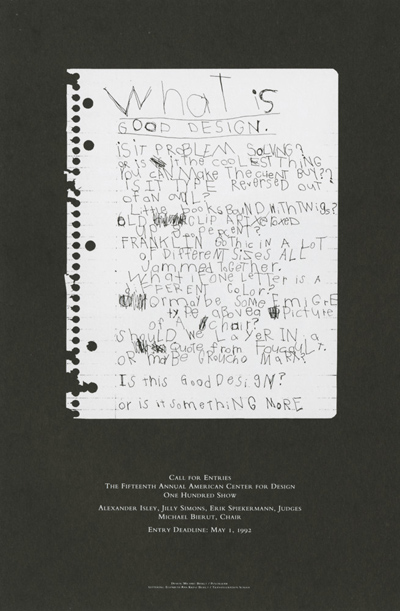 What is Good Design? poster, Pentagram Design, New York, 1992
What font would you choose for your gravestone? It's probably not a good one to engrave in stone, but Bodoni.
What wins, ideas or style? Ideas.
People have different ways to stay enthused, excited and interested in what they do for a living? What's yours? Work with smart, inspiring, challenging people, and avoid the opposite.
When and where do you have your best ideas? In the morning, when I'm jogging/plodding my three miles through the woods above the Hudson River, always.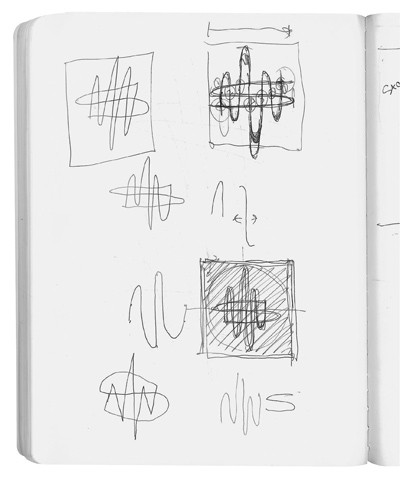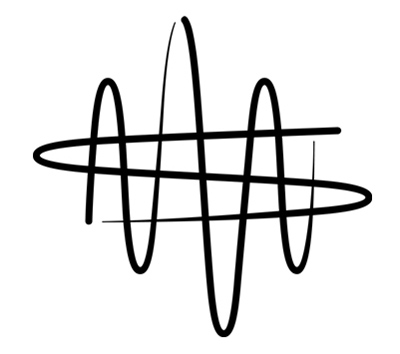 Top: Michael Bierut's sketches for the New World Symphony logo. Below: the finished mark for the New World Symphony.
Seeing, smelling, touching, hearing, tasting. You have to give up two. Which ones? Touching and smelling. Does everyone say that?
If you could travel back in time, just once, and give yourself a few words of advice, what would they be (and when would you say them?) Don't blink.
Do you still draw or has the computer taken over? I am probably the last person in the last generation who doesn't use a computer to design. I draw in notebooks, all of which I've saved since 1982.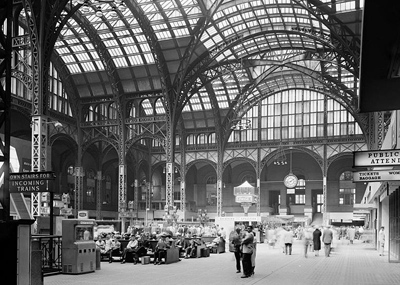 Stanford White's Pennsylvania Station, 1962 © Library of Congress, Prints & Photographs Division, NY,31-NEYO,78-8
What's the worst design crime you've seen (or committed?) Like many New Yorkers, I regret the demolition of Stanford White's Pennsylvania Station in favor of the monstrosity that replaced it, even though it happened when I was in elementary school in Ohio. It seems inconceivable to me that people could do such a thing.
You can only watch one film, read one book, listen to one album and eat one type of biscuit. What would they be? Film: American Graffiti Book: Act One by Moss Hart
Album: Nilsson Schmilsson by Harry Nilsson
Biscuit (this is what you call a cookie, right?): Oreos, of course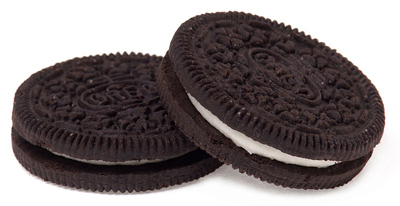 © Evan-Amos
Let's say it all goes pear-shaped. What's your back-up plan? The parking lot attendant in Rockefeller State Nature Preserve in Pocantico Hills, New York, has what looks like the perfect job to me. Beautiful setting, time to read, and winters off.
Thanks very much to Michael for taking the time to answer our questions.
Find out more about Michael here.
Follow johnson banks on twitter @johnsonbanks, and feel free to suggest who we should ask next #2ndthoughts. Go here to read Simon Waterfall's, and here to read Andy Altmann's thoughts, and Nicolas Roope was just last week.