Nicolas Roope: Second Thoughts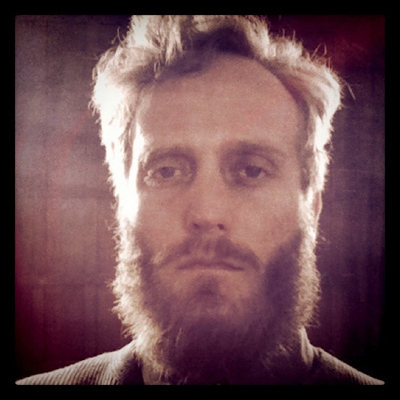 This is the third in our series of Second Thoughts where the same 18 questions are asked to design luminaries we know or admire (or both). This week: Nicolas Roope.
Nicolas Roope is a British/Danish industrial and digital media designer and entrepreneur. Having received a BA in Fine Arts, Sculpture from Liverpool John Moores University Nicolas went on to co-found the art collective Antirom in 1994. From there he went on to work as MD and Creative Director at Oven Digital before co-founding creative digital agency Poke and retro phone handset company Hulger. Nicolas' focus on a combination of product design, digital media and business development has won him a D&AD Black Pencil, Brit Insurance Design Awards and several Webby Awards. His designs have been included in MOMA permanent collection, The Cooper-Hewitt collection, The V&A and he was The Wired 100 and Adage Creative 50 lists in 2011.
How old were you when you first suspected you could become a designer? For me it was fairly late on and to a certain extent I still struggle with the definition. I have a conceptual art training and have come to practice in the design realm but I do a lot of things and think a lot of thoughts that are nothing to do with design. People struggle a bit to place my work and ideas that relate to my Poke activities so it was really the birth of Hulger and the success of Plumen that has really driven my '˜designer' profile.
Did you see or experience something early in your life that was a significant influence? I invented the mountain bike before it existed. It just seemed logical to put the Raleigh Bomber together with the BMX and chuck in an 18 speed derailleurs. Why wouldn't you do that? I was about 10. Surely enough the mountain bikes came along and the world never looked back. I knew at that point I could see possibilities in things beyond their present manifestation. It's still the basis of my artistic and design work.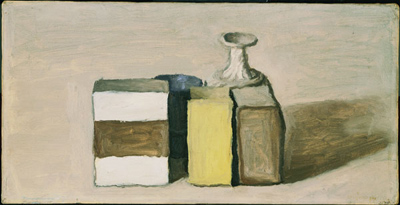 Still Life (Natural Morta) 1953 by Giorgio Morandi. The Phillips Collection Β© Giorgio Morandi by SIAE 2008
Who were your early heroes(and what do you think of them now, in retrospect)? Artistically my first real hero was Giorgio Morandi. He managed to find so much feeling in unremarkable objects. It gave me an important clue about how it's not what you look at necessarily but how you look at it that releases all the power. I haven't seen any for a while but I just looked at some paintings now and it still really resonates with me. Mainly because I still fundamentally have the same approach around releasing potential through shifting perceptions as opposed to moving mountains.
What's your recurring dream (or nightmare?) I sometimes dream about doing better in my A-Levels. I've got a good brain but it was never very good at retaining facts and performing within the format of exams. They've become a symbol of personal failure so come back to haunt me once in a while. I did pass four so it's not all that bad.
Describe the worst boss or client you've ever had. I've only really had one boss and he (they) were great (Mike and Mark, now at Fjord). Terrible clients all roll into one really, no particular individuals stand out. They're typified by a lack of will to seek the truth, preferring instead to wrap up in soothing mediocrity.
What's your worst Apple-z ('˜undo') moment? Registering Pokia as a global TM and getting a rather nasty letter from Nokia's lawyers, four days before our first 10,000 phones with Pokia emblazoned on them rolled off the production line in China. It was an awkward moment a little common sense may have prevented.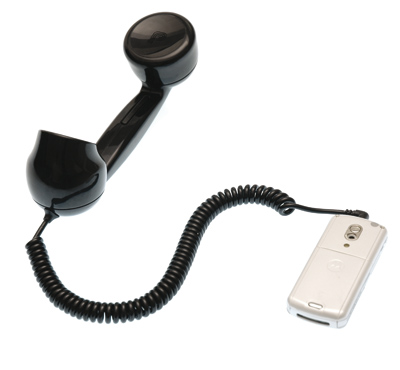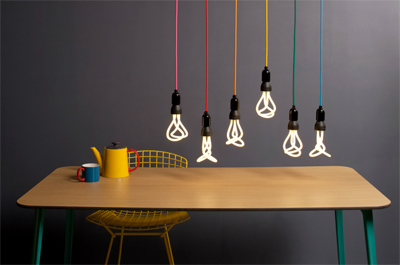 Top: Hulger's Penelope handset. Bottom: the award-winning energy saving Plumen light bulb.
What do most people cite as your best/most well known piece of work? Plumen, Hulger phones, Globalrichlist.com or the Orange Never Ending Web Page
What do YOU think is your best piece of work? Why? I can't answer that. Nothing I've done is perfect so nothing deserves the '˜best' title. It's one of the things that keeps me going; the pursuit of some kind of perfection.
What font would you choose for your gravestone? Comic sans, just to annoy my wife (Violetta Boxill-Roope).
What wins, ideas or style? Ideas trump style (in the end).
People have different ways to stay enthused, excited and interested in what they do for a living? What's yours? Always remain slightly frustrated.
When and where do you have your best ideas? Everywhere except where I SHOULD be having them. Frustrating but when you accept it you learn to deal with it (i.e. make notes when ideas come on their own accord)
Seeing, smelling, touching, hearing, tasting. You have to give up two. Which ones? That's a horrible question. But it would be smelling and tasting.
If you could travel back in time, just once, and give yourself a few words of advice, what would they be (and when would you say them?) Don't fluff your A-levels or you'll get annoying dreams reminding you about it for the rest of your life. And probably just to have a bit more confidence in your belief that everyone can be wrong about certain things.
Do you still draw or has the computer taken over? I do still draw. You can't work faster than pen and paper when you're in conception mode.
What's the worst design crime you've seen (or committed?) I find the British built environment incredibly depressing. Bad design is everywhere in our housing and buildings and I see no hope for improvement on any scale. We're increasingly urbanised and our green spaces are being eaten up but our development strategy doesn't seem to create any harmony in its place. Quite the reverse.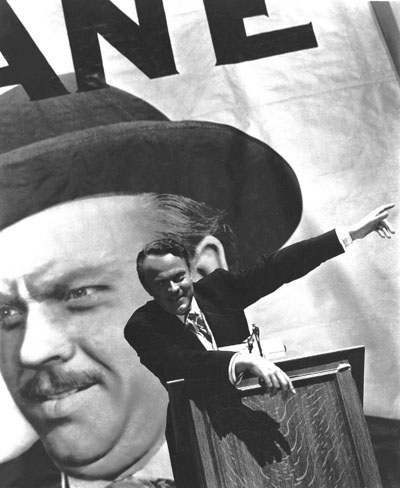 You can only watch one film, read one book, listen to one album and eat one type of biscuit. What would they be? Citizen Kane, The Art of Loving by Erich Fromm, Blue by Joni Mitchell and one of those fancy cookies with massive chunks of expensive looking nuts and chocolate in them.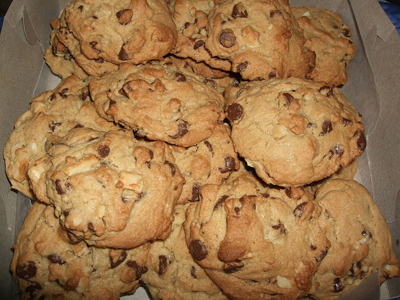 Chocolate chip macadamia nut cookies Β© Kim Navarre
Let's say it all goes pear-shaped. What's your back-up plan? Die gracefully. I don't want to be that screamy, panicky kind of person running around in disaster movies. If it's all going to go bad I want a few quick moments of quiet time to give my life a quick fast-forward playback before whatever nastiness finishes me off.
There's more on Poke here and Hulger here.
Follow johnson banks on twitter @johnsonbanks, and feel free to suggest who we should ask next #2ndthoughts. Go here to read Simon Waterfall's, and here to read Andy Altmann's thoughts.Β