Stamps in the attic: David Gentleman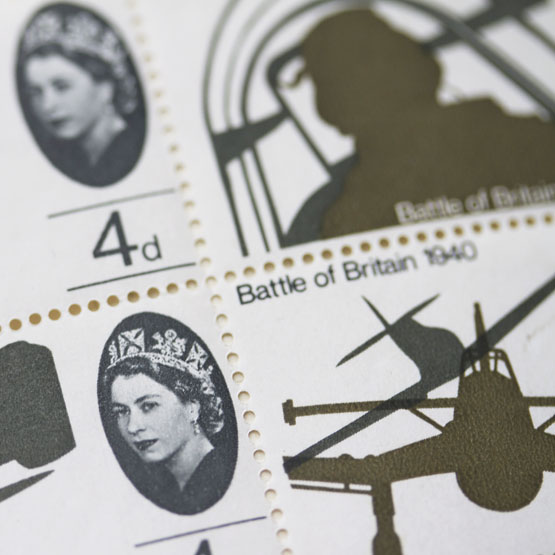 Moving house and unpacking storage cartons can take longer than you expect, so I've only just got to a couple of bags of small leather books that had been passed down the family from a great aunt.
It turns out that not only was Great Aunt Molly an assiduous stamp collector (8 leather stamp books full of examples from around the world), she also had a great eye for a good bit of design. Turns out she had inadvertently gathered decades of examples of the great British stamp designer David Gentleman.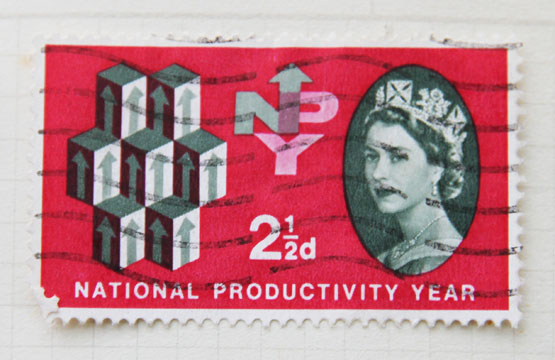 Gentleman's stamp design career started a little slowly with designs like this for 'National Productivity Year' in 1962, but the designs for Shakespeare Festival in 1964 start to show what was soon to come.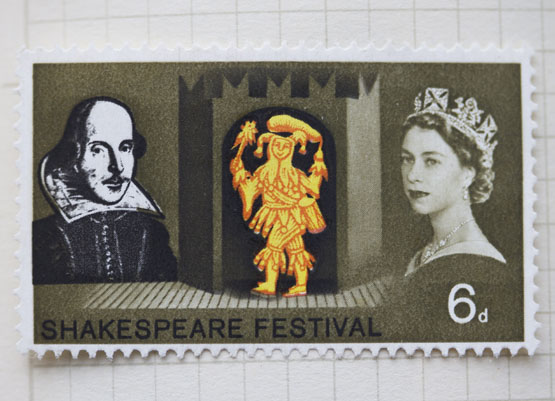 One of the recurring issues of these early designs was the relative size of the Queen's head, which was a 'given'. When you look at these again with fresh eyes they are a little like designs for Shakespeare and the Queen, a sort of philatelic double act. Even so this was the first time a 'commoner' had appeared on a stamp so close to royalty, duly followed a year later with the death of Winston Churchill.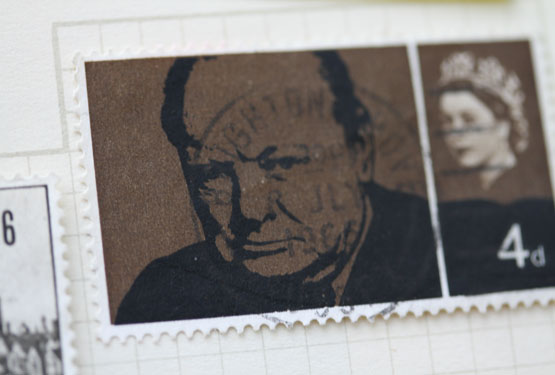 This time the 'commoner' problem had to be dealt with by that white line (to establish some degree of separation). Even Gentleman himself admits that the two photographs made it look like 'the Queen was looking over Churchill's shoulder or at the back of his head'. Still, stamp politics aside, a breakthrough for stamp design featuring that famous scowling Karsh portrait.
Also in 1965, a landmark set on the Battle of Britain where the images criss-cross each other.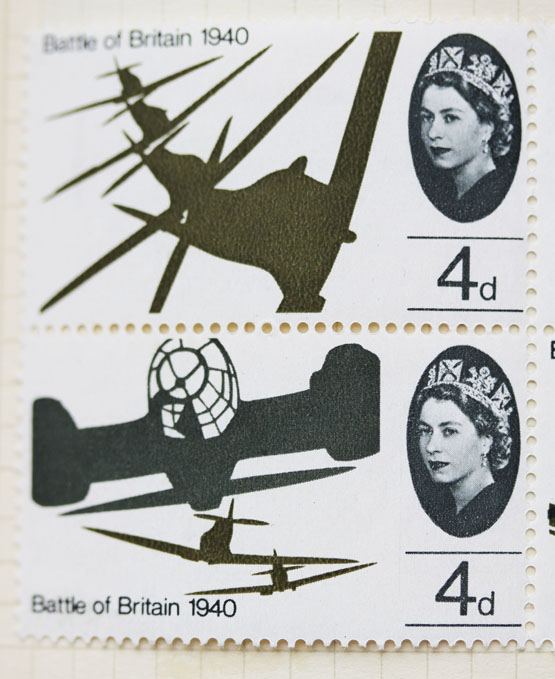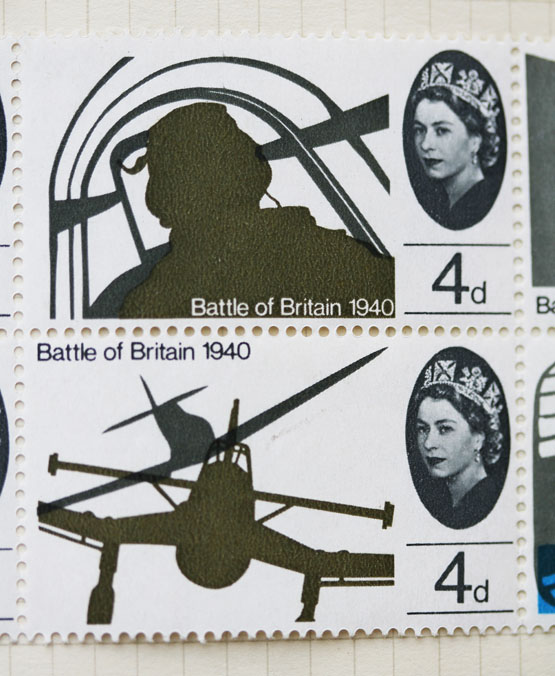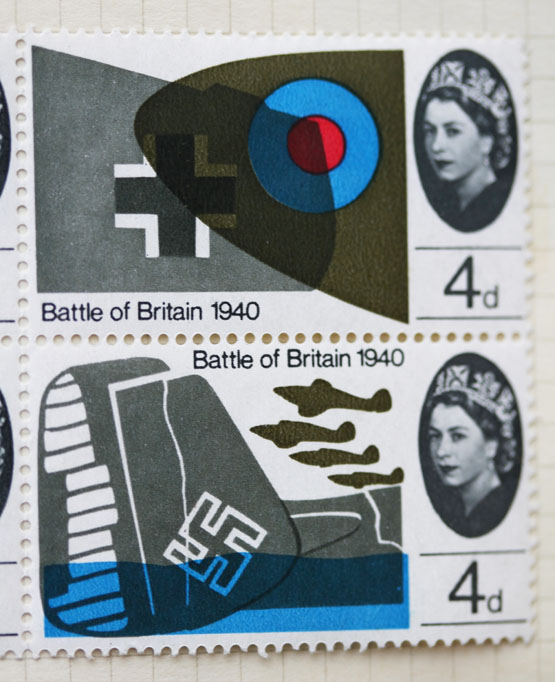 At a time in graphic design when layers/overlapping/translucency tricks are all currently still in vogue, it's great to look back nearly fifty years to when it was 'the thing' the first time around. And probably a little harder to mock up.
Incidentally the first proofs had 'Her Majesty' on only one of the set of six - swiftly fixed - but time to check your cupboards because a proof like that would be worth dusting down and valuing.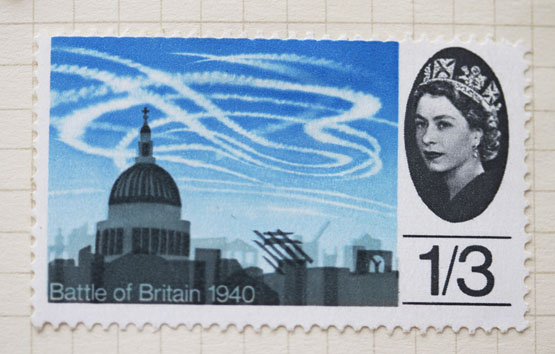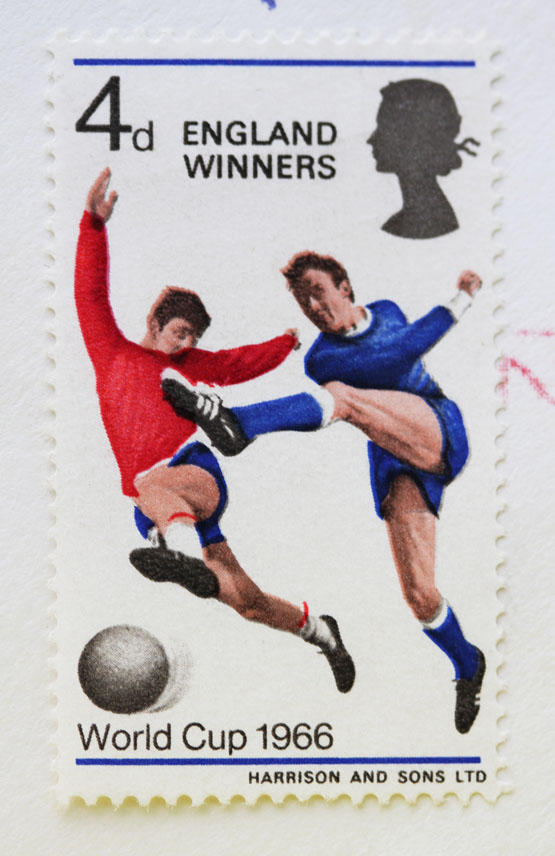 From 1966, some World Cup commemorative designs, albeit a bit out of fit, sorry.
Prince Charles' investiture in 1969 prompted some Welsh Castles, beautifully simplified.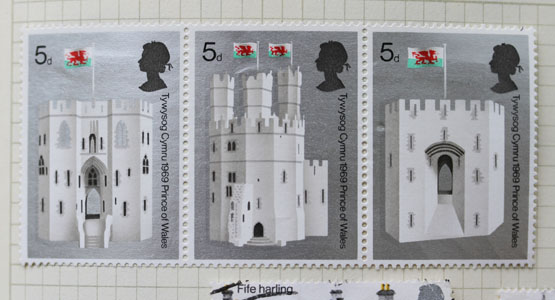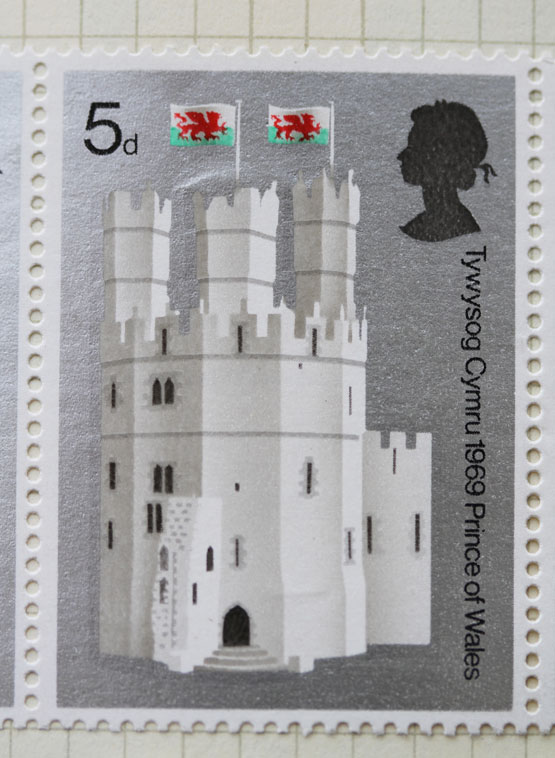 Then we moved on to historic ships and some more lovely overlapping dedicated to Concorde's first flight.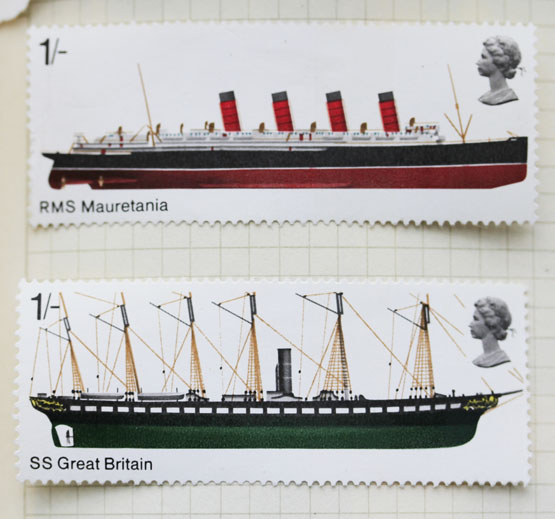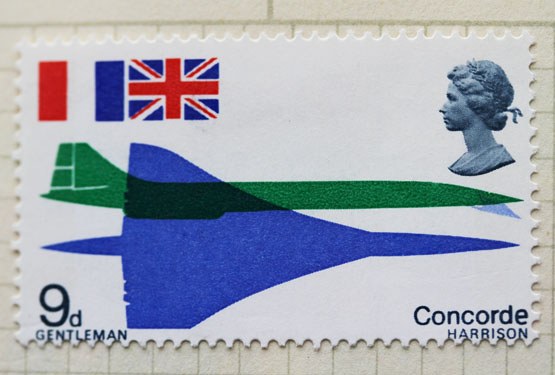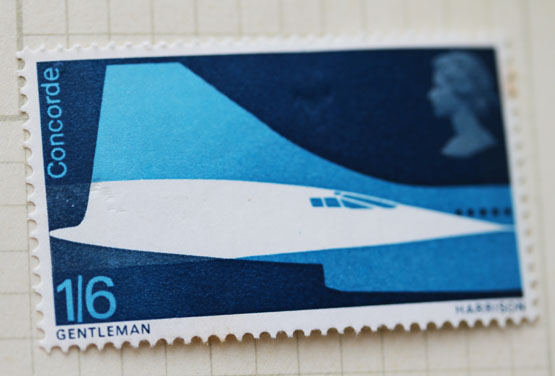 By this time, Gentleman (on the left) had begun to share credits with the printer, Harrison (on the right) which apparently confused a few people and prompted letters to The Times. Not sure johnson banks have been offered any credit on our stamp designs, yet, but there's still time...
Anyway, there are plenty of others but to save everyone's bandwidth, here's just a couple more dedicated to the fiftieth anniversary of the BBC.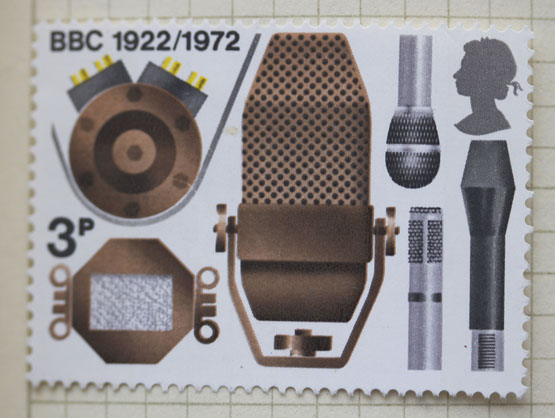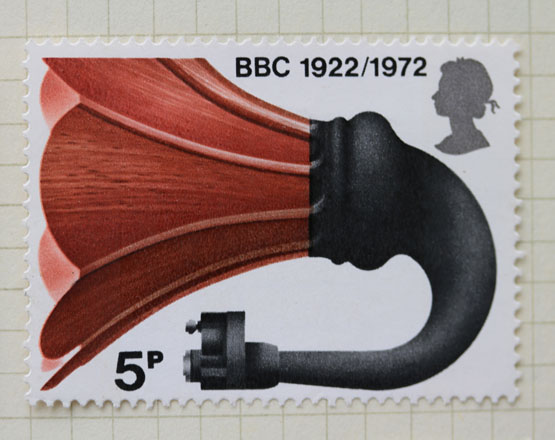 That loudspeaker one (above) is pretty much as good as it gets for a design that's only 40mm wide.
There are more examples of Gentleman's work in Aunt Molly's books, but it's this ten-year blast of designs that effectively took stamp design and turned it on its head, making the content the hero and laying the groundwork for four decades of great design that was to follow. We'll have a look at some those in the coming weeks...
By Michael Johnson
For more information on David Gentleman, his life and work, track down the book 'Artwork' published in 2002 by Ebury Press, and his wiki page is here. This is a nice link as well.
Follow johnson banks on twitter @johnsonbanks, on Facebook on Wikipedia or sign-up for our newsletter here