Mozilla's creative strategy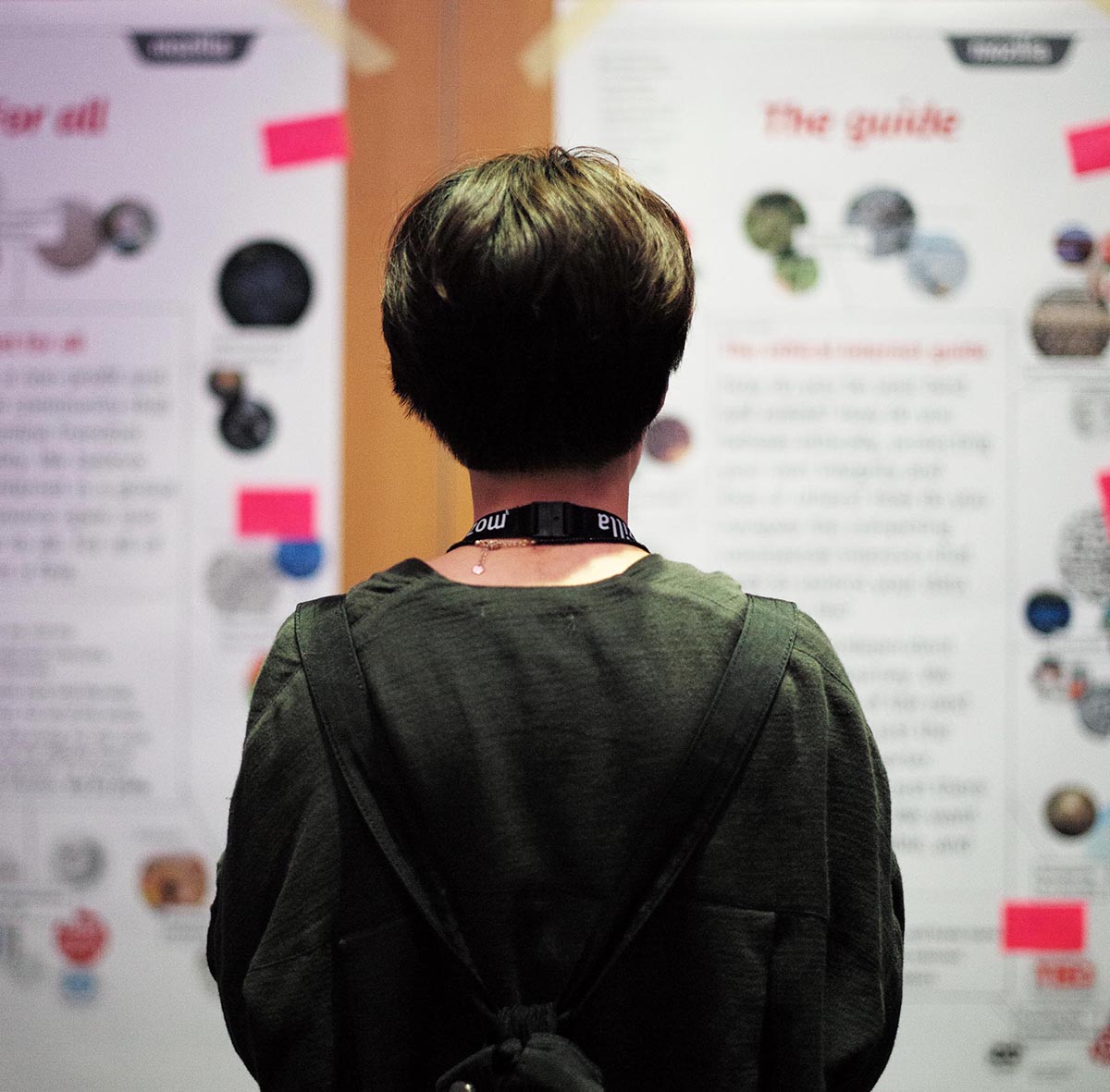 The first semi-public viewing of the Mozilla Open Design project took place last week in London at the twice-yearly Mozilla All Hands gathering. More than 150 Mozillians visited and offered ideas at a pop-up exhibition installed in one of the meeting rooms.
The exhibition content split into two halves: a series of boards explaining why Mozilla needs to strengthen its brand, how the Mozilla brand was born, its pros and cons and how a proliferation of initiatives and sub-brands has diluted its core messages, and the work done to articulate the Mozilla mission, vision, and role in the world.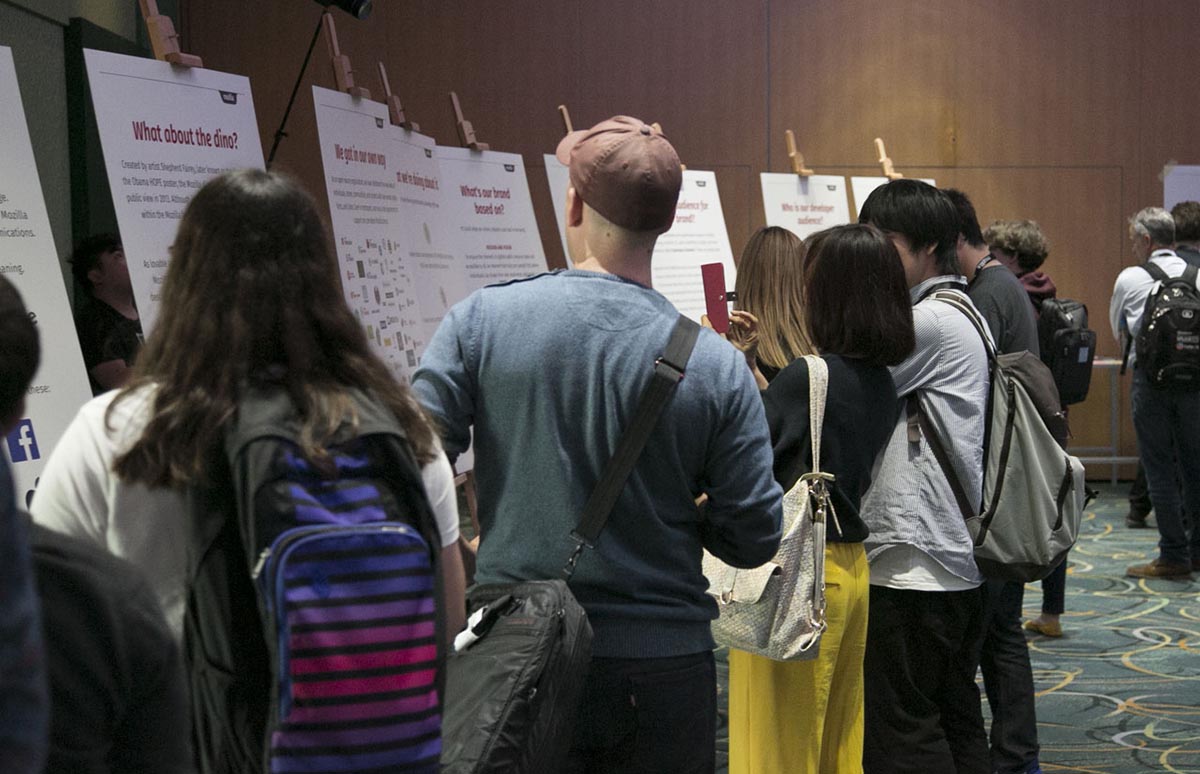 The second half of the display took as its starting point the working brand narrative that the Mozilla team has been crafting for the last 3 months. (If you're new to the branding process, you might be interested to know that most 21st century brands now start with these kind of verbal definitions, before they get anywhere near the visual).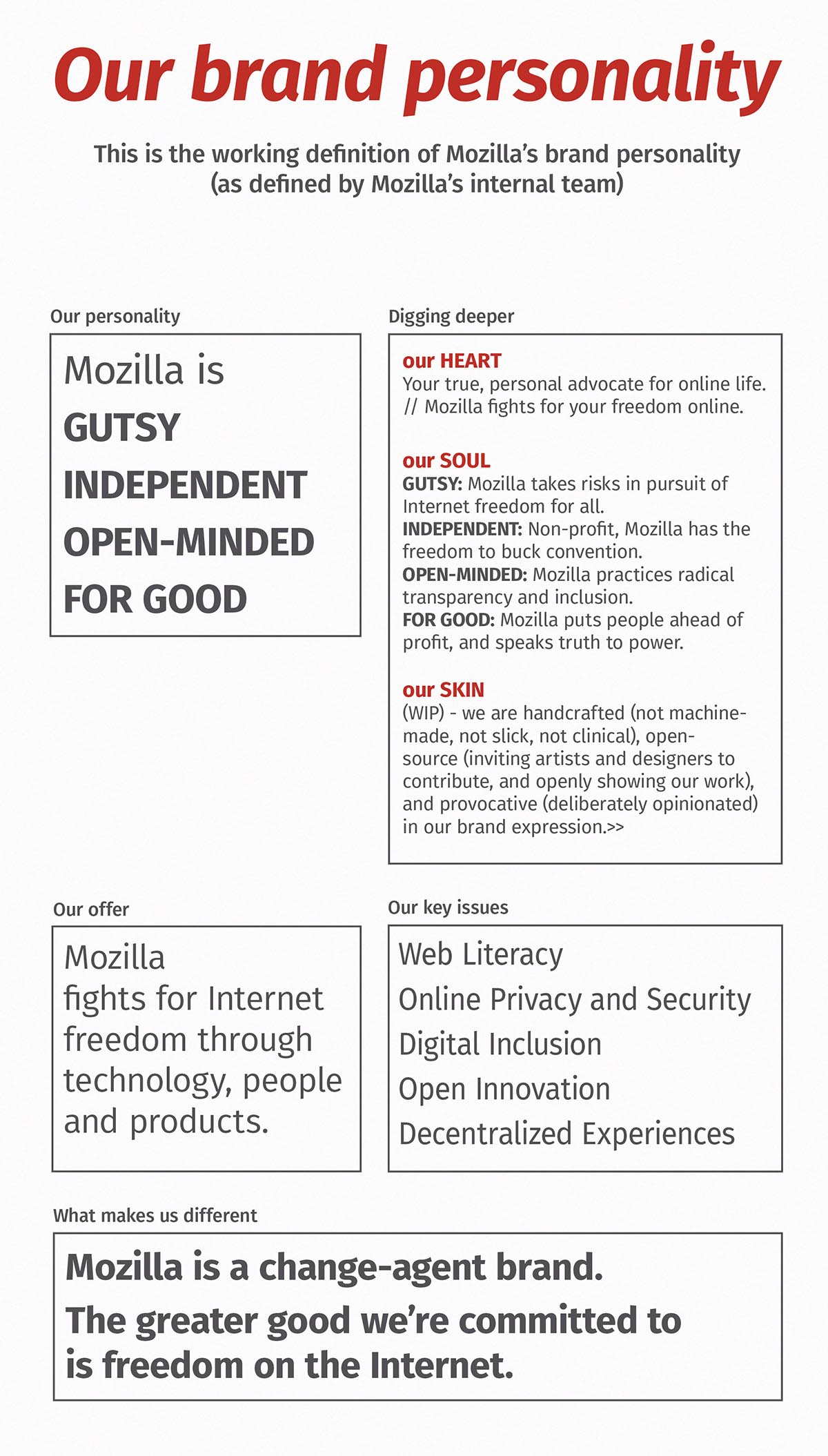 As a team, we looked hard at this working narrative and have extrapolated it into seven key themes for sharing with delegates for their comments. For each theme, we've written some trial words to explain what we mean. This takes the form of test 'narrative' (the kind of words you might use at the top of a web page, or the words you'd use in a speech) and then some test headlines.
Around each, we've also attached some visual prompts—examples of ideas that work with this theme and other organizations that behave this way, for good and bad. (These visual clusters are just references to help bring the themes to life, in case you're worried).*
These 7 key themes are reproduced below (right click to open in a new tab if too tricky to read).
This theme is all about equality and accessibility on the Internet, for everyone.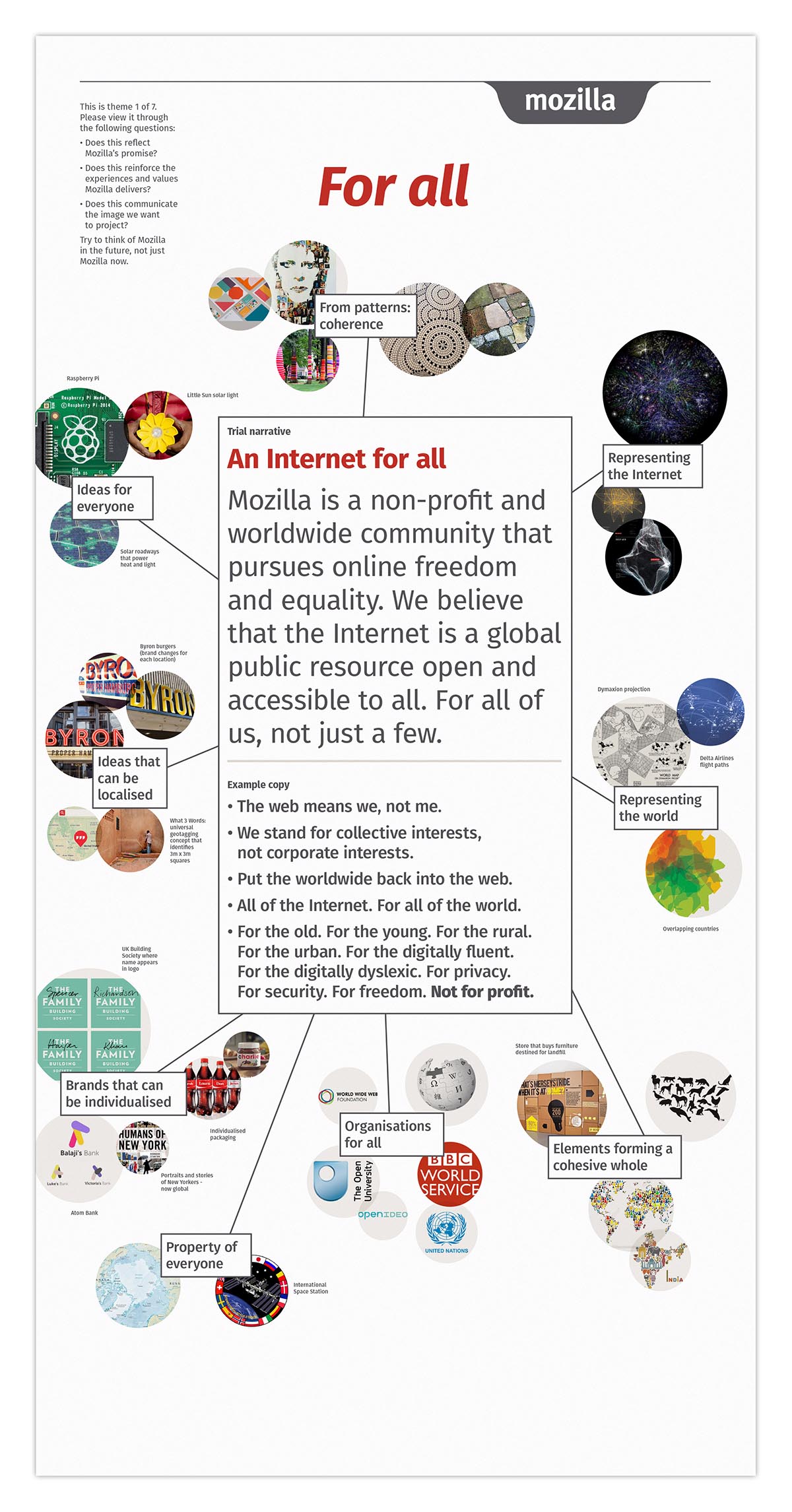 Theme two asks if Mozilla should be seen as your own personal guide to the Internet (but an ethical guide, not one there to harvest or to track).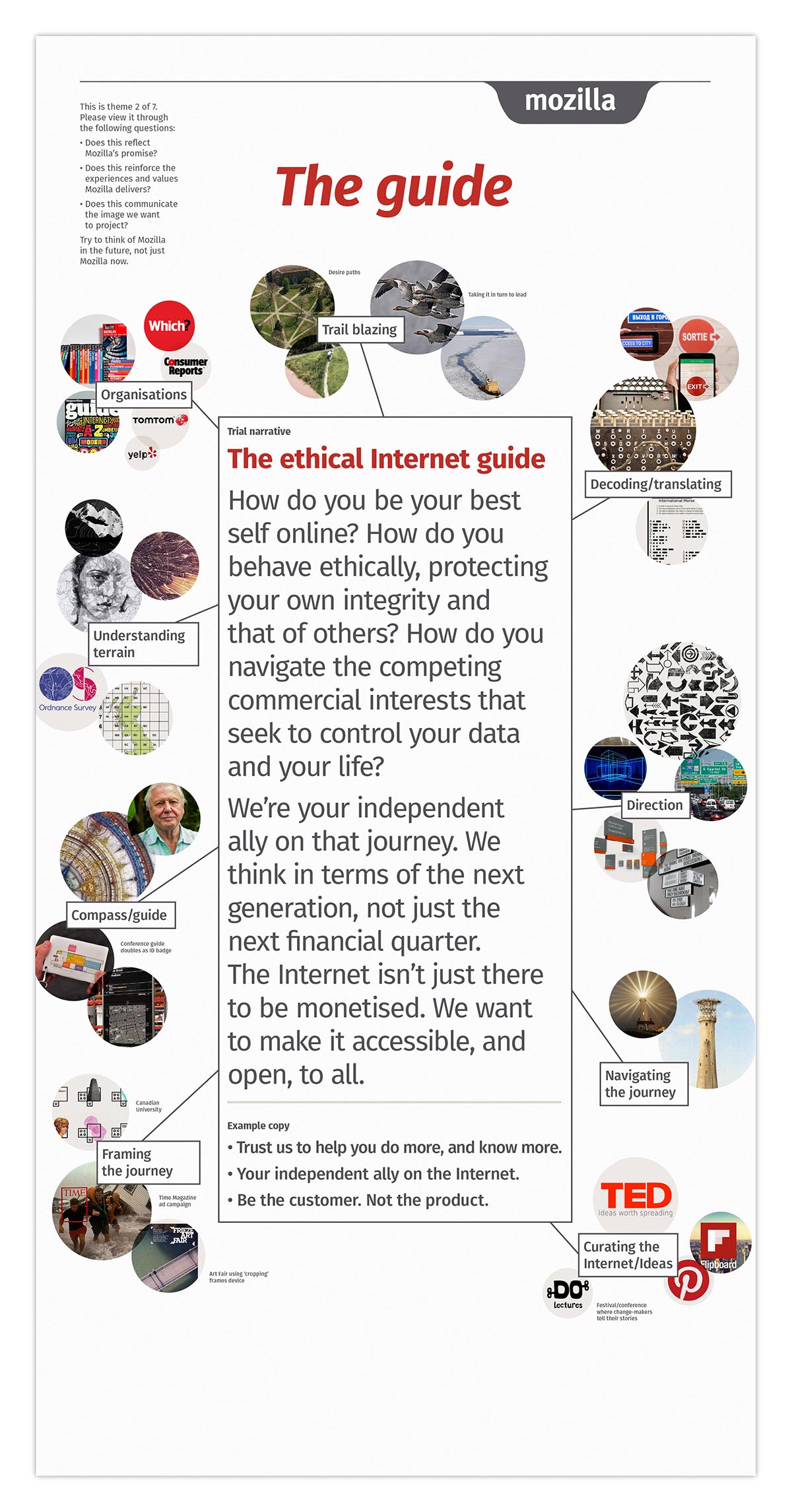 This theme asks if Mozilla should be seen more as a protector, or guardian of the Internet – and draws analogies with endangered species.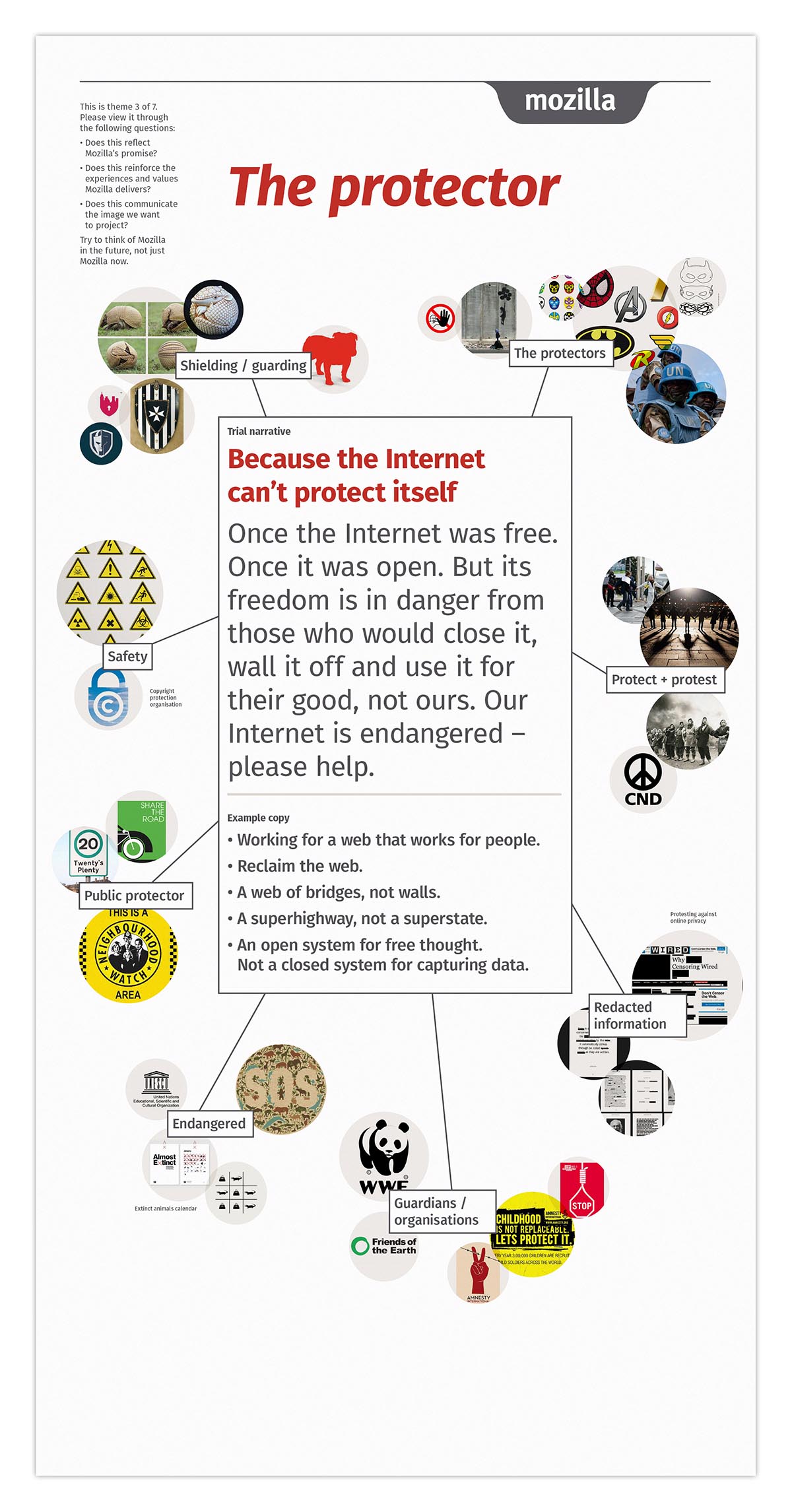 This theme asks if Mozilla should stand for the linkage between a healthy (open, free, nonprofit) Internet and a world that is better for more people.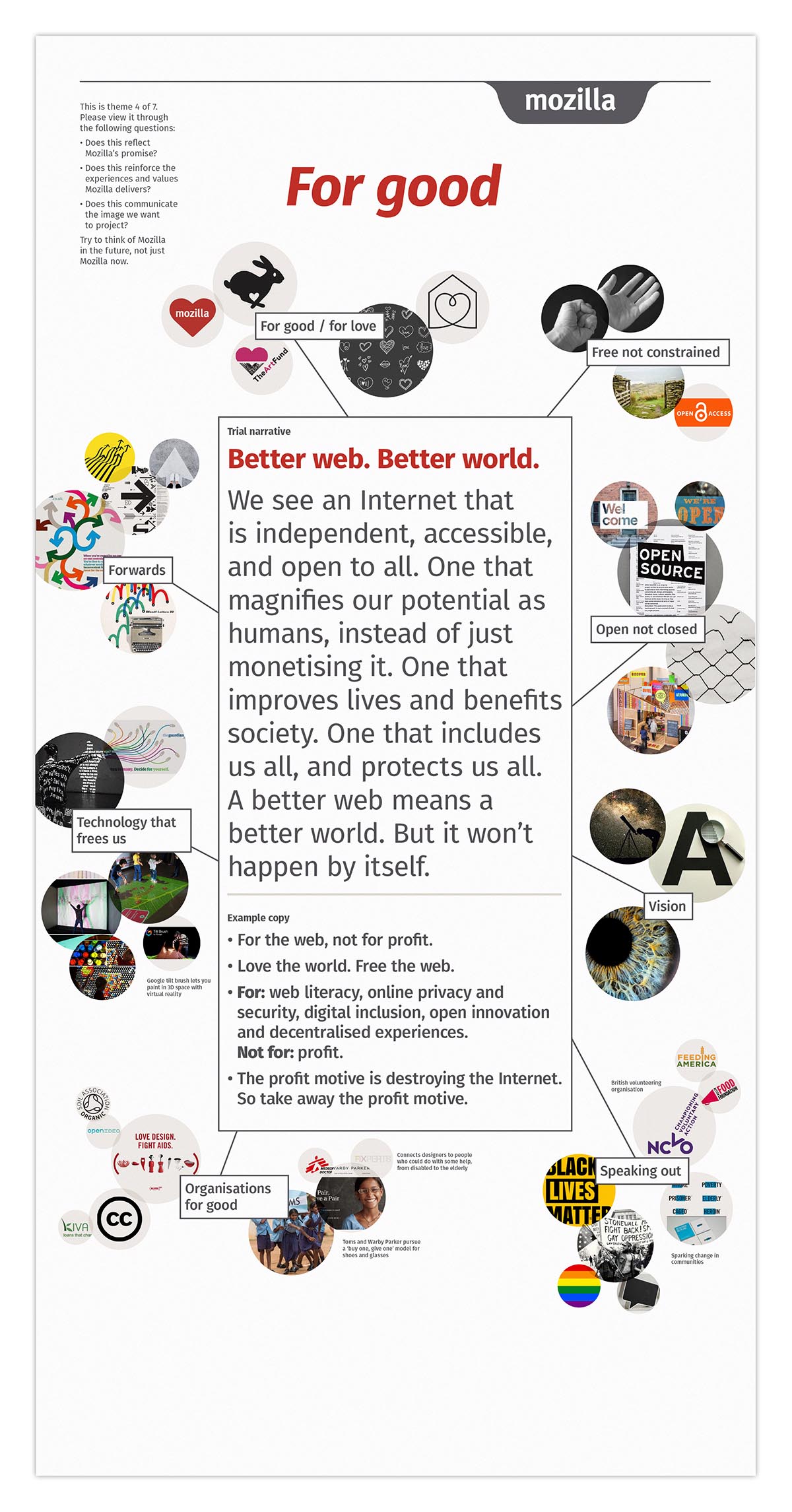 This theme puts Mozilla forward as the voice of the Internet who seeks change, and wants to make it better.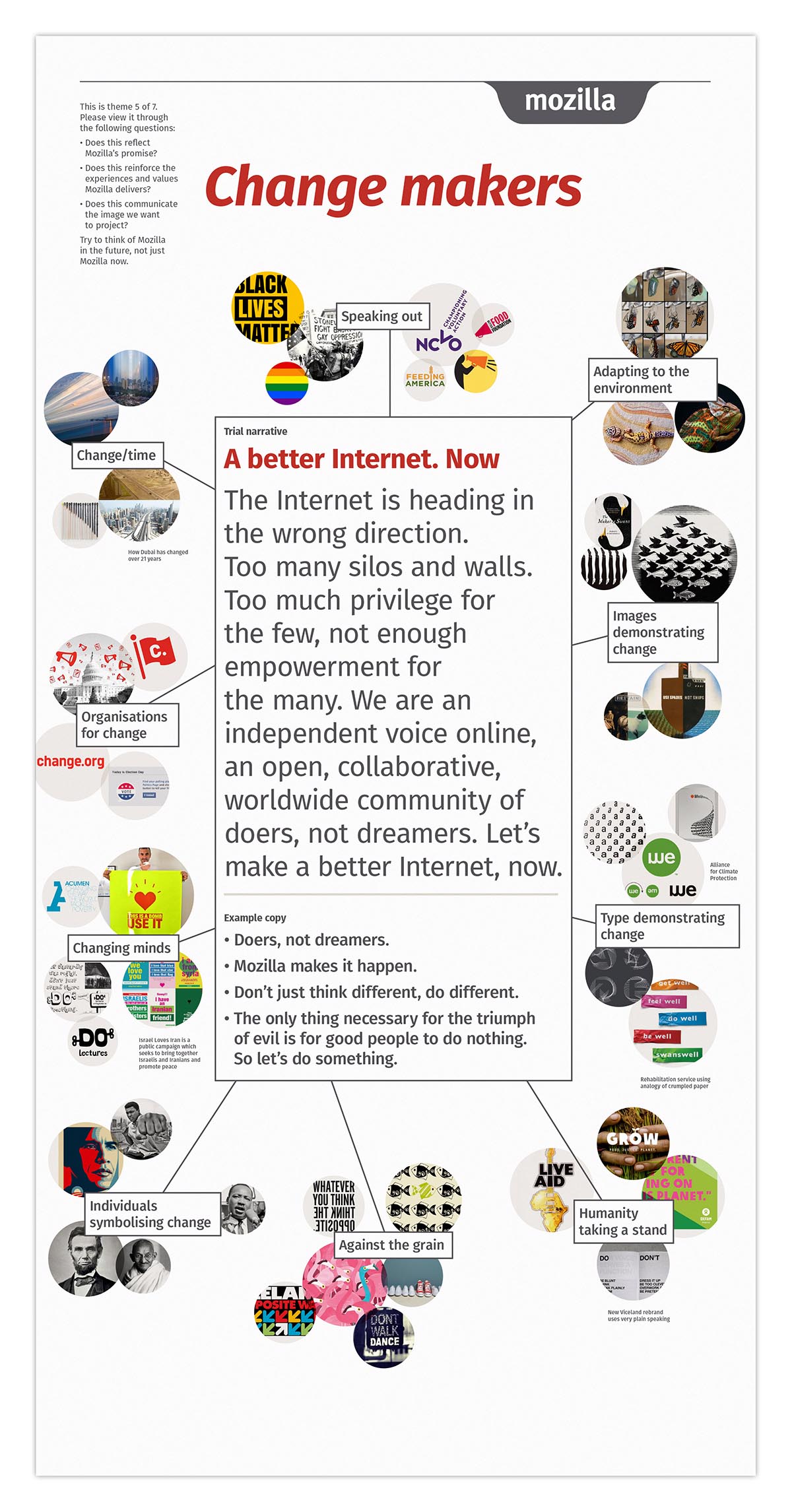 This theme puts Mozilla forward as the voice for freedom on the Internet (not one which is closed or firewalled).
Here, we're seeing Mozilla as the independent voice fighting for an open Internet.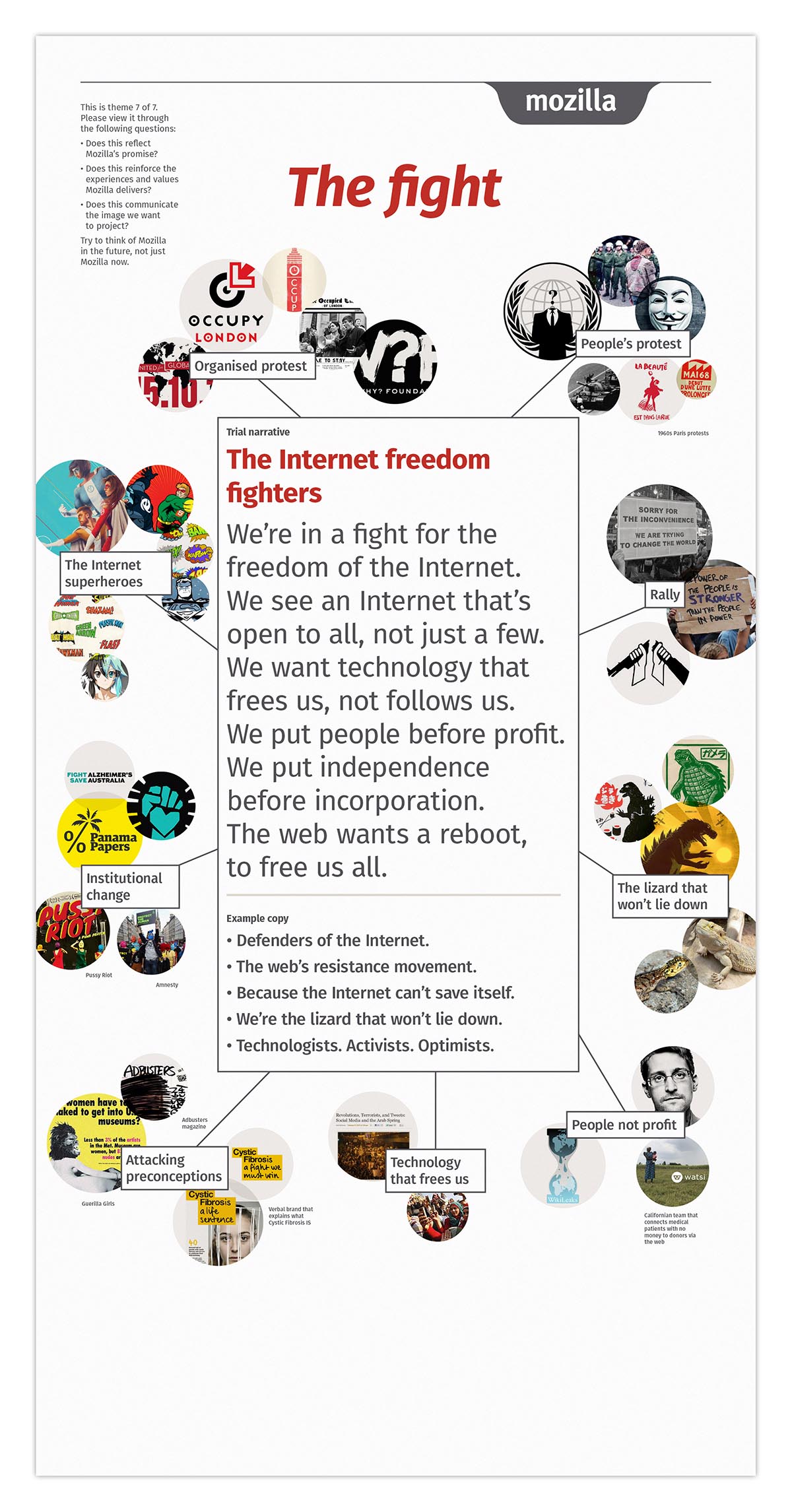 The themes have been placed on the dedicated project blog for feedback and ideas.
We're asking people to look at the 7 and ask:
Which of these best reflect what Mozilla promises to the world?
Which best reinforce the experiences and values Mozilla delivers?
Which could communicate the 'right' image to the world?
Which would excite new audiences to know and care about Mozilla's work?
Within a few days, we'll share how Mozillians responded to these 7 possible themes, what we think we might have left out, and what we may want to add.

* No logos. Not yet. Those will come later this summer. And the images you see on these boards are for illustrative purposes only. Don't take offence if we've used an image of your company or project – please be flattered.

There's also a piece on this project on FastCo, here.

Follow johnson banks on twitter @johnsonbanks, on Facebook or sign-up for our newsletter here