Top five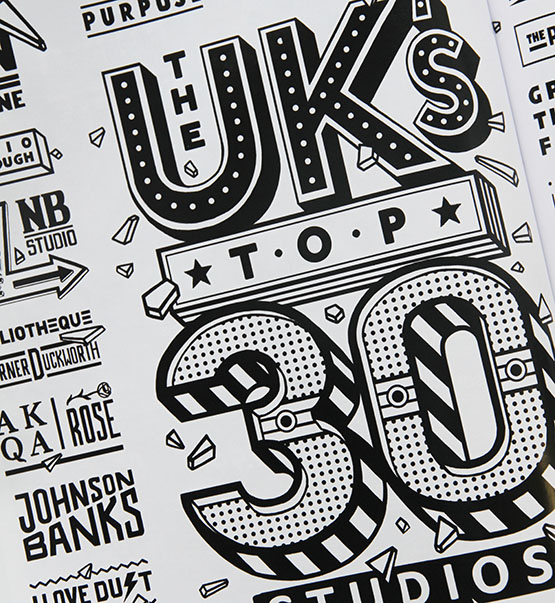 Last week, design magazine Computer Arts published their survey of the top 30 design agencies in the UK in their November issue. What made this intriguing was that it wasn't a result of a skewable on-line poll, just the views of the editorial team or some questionable list based on dodgy awards schemes.
The voting was restricted to '60 leading designer and creative directors' from across the country, so a kind of peer poll, if you like. Anyway, we're pretty relieved (and also slightly shocked) to be in the top five. So, thanks very much to those who voted for us, much appreciated.
As part of the survey, johnson banks' creative director Michael Johnson answered a few of the magazine's questions: a few of the edited highlights are shared below.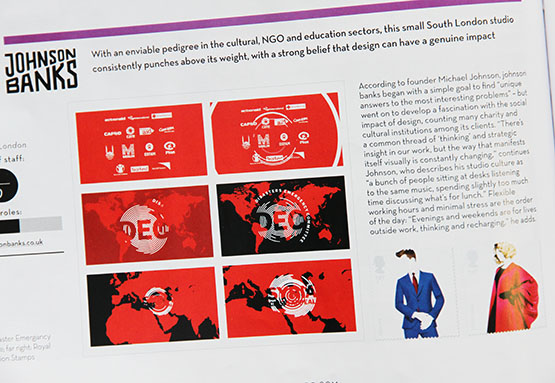 What's your manifesto, or mission? For our first decade we were simply looking for the most unique answers to the most interesting problems. Over the last decade the balance of our work has slowly moved towards the cultural/NGO/impact investment/education sectors. We're now increasingly interested in showing how design can have a genuine societal benefit - that design can make a difference.
Do you have a consistent style or aesthetic? There's definitely a common thread of 'thinking' and strategic insight in our work - but the way that manifests itself visually is constantly changing.
What's unique about the way you work? That's a tough one to answer. We think the way we combine the strategic insights with our visual work is unusual - we often 'blur' the edges of the separate stages rather than see them as linear. It's also very unusual for a relatively small studio like ours to be doing such huge projects worldwide.
Tell us a bit about the studio culture It's just a bunch of people sitting at desks listening to the same music, spending slightly too much time discussing what's for lunch. People can choose when they start and end their day and ideally it shouldn't feel too much like 'work'.
We have a pretty strong ethic behind what we do and who we work for, so nightmare clients are thin on the ground. We try to control the flow of our projects so that a generous amount of time is left for design exploration and experimentation, mad periods of stress are rare, lates are infrequent and all-nighters non-existent. Evenings and weekends are for lives outside work, thinking and generally recharging
Your secret? There is no secret. Keep doing the best thinking and designing you possibly can, constantly challenge the status quo, try really hard not to settle for second best and never, ever fall for that famous line - 'that's just the way it is'
Our congratulations to our compatriots in the top five, GTF, GBH, Pentagram and The Partners. There's isn't a link to the main article yet, but there is a piece on those studios placed 21-50.
Follow johnson banks on twitter @johnsonbanks, on Facebook or sign-up for our newsletter here