The one that got away: Penguin crime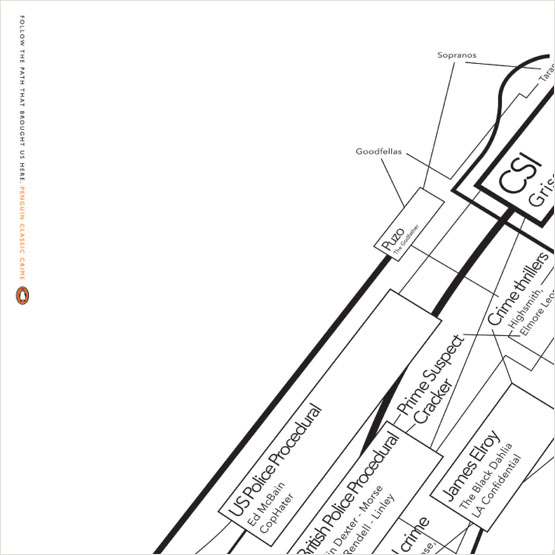 The reaction to the Second Thoughts series has been really good, so we're kicking off another new series for the New Year. It's called 'the one that got away' and is dedicated to those projects that for some reason never made the light of day.
Obviously, it's painful when what seemed like 'the best idea' gets bombed. And there's a temptation to keep that idea, stick it in the bottom drawer and wheel it out sometime in the future, perfectly formed, to the amazement of a grateful client.
Trouble is, it's rare that a design brief is ever the same, those ideas just gather dust and their day in the sun never comes. Until now. We're going to kick off the series with one of ours, then ask the great and the good if they have anything they'd like to share.
This idea was presented to Penguin Classics - we'd been asked for ideas to promote some of their ranges and were given 'crime' as a test case, and a box full of books. A summer was spent reading everything from Conan Doyle to Elroy.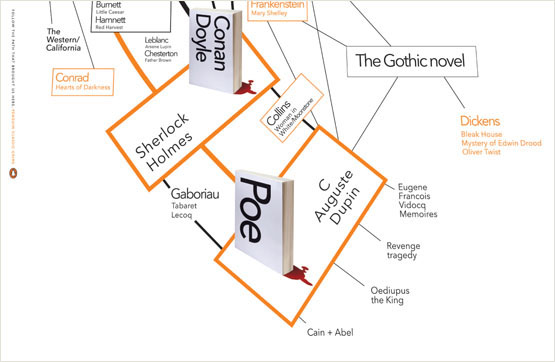 After a few weeks the links between the key novels began to become apparent, so we started to draw maps and diagrams that illustrated this. For example, did you know a lot of crime novelists love Poe? Maybe not.
Anyway the strategic thought was something along the lines of this: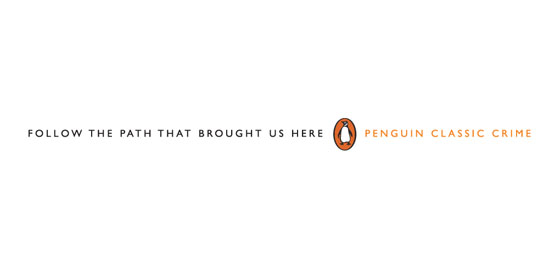 And from there we started these gun-shaped poster ideas - part mind map, part organagram, part 'body drawn in chalk'.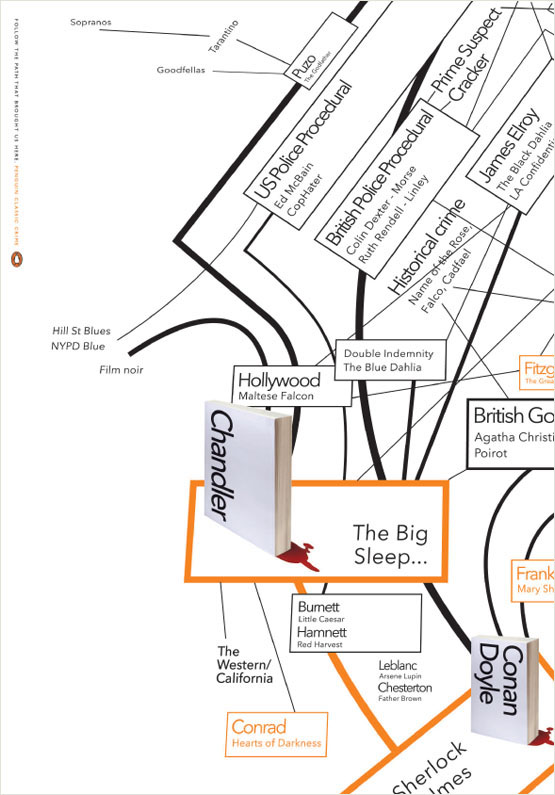 These were the 'main' posters - not trying to claim Penguin Crime as the be-all and end-all, but just show their importance in the pantheon of crime writing.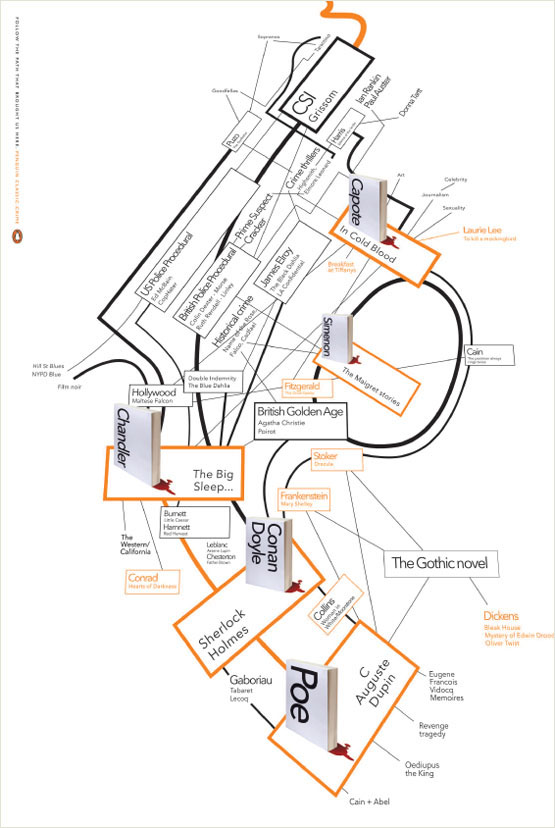 Anyway, so the meeting went well, this and another route were liked. Then, it being 2008, everything went VERY quiet and the project became an early victim of the recession. Shame.
Looking back, we have to apologise for those not-very-well warped book covers. Sorry. But, details aside they'd have made a great set, we think. Never mind. Given that, in four years not one single client has rung for a poster campaign about crime fiction, we thought it was time to share.
(And the other route? Well, that's still in the bottom drawer. You never know).
If you have a nomination for 'The one that got away', email with details and pics at info (at) johnsonbanks (dot) co (dot) uk
Follow johnson banks on twitter @johnsonbanks, on Facebook and sign-up for our up-and-coming newsletter here